The world's number 1 sport's drink, Gatorade hosts Pakistan's biggest fitness festival ever – #SweatAThon! The festival will be taking place at the Moin Khan Academy on 24th November and will have some of the biggest fitness superstars. The festival has a bunch of activities in store including a Marathon, a boot camp and a chance for you to learn more about anything and everything to do with fitness.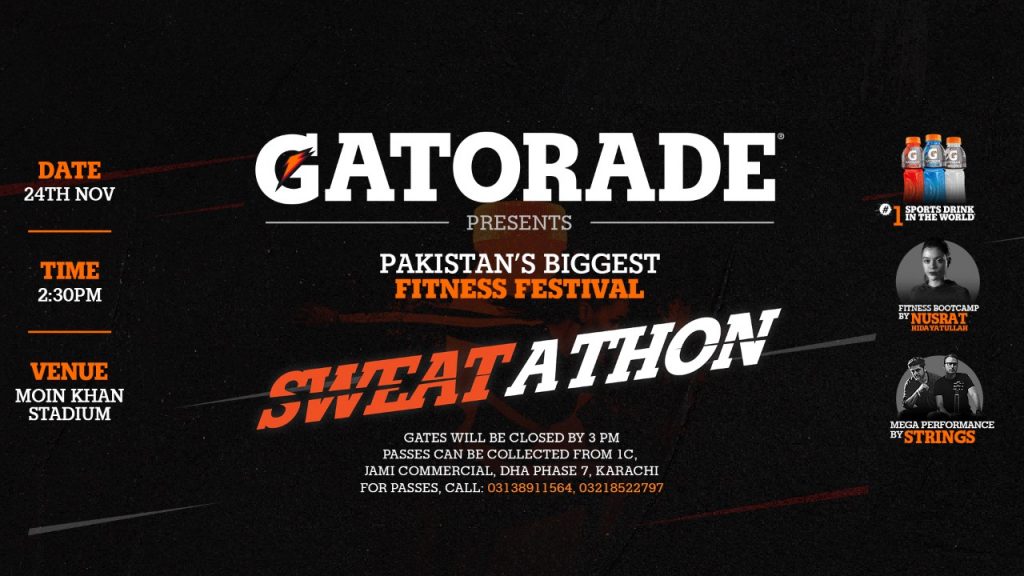 The event will be led by one of the biggest fitness icons – Nusrat Hidayatullah and Shoaib Akhtar. The super cool Khalid Malik and Ayesha Omar have been announced as the hosts for the evening. The event starts 3pm sharp. Better start setting your alarms already and make sure to reach on time!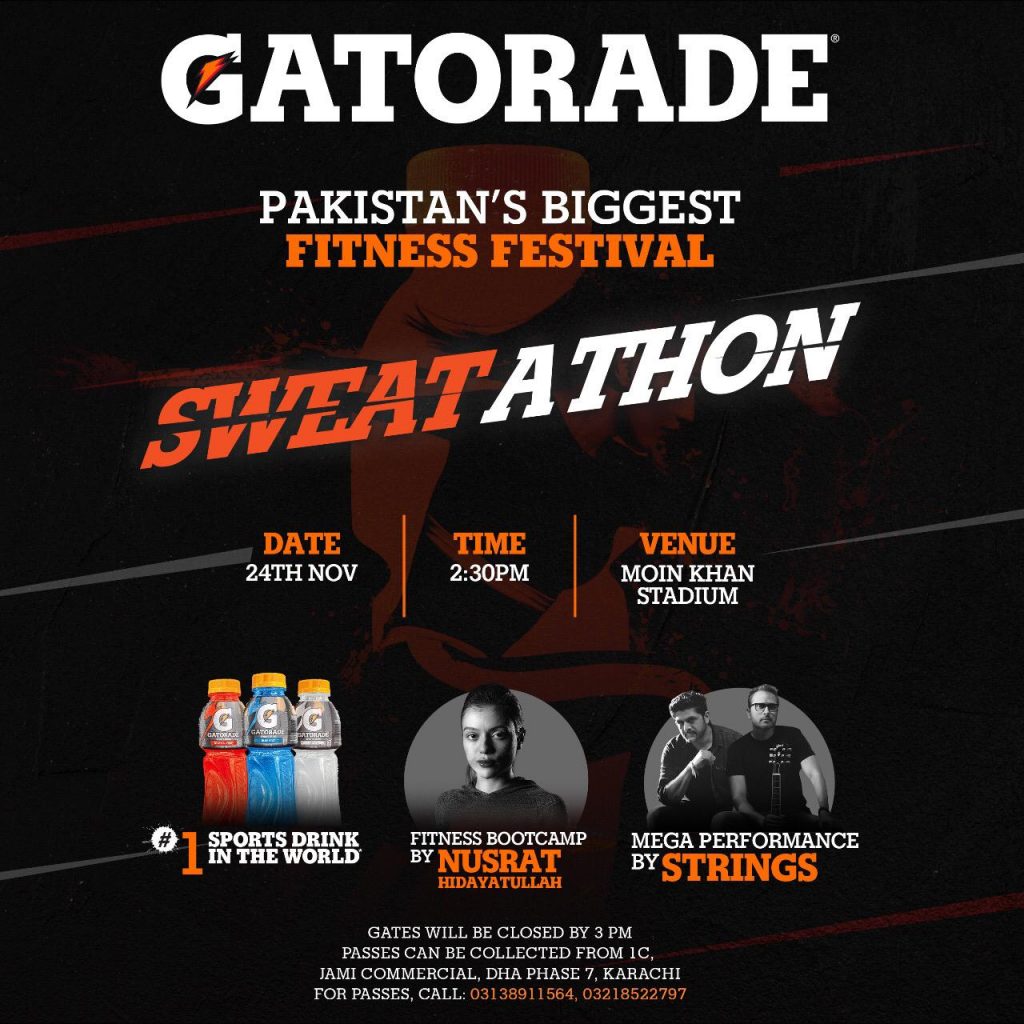 The brand also announced a concert by the internationally acclaimed band – Strings! There are also prizes for people participating in the marathon – Rs. 50,000/- for first place, Rs. 30,000/- for second place, Rs. 15,000/- for third place and gift vouches will also be given to the next 30 winners!
If you're a mum or a dad who just got back into fitness, you need not worry. Gatorade has also created a kids area so expect this to be a family friendly fitness festival – the first of its kind. If you're worried about getting dehydrated at the event then you should know there will obviously be lots of Gatorade available. The world already knows that Gatorade keeps you going because it rehydrates, replenishes and refuels whatever is lost in sweat!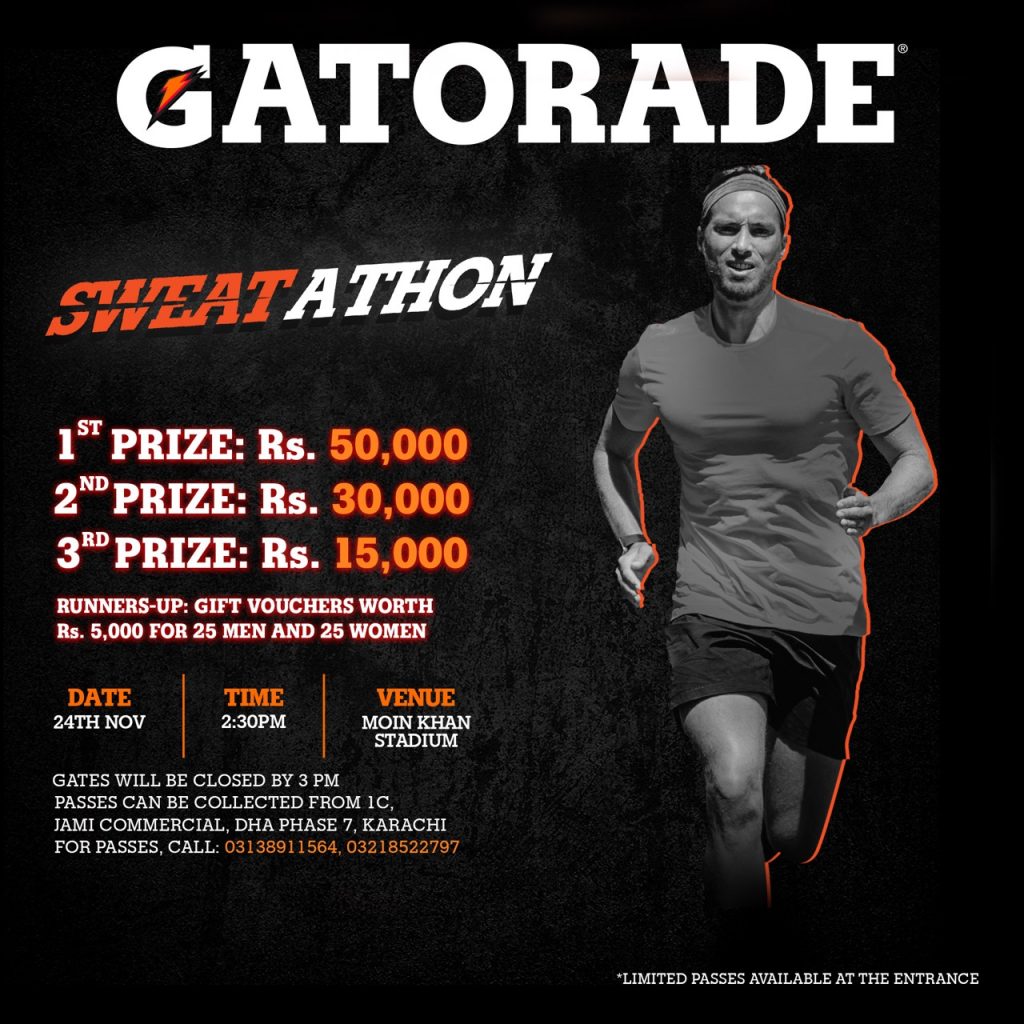 If you're want to know more details then we urge you to start following Gatorade instagram page
@gatoradepk and for all those wanting to get their hands on the tickets, you can call on the following numbers: Bilal 0313 8911564, Zeeshan 0321 852279 for all your ticketing queries. The entry is free of cost and based on invites only.