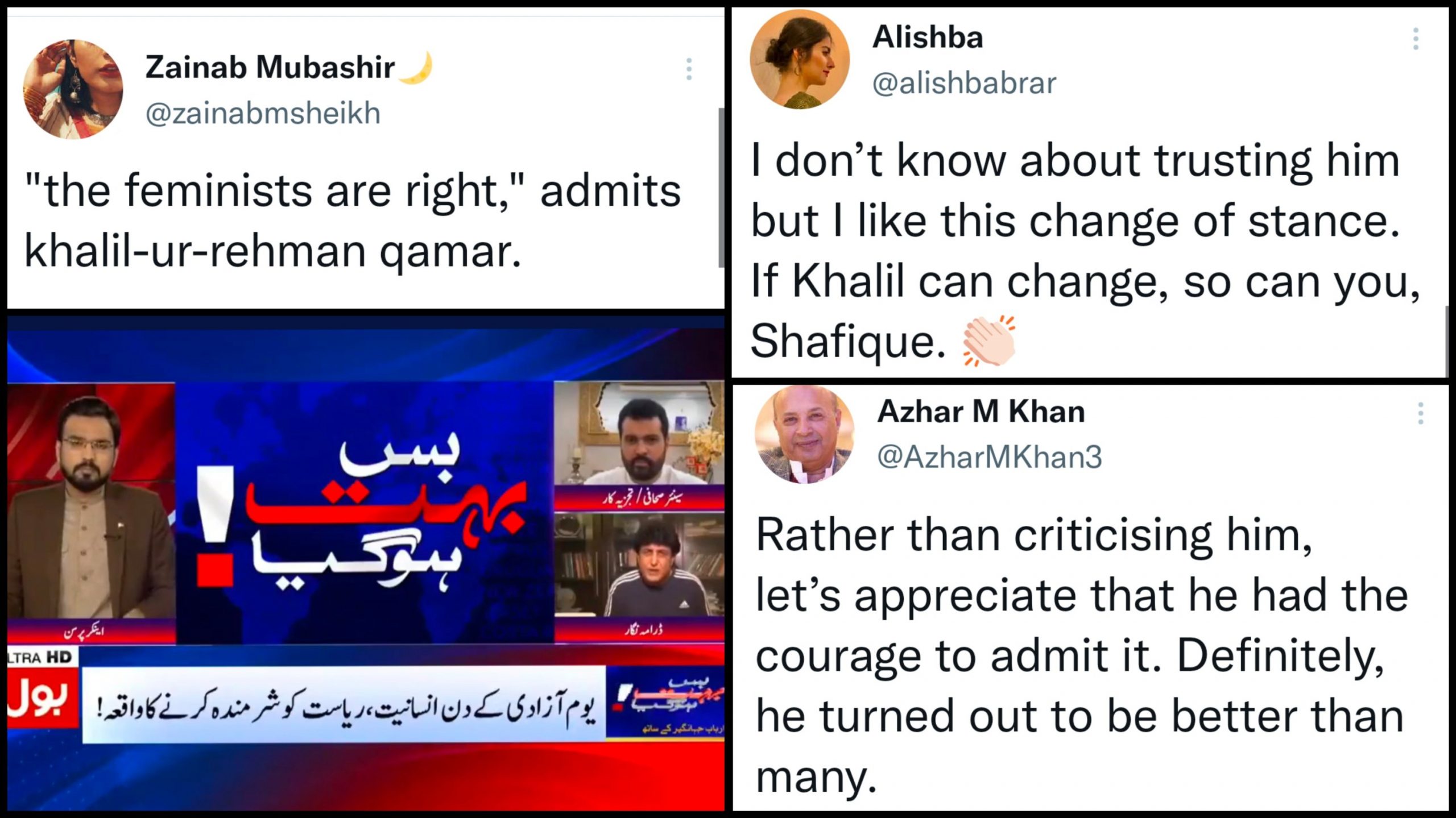 Khalil Ur Rehman Qamar, who a few years back wasn't too keen on what the feminists stood for, finds himself an ally to the movement now. Ever since the Lahore incident took place it's shaken the nation and has also changed the views of Khalil Ur Rehman Qamar as he admits that women aren't safe in the country:
"the feminists are right," admits khalil-ur-rehman qamar.

haan ji, phir? pic.twitter.com/6e6WbFpJL1

— Zainab Mubashir🌙 (@zainabmsheikh) August 19, 2021
And here's what the netizens think of a changed KRQ:
Daer aye darust aye. Should be welcoming, if someone corrects himself

— Ali Uzair (@maliuzair) August 19, 2021
What can we say 🤷‍♀️
paki men sooooo bad they made even khalil ur rehman qamar change his mind omggggg😭😭 https://t.co/lrhvhL52Dx

— 😩 (@Zireael_9) August 19, 2021
Time will tell:
It's unfortunate that it took such a heinous incident to break this man's ego but who is going to hold him responsible for enabling all this hatred and violence towards women? Will he apologize? Will he take back his words? Will he tell his fellows they are wrong? https://t.co/Ad1cKkXNXT

— Javaria (@JavariaWaseem) August 19, 2021
It is:
Today even the most die hard anti-feminists have to admit that the status and security of women in Pakistan is cause for serious concern. https://t.co/nLx3Ue7gw3

— Taimur Rahman (@Taimur_Laal) August 19, 2021
People were surprised:
You know something's really really wrong in this country when a guy like Khalil ur Rehman admits and sides with what he was against yesterday. https://t.co/aI7uLXYUK0

— Mogis (@Einstonerrr) August 19, 2021
Shafiq meri baat suno…
I don't know about trusting him but I like this change of stance. If Khalil can change, so can you, Shafique. 👏🏻 https://t.co/X3VBhqxwUc

— Alishba (@alishbabrar) August 19, 2021
Let's hope they realize it sooner:
One day Khalil-ur-Rehman Qamar's followers will admit this too but I'm afraid it'd be very late. https://t.co/z7E6ibYduC

— Hamayoon. (@humihere) August 19, 2021
People were lauding him for the change in his stance:
Rather than criticising him, let's appreciate that he had the courage to admit it. Definitely, he turned out to be better than many. https://t.co/DHbSwYnI6K

— Azhar M Khan (@AzharMKhan3) August 19, 2021
Better late than never #ayeshaakram #lahoreincident https://t.co/EbVbUaAEnT

— fatima tariq (@fatimatariq37) August 19, 2021
Makes sense:
Do not like this person one bit but i'm glad he said this. Alot of the men won't accept the reality or believe women, maybe their "role model" will convince them otherwise. https://t.co/unkIIfHud5

— Manahil Saeed 🇵🇰 (@manahil__saeed) August 19, 2021
Facts!
KRQ represented the worst of our men. If he feels ashamed, and you still don't, and you still justify the incident, just imagine where you stand: literally at the bottom of the gutter. https://t.co/UGTlR3OCyj

— Sheema 🐾 (@SheemaM_) August 19, 2021
Uh oh!
Ab iske misogynistic fan base ka kia hoga loool

— a (@rays_alpha) August 19, 2021
People were in disbelief:
Ye sooraj kidhr nikal aaya aaj💀🔫 https://t.co/SEv2J1GrCO

— gulab jamun// Free Palestine🇵🇸 (@QureshiSaamiya) August 19, 2021
this is really happening??? https://t.co/NgmgP2DxWY

— a sad trash (@iumairshuja) August 19, 2021
Tabdeeli aa gayee https://t.co/Y0WjxWH4O6

— گلمینۂ (@gulmina83) August 19, 2021
Do you believe KRQ is a true ally? Let us know in the comments below!