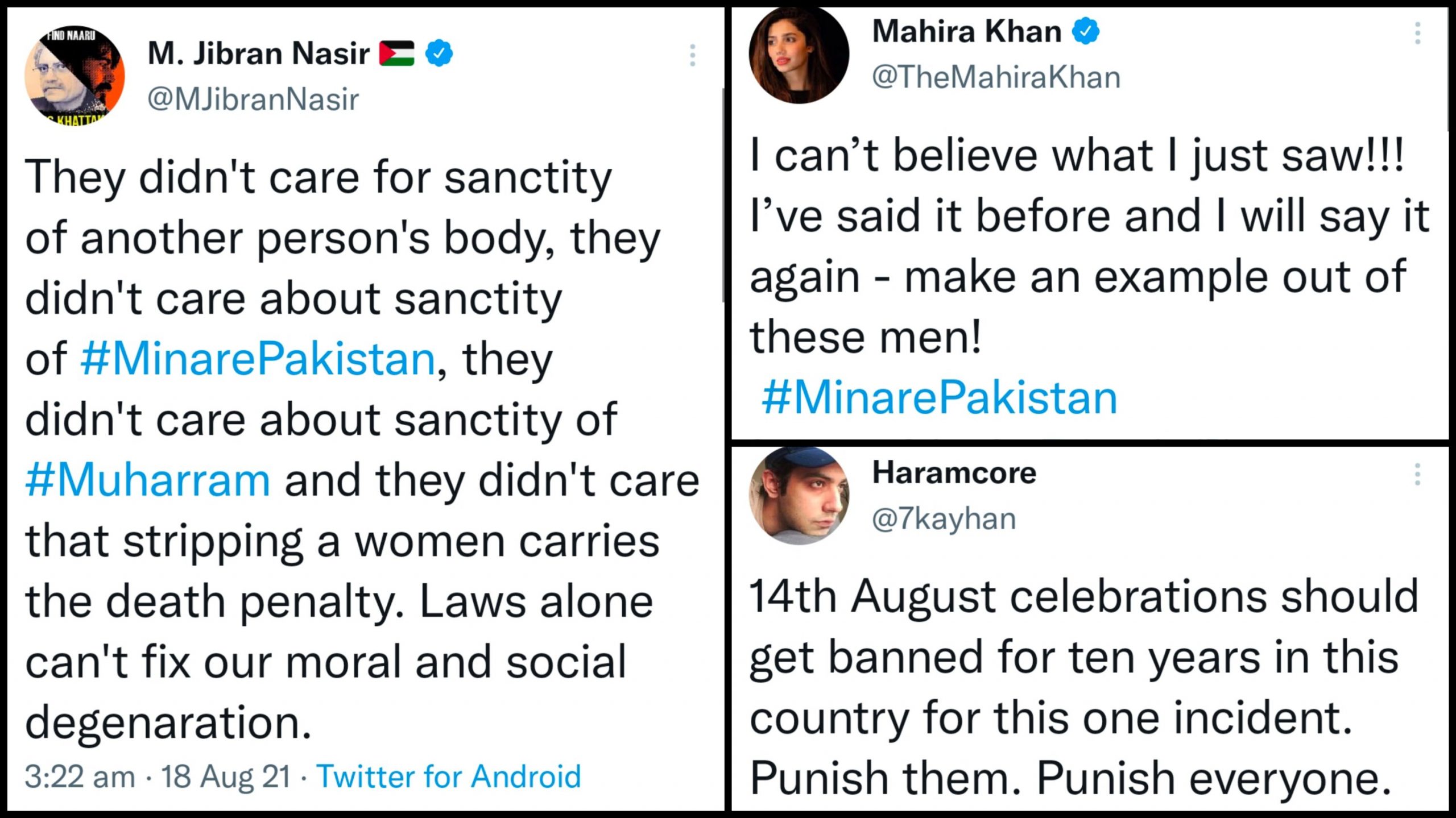 The past couple of weeks have been particularly heavy for the nation when it comes to women and their safety, but things took a turn for worse when videos of a tiktoker named Ayesha surfaced the internet where she can be seen being manhandled by about 400 people at Minar e Pakistan in Lahore on the independence day.
According to reports, the girl who was nearby making a video, was attacked by the mob and then harassed to the extent where her clothes were torn off. The mob included people of all ages, from kids to teenagers to middle aged and old men, and the videos being shared to social media platforms are absolutely horrific to watch. Still having faith in the country's judiciary system, the tiktoker turned to authorities and filed an FIR as she awaits justice and deals with the trauma.
Livid at the incident, Pakistanis are taking it to social media to share their thoughts on the matter, and here's what they've got to say:
14th August celebrations should get banned for ten years in this country for this one incident. Punish them. Punish everyone. This is unbelievable. Someone has to pay. Everyone has to pay.

— Haramcore (@7kayhan) August 17, 2021
Mahira Khan was in disbelief:
I can't believe what I just saw!!! I've said it before and I will say it again – make an example out of these men!
#MinarePakistan

— Mahira Khan (@TheMahiraKhan) August 17, 2021
Shareef woh hai jisay mouqa nai mila:
400 men, 800 eyes. No eye felt shame, no hand came forward to protect. No heart felt fear of Allah. No soul got shattered. No tongue spoke a word to their mate. All got a chance and they took advantage.

— Aqsa. (@ItsmeAqsaa) August 17, 2021
People wanted the PM to look into the matter and assure the women of the country that they are safe:
After watching what happened at minar e Pakistan what's my reason to feel safe in this country as a woman? What's my reason to believe that any woman I know is/will be safe in this country? @ImranKhanPTI please take notice. Women of Pakistan need your assurance.#minarepakistan

— Nida Fatima Zaidi (@NidaFatimaZaidi) August 17, 2021
Is this the Pakistan Quaid wanted?
A woman in Lahore was assaulted, harassed and stripped naked by hundreds of men all at once. What could compel every man there to act like a monster? Then you say it's "not all men"?

Independence Day. Minar-e-Pakistan. Men of Pakistan assaulting a woman. Quaid would be proud.

— Alishba (@alishbabrar) August 17, 2021
400 people groped a girl at Minar-e-Pakistan in broad daylight. Ye ha hmaray Quaid ka Pakistan.

— Nishat (@Nishat64) August 17, 2021
If this doesn't scare you, we don't know what will:
among the hundreds of men assaulting her, there were KIDS trying to grope her. young children are trying to harass women because they are seeing grown men do this, and one day they will grow up. things aren't changing here. this is your future. doomed.

— Maryam (@maryamful) August 17, 2021
Louder!
betiyon ki jaga beton ko ghar se na nikalne dou shayad mulk behtr ho jai.

— zay (@hystwhoreical) August 17, 2021
People were demanding that these men be hanged in the same park:
HANG ALL OF THEM ALL 400 MEN PUBLICLY IN THE SAME PARK. MAY THEY ROT IN THE DEEPEST PIT OF HELL. #400men

— Ambreeeen.. (@Nostalgicc_A) August 17, 2021
We all are:
The girl screams for help as she's groped by hundreds of men. There is Azaan going on in the background.

I'm finding it hard to wrap my head around that scenario. #minarepakistan

— Shahveer Jafry (@shahveerjaay) August 17, 2021
People wanted the men to be severely punished:
This is a new low for our society. All of these men should be severely punished as per the law. #MinarePakistan pic.twitter.com/TbCRl3IpEm

— Senator Dr. Afnan Ullah Khan (@afnanullahkh) August 17, 2021
True:
You have no idea how much this will haunt every pakistani woman for the rest of our lives

— Dee ✨ (@filterdee) August 17, 2021
We need it now more than ever:
The level of depravity in that Minar-e-Pakistan video is honestly surreal. It's like a scene out of a zombie movie. We need immediate action to re-educate the men in this country.

— Arhum (@arhuml92) August 17, 2021
😔
I think a part of me died after learning of what happened to the woman in Minar-e-Pakistan. Every single day is a nightmare as a woman.

— نوال (@nawalzj) August 17, 2021
Sucks to be a woman in this country:
this minar e pakistan incident feels too real. me and my older sister got groped and harassed the SAME way. in the SAME place. Iqbal Park. the number wasn't so much there were maybe 40, 50 men then. the ppl around didn't do shit. the men enjoyed, laughed, they were having fun.

— h. 🌸 (@hamnahaqansari) August 17, 2021
People wanted the men to burn!
That Lahore video… what the fuck man. Look at hundreds of ''protector of women aurat humari izzat hai'' men who are standing around watching a woman be assaulted in broad daylight. Kya faida aise mardoun ka, jala do in ko

— the user previously known as ghaura (@ghauraghaura) August 17, 2021
Yes please!
Put a curfew on men and see how public spaces become safer. Women have literally never been the threat to public life. It's always been men yet our freedoms are curtailed.

— moonshine🐦 (@ssunsethour) August 17, 2021
Honestly, we're at a loss for words:
what do we call them?

patriots? men? Muslims? predators? monsters? 400 men? not all men? yes all men?

I just wanna see them burn, & murdered brutally.. #Lahore pic.twitter.com/bDnbbzKJT7

— Suھaib (@Azad_Khayaal) August 17, 2021
Women were scared:
We've lost the sense of security we once felt around you 💔
Men aren't the saviours, the protectors anymore.. You have made us call you THE MOLESTERS!!!#Ayesha #Lahore #400men #minarepakistan #14AugustBlackDay pic.twitter.com/qw78RTavaE

— سیمل (@MahmoodSeimal) August 17, 2021
It's a vicious cycle:
Humanity lost today, but it's always a loss for women first. Imagine a father who won't allow his daughter to step outside alone because "bahir khatra ha." Will you say he's wrong?#Ayesha #Lahore #MinarePakistan #400men

— Ayesha Shaikh (@AyeshaShaikh_co) August 17, 2021
What do you think is the solution to all this? Let us know in the comments below!