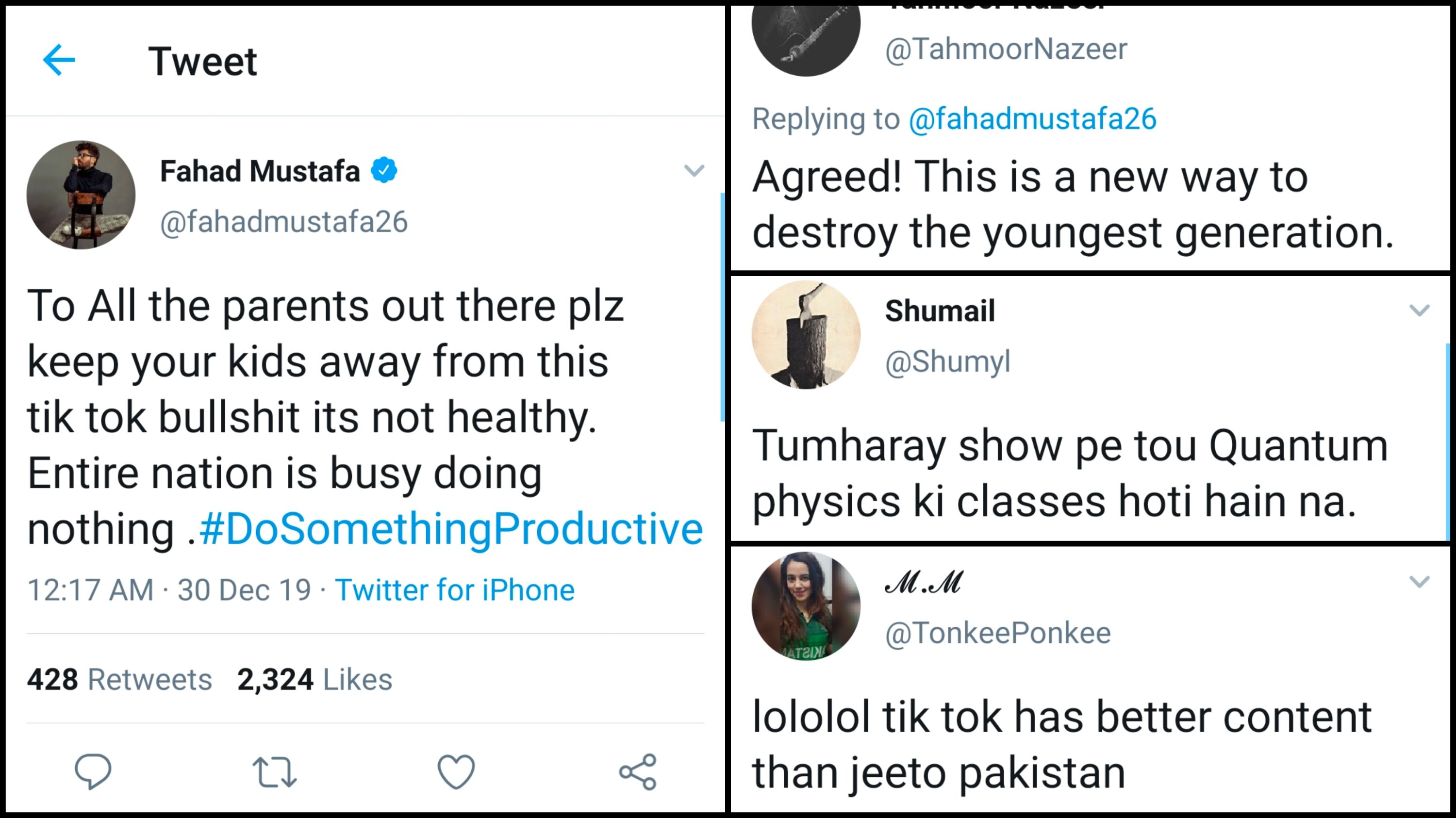 Fahad Mustafa is one of the biggest stars the industry has right now, he's always managed to keep himself away from controversies and hosts one of the most coveted shows in the country, Jeeto Pakistan.
Fahad took to Twitter to tweet how he feels about the video app Tik Tok and requested parents to keep their children away from the app:
To All the parents out there plz keep your kids away from this tik tok bullshit its not healthy. Entire nation is busy doing nothing .#DoSomethingProductive

— Fahad Mustafa (@fahadmustafa26) December 29, 2019
And while his tweet stemmed from a place of concern, people were bringing in Jeeto Pakistan as their counter argument:
Lol, like Jeeto Pakistan is giving this nation kids six packs. 🤣🤣

— Ghabranan Nahin Hai!!! (@Hamzaazam909) December 29, 2019
Tumharay show pe tou Quantum physics ki classes hoti hain na. https://t.co/DyVt8HwLmJ

— Shumail (@Shumyl) December 29, 2019
Some had their reservations:
Baat Badi Achi ki Hai Lekin Likhi Ghalt Bande Ne Hai…

— Sheikh Abdullah (@MemesBySheikh) December 29, 2019
It's all about using and misusing the platform:
Hell, I'm not really into TikTok but at least it is creative, & Gen Z has been using it to discuss how to survive Hong Kong protests & educate on a variety of important topics. Better than using Instagram to show your meals or pretend to have a lifestyle that isn't realistic https://t.co/H4at5DXPEu

— Aubrey Tauer, DVM MPH DACVPM 🏳️‍🌈 (@draubreytauer) December 29, 2019
Shots were fired:
ok boomer

— TK (@teakay23) December 29, 2019
Fahad mustafa is the real boomer of our film fraternity https://t.co/gOpnq6WgbP

— not a kpop stan account (@isyedibad) December 29, 2019
Many argued how the app can actually be productive for some:
First of all it's NOT nothing. People are earning through it and is a big deal. Secondly, what people need to realize is not everything is for everyone. So if it's not for them don't waste time on it. But if they are well off with it, it's productive for them.

— Usra Murtaza (@usramurtaza) December 29, 2019
People were calling him out on the hypocrisy:
Not that you're wrong, but dude way to be hypocritical! The shit you make people do on your show is equivalent to reality tik tok tv. #Sharamtoumagartumheyaatinahi https://t.co/8EBoJN2MAy

— ف ت ا ح (@sufimfb) December 30, 2019
Some came ready with facts:
Tik Tok has 800 million monthly active users worldwide@LilNasX credits the success of "Old Town Road" to TikTok
The secret is in how you utilize an upcoming platform. Instagram was once nothing too. https://t.co/LHD5fXda1M

— Sudrish Khan (@SudrishK) December 29, 2019
People were comparing his show to the app:
What's worse than his show?
People lose self-respect there n think that they won prizes, lmao. #DoAProductiveShow https://t.co/9aLN44139n

— Muhammad Awais (@ChMuhamadAwais) December 29, 2019
lololol tik tok has better content than jeeto pakistan https://t.co/RwdZYniGbT

— ℳ.ℳ (@TonkeePonkee) December 29, 2019
Some disagreed with proof!
I disagree https://t.co/11jviFthD8 pic.twitter.com/JdGuBAzWFe

— Zaineb (@TheTherapist___) December 29, 2019
Some were blaming the people rather than the app:
It's not the app, rather the shitty mentality of us as a nation who neglects legit content creators and fall for otherwise. I'd either have the app and watch villagers happily expressing themselves. #RightUsageMatters https://t.co/HGss8xdPPn

— بلال (@Iambilalyunas) December 29, 2019
Some were calling it jealousy:
Professional jealousy? #TikTok https://t.co/Rz9ByL4wo8

— ایمن (@aemination) December 29, 2019
And while the majority disagreed, there were many who agreed with what he was saying:
thank you for saying that !

— Rabya Kulsoom Rehan (@Kulchiii) December 29, 2019
Some were calling it a way of destroying the younger lot:
Agreed! This is a new way to destroy the youngest generation.

— Tahmoor Nazeer (@TahmoorNazeer) December 29, 2019
Many were legit concerned about the app being a threat to privacy:
Tiktok is more harmful in terms of privacy too. It is important for parents to realize this isn't just about uploading shit content and trying to become tiktok star, rather it is more about keeping them safe. Would they ever want their kids's location and activities tracked? https://t.co/onbwMMFlbT

— BeeFaauBee (@BeeFaauBee09) December 29, 2019
People were admiring him for his tweet:
Good to see sensible tweet coming from someone from media industry. Well i always admired u @fahadmustafa26 you seems to be more sensible in real as you used to be in #jeetoPakistan! 👍 just kidding 😂

— عبدالرحمن سعید ملک (@armalikawan) December 29, 2019
Shukar koi to bola👌

— ALI KHAN (@SyedAli09425847) December 29, 2019
Some wanted the app to be straight up banned:
It must be banned

— Faryab 🇵🇰 (@Faryab2) December 29, 2019

https://twitter.com/Mahnoor22Shahid/status/1211373895997165569?s=19
People were sharing their reservations as parents:
Me as a parent scared of this trend

— raed (@raed23033369) December 29, 2019
Many shared their dislike for the app:
I hate tik tok pata nhi usko ban q nhi kartay 🤔🤦‍♀️jis ko dekho ulta seedha banatay hain aur bina sochay tik tok par apload krtay hain jo bilkul sahi nhi hai

— Komal khan❤️ (@komalsamikhan) December 29, 2019
It's a vicious world on social media:
In fact keep your kids away from social media #WORST to their mental health https://t.co/eBH2VclAwU

— Sana Afridi (@afridi792) December 29, 2019
People were lauding him for speaking up against the app:
At last someone has b***ls to talk on tiktok shit…..@fahadmustafa26
Sir you done an awesome thing…. https://t.co/sdpIQ2hdKo

— Yamu Tsuyu…….. (@awaisafzal0) December 29, 2019
What do you think Fahad Mustafa's take on Tik Tok? Let us know in the comments below!