Pakistan has a love-hate relationship with news television, and whether you are watching it 24/7 or for a little snippet a day, you're ought to be addicted to the way the anchors are telling you the daily happenings in the country.
From their way to talking to their ability to grasp onto the little nuances of breaking news, anchors all over our various channels proved that in 2019, they came closer to becoming even more responsible journalists, and to a large extent, great showmen too.
Who ruled the roost this year on news television as the face of the channel? Diva has the lowdown…
Muhammad Junaid – Absa Komal (GEO)

Both, Muhammad Junaid and Absa Komal have been names we've seen shine in 2019, and from their allure to their way of anchoring, it all has all been spot on. The two also have proven to be trustworthy faces on news television, and for a channel like GEO, they're truly assets.
Mubashir Hashmi – Aleena Farooq Sheikh (GEO)

Two more names from Geo News who kept us interested in news television this year were definitely Mubashir Hashmi and Aleena Farooq Sheikh. Both news anchors have a flair for speaking – and doing that amazingly, as well as being able to maintain composure while giving out hard-hitting news.
Ashfaque Ishaq Satti – Sadaf Abdul Jabbar (ARY)

ARY has been one of the most prominent channels for news this year like it has in the past few years, and both Asfaque Ishaq Satti and Sadaf Abdul Jabbar were at the forefront of it all. The duo is a pair of strong journalists, but more than that, they also have a nose for news and a knack for good narrativizing of current happenings;
Rameez Ahmad – Sidra Meer (Samaa)

Samaa TV came into its own in 2019, and was able to prove its mettle as one of the most trustworthy voices for news television this year. Adding to that charm were Rameez Ahmad and Sidra Meer, who kept the audiences glued to their TV sets as they gave out breaking news with utmost effortlessness.
Shahzad Hassan – Uzma Nauman (GNN)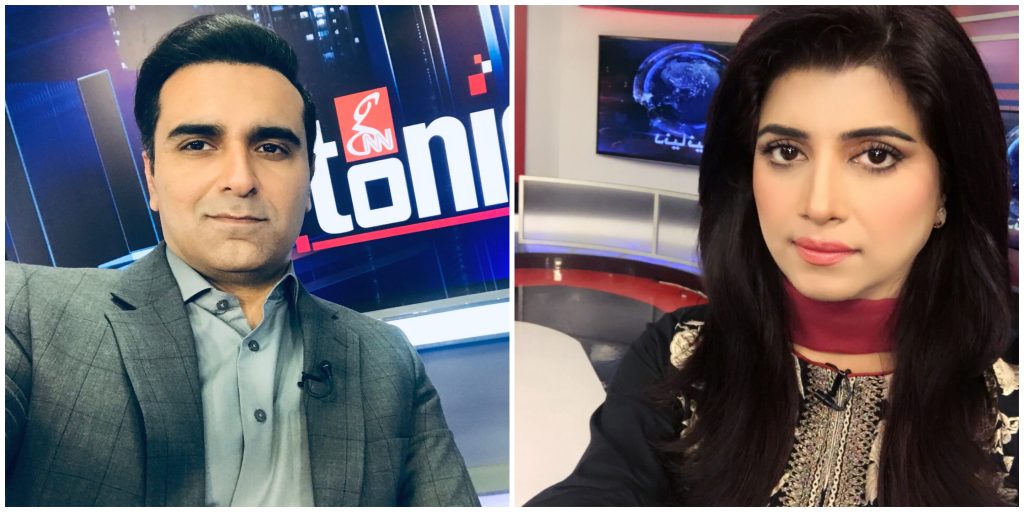 Shahzad Hassan has been a prominent name in journalism and news anchoring for more than a decade, and his pairing with Uzma Nauman on GNN just added more charm to his persona. Both the anchors were able to make the newly launched channel one of the most-watched this year and kept the interest levels quite high.
Which news anchors have been your favourite this year? Tell us in the comments section below.