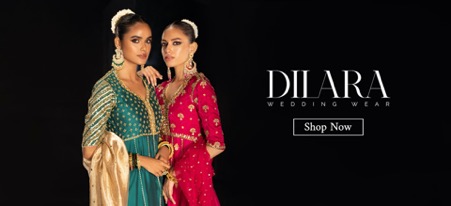 In the world of Pakistan's haute couture, one name that continues to attract fashion enthusiasts is that of fashion designer, Mariyam D. Rizwan. Renowned for her unparalleled design sensibilities and intricate craftsmanship, Mariyam D. Rizwan's latest collection, "Dilara Wedding Wear," is a harmony of contemporary flair and traditional elegance.
Mariyam D Rizwan: A Maestro in Innovative Designs
Mariyam D. Rizwan's designs are able to seamlessly blend tradition with innovation. While paying homage to Pakistan's rich cultural heritage, she also pushes the boundaries of creativity by infusing contemporary silhouettes and design elements. This unique fusion results in pieces that are not confined by time, becoming timeless pieces that can be handed down via generations just like family heirlooms.
The Enchanting Allure of the Dilara Wedding Wear Collection
With the wedding season right around the corner, the Dilara One can observe that the collection features a diverse range of silhouettes, catering to a wide spectrum of preferences. From regal bridal lehengas adorned with cascading embellishments to sophisticated gowns that exude elegance, each design speaks to the versatility of Mariyam D. Rizwan's creativity. The designer's acute understanding of how to enhance a woman's inherent beauty is evident in the way the outfits drape and flow.
We're also loving the vibrant colour palette chosen for the collection which further reinforces its magnificence. Rich jewel tones of reds, royal blues and teals, and regal golds dominate the collection, creating an aura of grandeur and luxury. These colours remind us of the traditional essence of weddings and add a touch of regal splendour.
Here are some of our must haves for a bridal trousseau or outfits we'd love to wear at an upcoming wedding:
Samara
The perfect outfit to wear for a day wedding function, this gorgeous pale blue with gold Kaalidar is stunning with gold handwork and a panelled skirt with heavy detailing of floral block print motifs. The added volume to the skirt gives it an extra oomph.
Zuri
This majestic red lehenga choli is reminiscent of royal traditions, exuding grandeur. The intricate mirrorwork, dabka and nakshi work that adorns the lehenga is a masterpiece of artistry. Paired with an embellished blouse and a delicately adorned dupatta, this outfit is a perfect embodiment of the blend between classic and contemporary.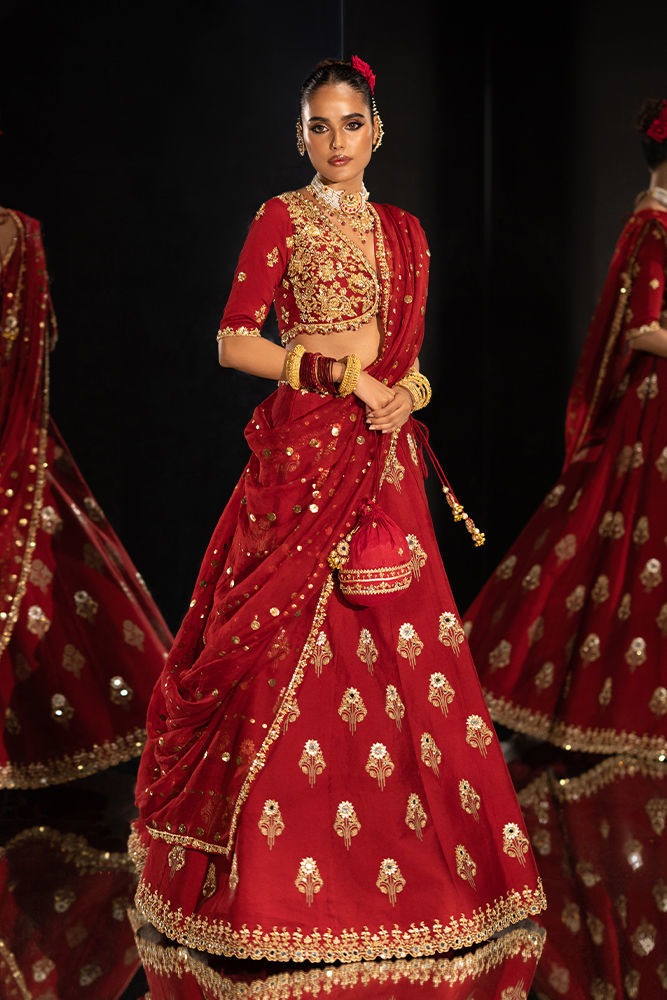 Nyla
The eye-catching colour is what has all of our attention, this pure Khaddi net ensemble with a rich jamavar bodice is a must-have for the upcoming wedding collection. The gorgeous contrast of the gold with the delicate lilac gives the outfit a royal look.
The outfit is heavily detailed with handwork on the panels with organza and gota detailing border at the hem to give it a complete look.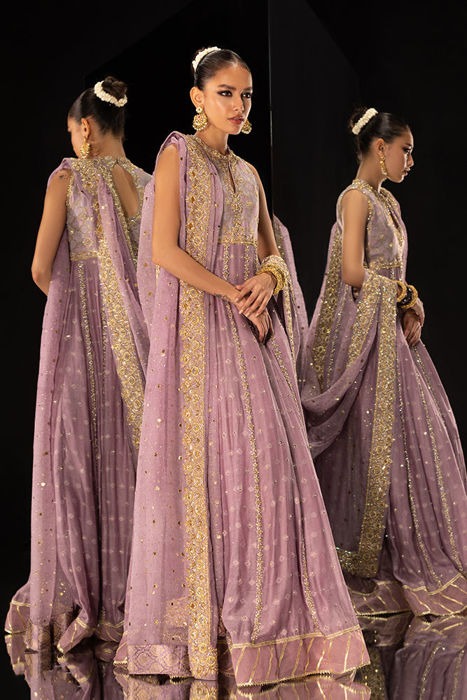 Mehru
Crafted from luxurious khaddi silk, this romantic ensemble stands out in a stunning shade of fuchsia pink. The neckline and sleeves boast meticulous hand-embellishments, adorned with intricate motifs and sequined delicacies. Yet, the true showstopper lies in the back, where an exquisitely detailed neckline is certain to capture attention wherever you go.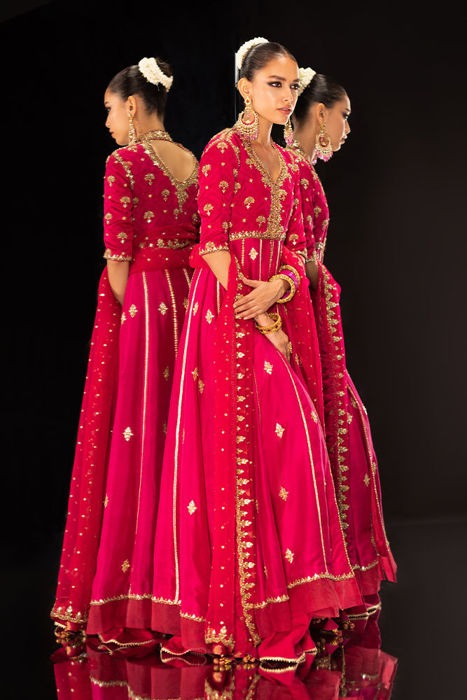 Chandni
For the modern bride who seeks to embrace tradition with a twist, the embellished ivory Kaalidar is a standout choice. The Kaalidar's delicate mirror work detailing with gota, dabka and nakhshi celebrates the beauty of subtlety and glamour. This ensemble captures the essence of understated elegance, making it a perfect option for pre-wedding festivities.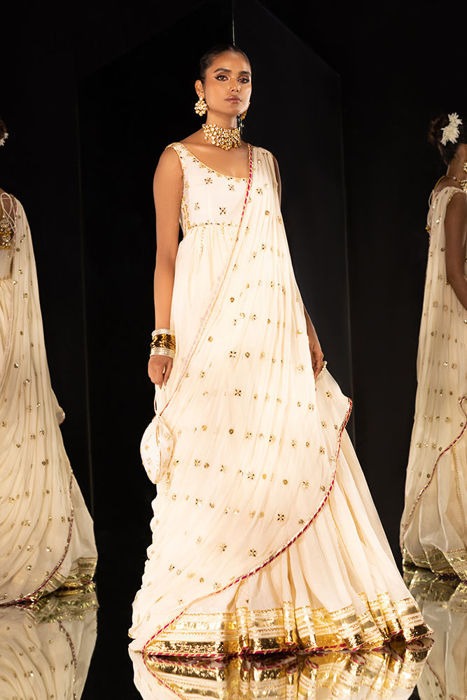 What's your top pick from Mariyam D. Rizwan's Dilara wedding collection? Let us know in the comments below.