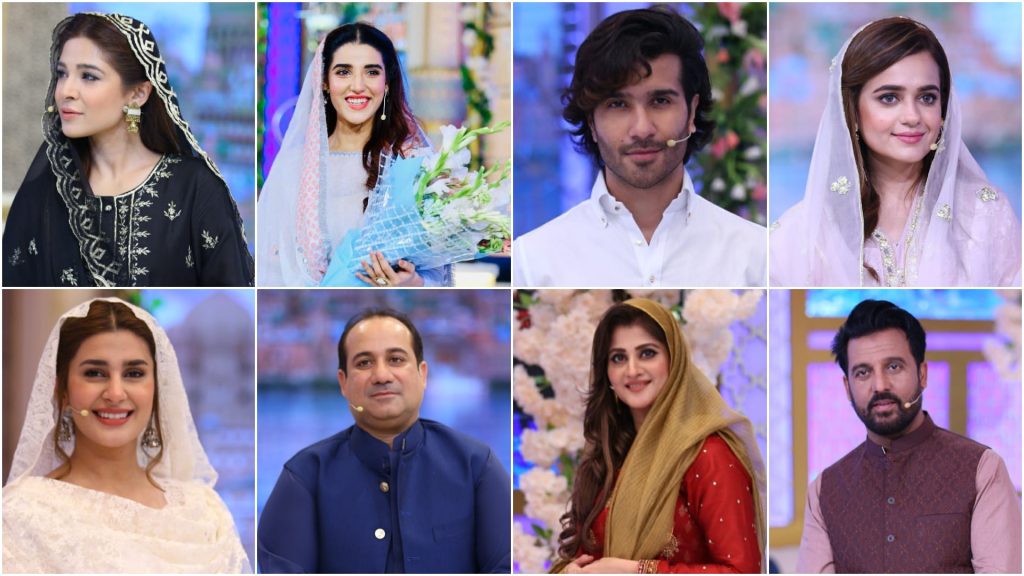 Geo Entertainment with its Ramzan transmission has captivated its audience and has received a lot of appreciation for promoting the real ideology behind the blessed month. Hosted by Rabia Anum, Ehsaas Ramzan has been quite successful with its core message of respect, empathy and sensitivity being spread through the live transmissions every day.
Many celebrities, from actors to cricketers have been invited during the broadcast to converse about the blessings we all have been bestowed upon, along with our responsibility towards others and promoting goodwill in this pious month.
From saving water to saving life, every aspect of the society that needs to be highlighted has been brought in discussion. The acting fraternity, from veteran actors like Javaid Sheikh to newcomers like Madiha Imam, were invited as a guest on the show to share their own concept and perspective on Ehsaas.
These celebrities included the idolized couple of Afzal (Rambo) and Sahiba, aced actor Faysal Qureshi, skilled batsman and former Pakistani team captain Misbah-Ul-Haq, young acting sensations like Kubra Khan, Neelam Munir, Ushna Shah, Junaid Khan, Rabab Hashim, Ramsha Khan, the legendary Rahat Fateh Ali Khan, and many others, who made an appearance on the show, putting the feather in the cap of this much-liked transmission.
Their segment Bachay Man Kay Sachay, where the celebrity guests have a delightful conversation with the kids is the most relished segment, making our celebs answer every innocent as well as tricky question asked by the little ones.
With a lot of social issues prevalent in our society, Ehsaas Ramzan has provided a platform for the celebrities of Pakistan to speak their heart about their own experiences, what they believe is missing from our society in terms of moral values and ethics, and what needs to be changed within us as individuals and as a whole. Not only this, the guest also got to share their routines and many different things about themselves that their fans wanted to know. Ehsaas Ramzan has been highly adored by the viewers for its unique and noble concept this Ramzan, that surely will remain in the hearts of its audience.