he wait is over, and the much-awaited Ideas Festive Sale is finally here! Prepare to be captivated by the allure of luxury pret outfits, as Ideas brings you an irresistible offer of a flat 40% discount on selected items. With Eid just around the corner, now is the perfect time to indulge in your favorite luxury pret ensembles and make the ultimate fashion statement. 
Luxury pret is all about capturing the essence of sophistication and elegance. It combines intricate designs, premium fabrics, and impeccable craftsmanship to create outfits that are nothing short of works of art. And now, with the Festive Sale, you can indulge in this opulence without breaking the bank. The flat 40% discount on selected luxury pret items opens doors to a world of possibilities, allowing you to expand your wardrobe with timeless ensembles.
This stunning two-piece ensemble exudes grace and charm. The shirt features delicate embroidery on a plain net fabric, adding an ethereal touch to the overall look. Paired with a matching dupatta, this ensemble is perfect for Eid festivities. Style it with a pair of embroidered pants or palazzos to complete the ensemble, and accessorize with statement jewelry for a truly regal appearance.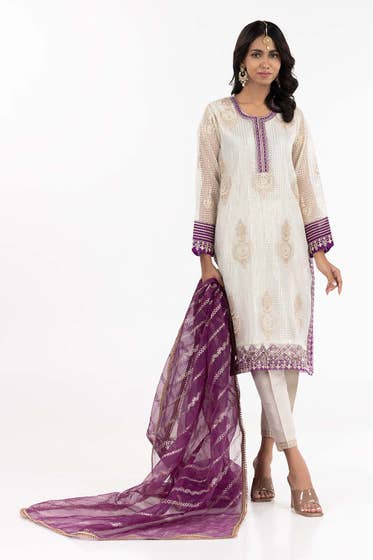 This exquisite embroidered shirt is crafted from dyed zari organza, creating a mesmerizing interplay of colors and textures. The intricate embroidery adds depth and allure to the outfit, making it a standout choice for Eid celebrations. Pair it with a contrasting solid-color shalwar or cigarette pants to create a striking contrast, and let the shirt steal the limelight. Finish the look with embellished sandals and a sleek clutch to make a lasting impression.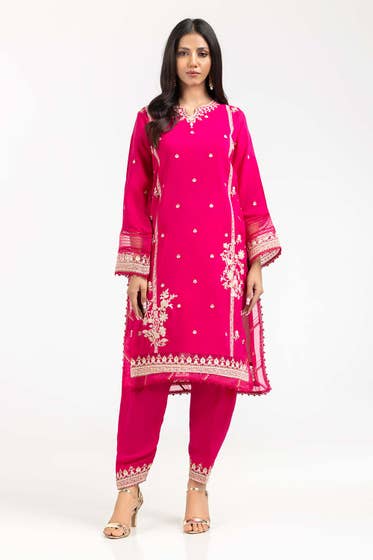 Elevate your Eid wardrobe with this luxurious two-piece ensemble. The dyed Indian raw silk shirt features exquisite embroidery, showcasing traditional craftsmanship at its finest. Paired with a matching shalwar, this ensemble exudes elegance and grace. Complete the look with metallic heels, a delicate bracelet, and a stylish clutch for a flawless festive appearance.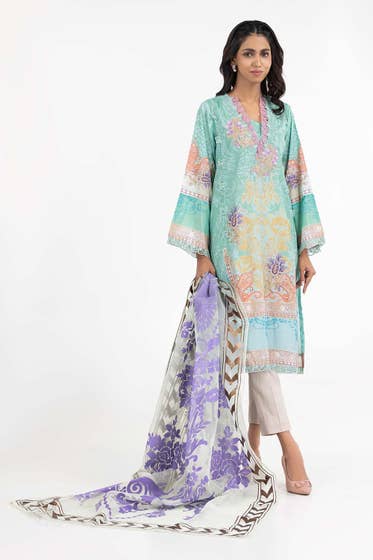 This printed poly crepe shirt is a delightful blend of style and comfort. The intricate embellishments add a touch of glamour, making it an ideal choice for Eid festivities. Pair it with straight pants for a chic and contemporary look. Add a pair of statement earrings and a vibrant handbag to infuse a pop of color into your ensemble, creating a festive vibe.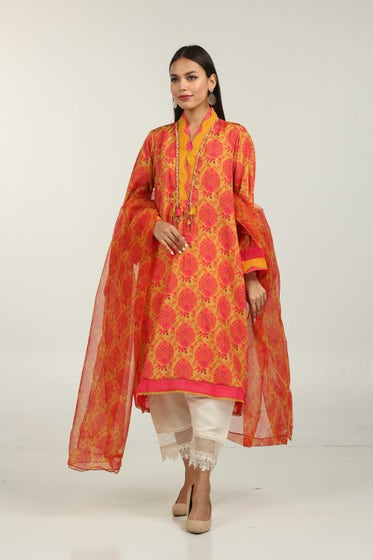 This two-piece ensemble is a celebration of grace and femininity. The printed poly crepe shirt and dupatta feature intricate embellishments that enhance the overall charm of the outfit. Pair it with straight pants or gharara pants for an elegant and contemporary Eid look. Complement the ensemble with delicate jhumkas and a beaded clutch for a touch of glamour.
Remember, these exquisite luxury pret outfits are available at discounted prices only because of the ongoing Festive Sale. You can explore and purchase these stunning creations both
 in-store and online at http://www.gulahmedshop.com, ensuring a hassle-free shopping experience that caters to your convenience.
As the Ideas Festive Sale unfolds, the luxury pret category stands out as a captivating treasure trove of elegance and sophistication. With the flat 40% off on selected items, it is the perfect time to indulge in the opulence of luxury pret outfits. Elevate your Eid wardrobe with these exquisite ensembles, and let your style reflect the radiance within. 
Hurry, as the clock is ticking, and the Festive Sale won't last forever. Seize the opportunity to shop and embrace the enchantment of luxury pret at irresistible prices.