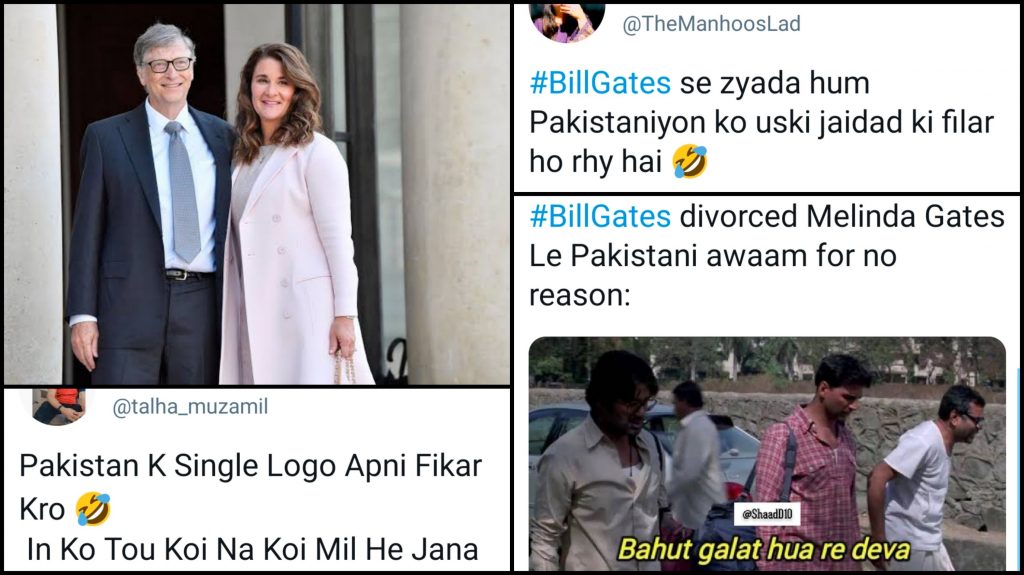 After 27 years of a seemingly happy marriage, Bill Gates and Melinda Gates have finally called it quits. In a short but heartfelt note shared to social media, the couple announced that they were parting ways in order to grow individually and asked for privacy regarding this matter:
— Bill Gates (@BillGates) May 3, 2021
The news was met with differing opinions globally, but Pakistanis have been in a league of their own:
You think she left him because he was Microsoft?

— Arhum (@arhuml92) May 3, 2021
Way way way ahead of their time! 😱
pak dramas were ahead of its time. https://t.co/j0PZn1xue4 pic.twitter.com/itxkF8wyp2

— aنaس (@AnasMagnificent) May 3, 2021
5 days ago, PM's office shared how Imran Khan talked to Bill Gates and people think it's kinda sus 😂
What else was discussed on this phone call? https://t.co/311IsZBw3y

— Arhum (@arhuml92) May 3, 2021
My boy came through. West ka ek couple tou destroy krdia. https://t.co/HGcxwwVN9w

— Prop Joe (@GaaaarlicBread) May 3, 2021
"Mein divorces ko barri achi tarah jaanta houn" https://t.co/VAxSoxfSEC

— Shumail (@Shumyl) May 3, 2021
Matlab:
#BillGates divorced Melinda Gates
Le Pakistani awaam for no reason: pic.twitter.com/LXe3IhHKAV

— Rehan Hafeez (@RehanHafeez16) May 3, 2021
Melinda gates got divorced
Le pakistanis
#BillGates pic.twitter.com/y6xuNvlkBj

— Qarshi Jam e Shirin 🍷 (@Haris_khalil_hk) May 3, 2021
People were throwing shade at their fellows:
Melinda left one of the richest man on earth and you still think that your 2 year old relationship will last forever. Lol #billgates

— Muhammad Taha (@mtaha_here) May 3, 2021
True!
A woman can leave even if you are a richest guy in the world! #BillGates

— zobiyaa (@zobiyaaa915) May 3, 2021
We hope not 🤦‍♀️
Now Melinda would be getting friend requests from Pakistani teenagers 😁 #BillGates #melindagates

— Paglu. (@TheManhoosLad) May 3, 2021
Inko dekho zara:
Oh Respectable @BillGates
Sahab please humbly request you send me some money#BillGates

— Shahab Aftab (@ShahabTunio) May 3, 2021
Jo baat hai:
Although not one of the best acts but still the way they are separating is examplory
No one is pointing fingers
No one is blaming
This is a life lesson and people must learn through this#melinda#BillGates https://t.co/f1XWm67TP0

— Imran Khan (@ma_balochha) May 3, 2021
Talaaq toh honay doh pehle:
NoOne, Bill Gates Be like: me bhi shadi karunga yaa ALLAH taufeeq day😅#BillGates #alikiarmy 🌟 pic.twitter.com/WBNYl0TJkf

— Ali Ki Army 💙 (@Ali_Ki_Army) May 3, 2021
Hahaha baat toh sach hai:
#BillGates se zyada hum Pakistaniyon ko uski jaidad ki filar ho rhy hai 🤣

Reading them damn comments on different pages is lit 🔥

— Paglu. (@TheManhoosLad) May 3, 2021
Oh bhaiii maaro mujhay 🤦‍♀️🤦‍♀️
Aur chips laga hamari vaccine me #BillGates

— Muhammad Taha (@mtaha_here) May 3, 2021
Shots were fired 😂
Pakistan K Single Logo Apni Fikar Kro 🤣
In Ko Tou Koi Na Koi Mil He Jana #billgatesdivorce#Pakistan#ImranKhan#dogecoin#BillGates pic.twitter.com/39GtR3bXfv

— Talha Muzamil (@talha_muzamil) May 3, 2021
I'm sure they did:
did you try closing the marriage in task manager and trying again https://t.co/NrDl0aYPiw

— fuuka ☁️風花 (@airfuuka) May 3, 2021
Do you think Pakistanis are a little too invested or is it just us? Let us know in the comments below!