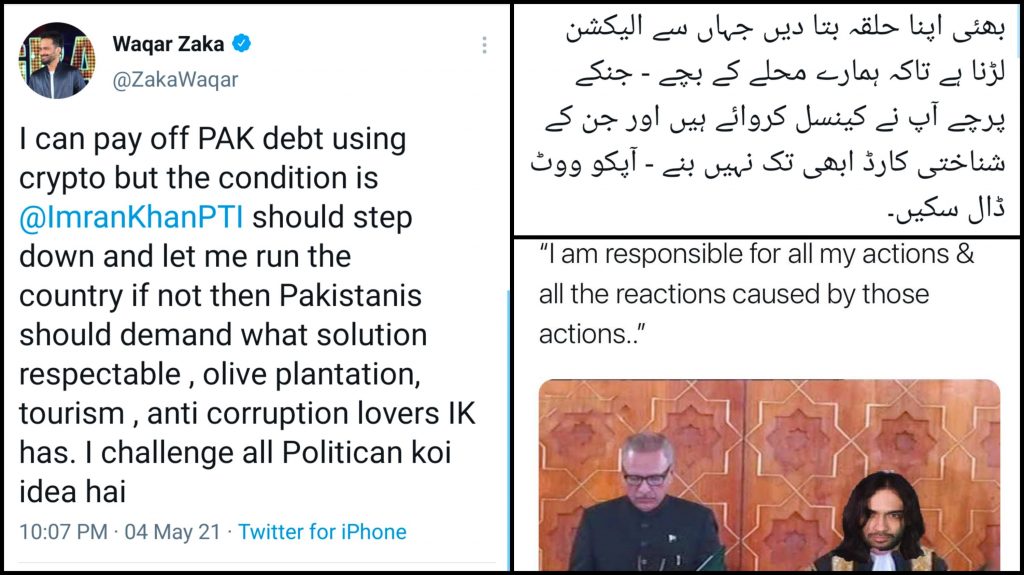 In a surprising turn of events, Waqar Zaka has offered to pay off the country's debt with his crypto-currency but only if PM Imran Khan steps down from his position:
I can pay off PAK debt using crypto but the condition is @ImranKhanPTI should step down and let me run the country if not then Pakistanis should demand what solution respectable , olive plantation, tourism , anti corruption lovers IK has. I challenge all Politican koi idea hai

— Waqar Zaka (@ZakaWaqar) May 4, 2021
And people really have a lot to say about his proposal!
This is it. This is the end game that I've been waiting for. #JeSuisWaqarZaka https://t.co/1zCfyMWchp

— Ammar Khan (@rogueonomist) May 4, 2021
Dead 😂
"I am responsible for all my actions & all the reactions caused by those actions.." https://t.co/cwjxPcQOWq pic.twitter.com/wp7zHaXh6D

— Not The Dependent (@DependentNot) May 4, 2021
People were suggesting ways he can become the PM:
بھئی اپنا حلقہ بتا دیں جہاں سے الیکشن لڑنا ہے تاکہ ہمارے محلے کے بچے – جنکے پرچے آپ نے کینسل کروائے ہیں اور جن کے شناختی کارڈ ابھی تک نہیں بنے – آپکو ووٹ ڈال سکیں۔

— Baji Please (@BajiPlease) May 4, 2021
Matlab, kuch bhi?
— Waleed (@_waleedd_) May 4, 2021
Ummm?
PM addressing the nation https://t.co/B4iJXdRrdP pic.twitter.com/TKRRbXcaPs

— V2 (@sheedovic) May 4, 2021
Some were calling him an opportunist:
To the students who were protesting against the Government, Now you can see why Waqar Zaka was supporting you, he's dreaming of becoming the PM. Please don't get used and manipulated in the future by Opportunists like him. https://t.co/la2KBylbmB

— Mariam's Madness (@MaddyWithKhan) May 4, 2021
Mind-blown!
I can ace my final if my professor gives me the answer key & also steps down & makes me the examiner. If not, i should demand to get an A without being examined 🤯 https://t.co/TaTfCzKSzy

— Ayesha Haleem Adil Sheikh (@ayesha_haleem) May 4, 2021
Oh-kayyyyyyyyyy!
Waqar Zaka has always been ahead of the times. Too bad the Pakistanis do not recognize the genius within. https://t.co/BbJvsq4kN9 pic.twitter.com/xbr9JE1hnw

— DMKM (@2paisay) May 4, 2021
😂
me in grade 8 writing 10 paragraph long essays on my Instagram story giving solutions for world poverty https://t.co/lEHsVfUgMX

— maheen (@mintyhen) May 4, 2021
Shots were fired:
I think so this chutiya has just finished watching narcos on netflix. o bhai wo Pablo Escobar tha, tu aik tuchaa hai. https://t.co/pmBsc2oLuI

— Sir Saith Abdullah (@SaithAbdullah99) May 4, 2021
Tough competition:
You have to defeat Jibran Nasir and Jawad Ahmed first https://t.co/cFE4jxvEC4

— Main Abdul Majid Hoon (@ComicsByMajid) May 4, 2021
Savage 🔥
Escobar created a cocaine empire, sold his soul to the devil, had more money than space he could hide it in before asking his gov to let him pay off the country's debt.

meanwhile waqar zaka after creating an account on binance https://t.co/96FmzmZHiX

— Zohad (@Zohadtweets) May 4, 2021
👀
After years of living on the edge, I think he's gone over it. https://t.co/COQlPZbgGC

— Amar Ayaz (@amarayazz) May 4, 2021
Some were convinced that he should be given one chance at least:
He should get a chance at least … ek mauqa tou milna chahye https://t.co/VvoO28pUkF

— Ali Warsi (@thealiwarsi) May 4, 2021
Yar 😂
اسے وزیر خزانہ کا لالچ دوں؟ بندہ کام کا لگتا ہے pic.twitter.com/DUkXhWKeNY

— عسکری ریــنچ (@NaikRooh) May 4, 2021
Notes ki baarish hogi 💃
*me living in Waqar Zaka's crypto Pakistan* pic.twitter.com/lTsDx1RFBL

— Peshawari Elite (@SfeakerSb) May 4, 2021
Haha, people wanted to see a sample first:
Show us the sample by depositing 1 billion $ first.

— Dr. Haji Syed Professor ZAQ (@DrZAQ11) May 5, 2021
People were tweeting out their reactions:
— عسکری ریــنچ (@NaikRooh) May 4, 2021
— Red (@RedGujjar) May 4, 2021
People were sharing what the cabinet meetings would look like:
Cabinet meetings be like : https://t.co/KkhFN8xzmO pic.twitter.com/NAQlPx8ED0

— Zakria (@Zakr1a) May 4, 2021
Uh oh!
Meanwhile entire #Pakistan https://t.co/gJiFVVHH0P pic.twitter.com/i9Rde7kqrm

— Alina K (@alina_kshf) May 5, 2021
What are your thoughts on Waqar's proposal? Let us know in the comments below!