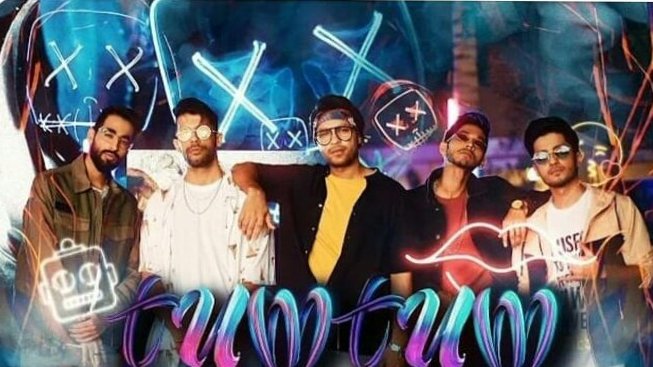 After getting tons of criticism on the teasers of Tum Tum featuring the Tiktok star Areeka Haq, Asim Azhar released the biggest collaboration he's ever done featuring Shamoon Ismail, Mooroo, Talha Anjum, Talhah Yunus, Raamis alongside Areeka Haq, Asad Siddiqui and Hania Aamir.
And twitter received the song in the funniest way!
Who made this??? 😂😂😂🤣🤣#TumTum pic.twitter.com/Voke0wYU31

— Ehtesham Hussain (@Ehtesham300) July 2, 2020
People had their own reasons to watch the song!
Reason behind watching this♥️✨#TumTum pic.twitter.com/NkqccJatFp

— Akasha (@SeriousHojao) July 2, 2020
Kat toh waqayi gaya:
#TUMTUM in a nutshell pic.twitter.com/3RVwbzXuju

— Shitposter (@Un91682010) July 2, 2020
YouTuber Ducky Bhai forcefully made his way into the video:
Deleted scene from #TumTum pic.twitter.com/vsJ3GGbsFL

— Saad Ur Rehman (@duckybhai) July 3, 2020
😂
#TumTum flop kese hua

Le whole production team : pic.twitter.com/EygYdL19j6

— Asfand ki baatein😴😴 (@bhaibutnotyours) July 2, 2020
Raise your hand if you can relate, because same!
The effort Hania Amir put in the song is the same as i do for online classes#TumTum pic.twitter.com/bC2s6D1DCl

— فصیح یوسف چیمہ (@FasihYousuf1) July 2, 2020
Mooroo had the hearts of many!
This man is love. I smiled when he appeared ❤️#TumTum pic.twitter.com/6oyteVwZ2B

— Hassan. (@Edward_kollins) July 2, 2020
Some were comparing the song to 2020:
If 2020 was a Song🤷🏻‍♀️#TumTum pic.twitter.com/hhKd5iNH4h

— H A B E B A (@k_abjaoO) July 2, 2020
The memers community was lit!
Asim Azhar #TumTum song released….
Le Memer community:😍 pic.twitter.com/1MwvqTn58O

— Muzammil Tweets☠️(Stay Home🙏) (@Bahrian_Nibba) July 2, 2020
People were comparing Hania's special appearance to that of Sindh government's 😂😂😂
The time hania amir was shown in the video is the same as PPP's work for Sindh😂
#haniaamir#TumTum pic.twitter.com/r1GOJ90vcv

— Rayyan ahmed (@_RayyanAhmed_) July 3, 2020
Some actually had a full-on thesis on why they were disappointed:
#TumTum is basically:
Asim Azhar posts the song because he popular.
They use Hania Amir to get some views.
They use Areeka Haq to get all the tharkis to watch the music video.
MOOROO DIDN'T EVEN SING

YS and Raamis hungry for fame.
Disappointed as fuck.

— Saeef. (@NotSoThakur) July 2, 2020
And while many had their reservations on the song, others loved it!
It's shitty habit of our people to criticize every trending topic without any reason, this song is a masterpiece and our music industry desperately need such collabs for the growth of upcoming and previously underrated artists 🖤
Waiting for the next part of #TumTum pic.twitter.com/GCmC9TwPdr

— Shahid Baloch (@shahid_says_) July 2, 2020
Many found their day made after the song came out!
Wonderful lyrics, cinematography definitely your moves and beautiful rap of young talent also.@AsimAzharr You nailed it Man♥️
Thank you for bringing lockdown special #TumTum pic.twitter.com/PkUWOH2Cu3

— Dadu Mal🇵🇰 (@dadu_mal) July 2, 2020
People loved it!
I really loved it🥰🥰🥰🥰🥰😍😍😍 #TumTum @areeqa__haq @AsimAzharr pic.twitter.com/eN6Fg5aQnO

— Abdullah Amir (stay home🏠 stay safe🕴️) (@malik_1_2) July 2, 2020
Many were calling out on the trolls:
Lo ji keyboard warriors shuru hojao. Kbhi @AsimAzharr ko troll karo, kbhi @areeqa__haq ko troll karo. The song was amazing and there is lot of hardwork behind it. Par sanu ki hamen tw bas troll karny sy mtlb hai. This shows how pathetic and jealous we are as a nation. #TumTum https://t.co/RVDLmn2MDm

— Jaweria (@Jiya07006777) July 2, 2020
People loved the fresh vibe of the song:
Sk says.. Honestly speaking i loved every bit of #TumTum by @AsimAzharr something different this time and @talhahanjum man he stole the show.. @Mooroo4 ye to hai hi cheetah..

— Saqibsays (@Saqibsays1) July 2, 2020
Many urged others to support local talent:
We must support our pakistani songs and talent… Or phr kehte hain k pakistani kch krte hi nhi #TumTum pic.twitter.com/GLwr5ckuIL

— BAD BOi (@Co0lestBadBoi) July 2, 2020
People were living for the cinematography!
This song was so lit!!🔥🔥 and it was so worth it as u ppl killed it and such a well shot MV👏👏 much needed for the Pakistani music scene #TumTum

— Mehvish Khan (@MevKhan1) July 2, 2020
Some threw major shade at the haters!
Pakistani awaam ko "Apna time aayega" tou samjh ajata hai par @AsimAzharr ka "Tum Tum" nhi samjh arha, acha bhala tou song hai, IDK why people are making fun of it….. #tumtum #asimazhar #haniaamir

— King Khan's Vines (@KingKhansVines1) July 3, 2020
What did you think about the song? Let us know in the comments below!