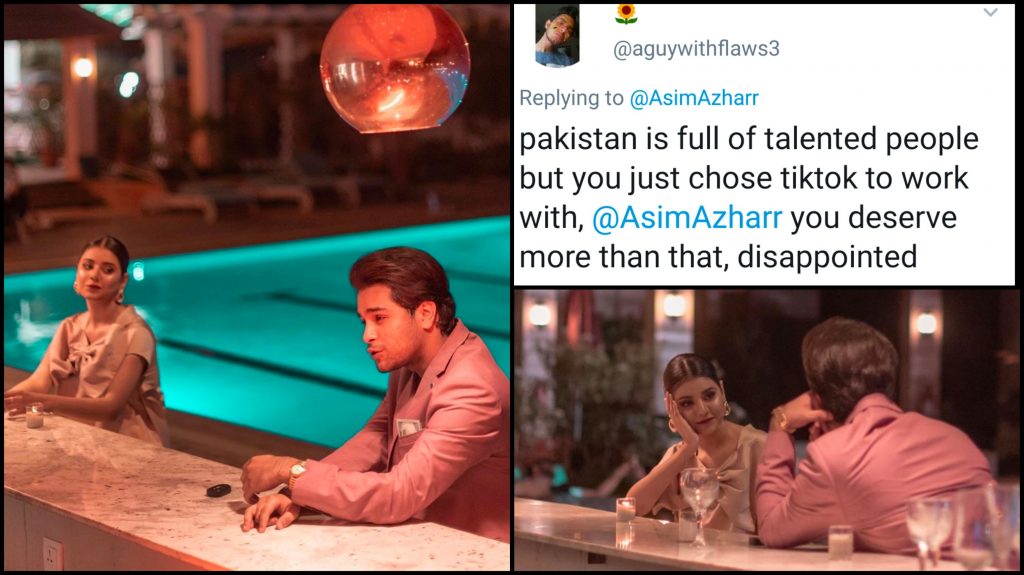 When it comes to Tiktok stars, Pakistanis have a love-hate relationship with them, some love to hate them and some really love them, adding millions of views to their content, while some don't even consider them worthy of being called a star!
Revealing the details of his new project, Asim Azhar shared a BTS picture featuring Tiktok star Areeka Haq who has 5.3M fans on Tiktok alone:
Areeka, too, shared a picture:
The pictures were met with vile criticism from the haters:
pakistan is full of talented people but you just chose tiktok to work with, @AsimAzharr you deserve more than that, disappointed

— 🌻 (@aguywithflaws3) June 25, 2020
Many had their reservations as they felt undermined:
What type of talent you just called it ? Doing sasta mujra on tiktok made you famous ? Wbt those who suffered alot in achieving their goals , works hard with lack of confidence you should support them & collabrate with them instead of these useless tiktokers.

— ♌ (@mxxnlighhv) June 25, 2020
Some were in disbelief:
Well I do expect with this year 2020 "bhae kuch bhi matlab kuch bhi hosakhta hai"

— سیدہ ثناء🌸 (@Sana06815977) June 25, 2020
Many were shading the budget:
Budget kam tah shahyad

— Nimra Sheikh 💃💕🌺 (@chillSheikhShb) June 25, 2020
Is shair me shayer kehna chah rha h k jitny meri jaib me paisy pry hain utny me wo aese mu bnany wala kam kre ga

— Carboxylic.Acid (@CarboxylicAcid3) June 25, 2020
Budget km tha kiya?

— Naزneen🍉 (@Nazneen719) June 26, 2020
Small budget projects be like https://t.co/JcakzLXUba

— Fattahahaha (@GodOfHeathens) June 26, 2020
Some were looking for a hate button on twitter:
Why isn't there a hate button on Twitter

— BUNNY (@AapkaBhaiUmair) June 26, 2020
Some weren't sure why Areeka was getting so much hate:
I don't get the hate Areeqa Haq gets. She's just a normal teenager doing what she loves without harming any race, culture or human ya'll nitpicking ery other thing now

— Waجiha (@uuajiha) June 25, 2020
Some were excited!
Areeqa haq is going to be a future star, Best of luck❤😭 https://t.co/f0L5IbilU2

— HINA FATIMA👑 (@hina_riyaZ) June 25, 2020
Many found her deserving of the recognition:
I guess the people who are criticizing this don't know that this girl has 1.1M on ig and I think she deserves it. https://t.co/b1pFBTE63A

— Ayesh (@ookayesha) June 25, 2020
I mean, boy's got a point!
why do people have problem with asim azhar collaborating with areeka haq??? she is succeeding in her life and you lifeless bums are tweeting against her.. let people live https://t.co/YD4XbIEnpN

— Ali (@AleyFarooq_) June 25, 2020
Haha, social distancing goals!
Social distancing check kr rhy ho ? https://t.co/Y7J2A8L8Um

— ♡Anaa♡ (@Areeba_hun) June 26, 2020
Many were sending love their way!
Let's appreciate two hard worker. I'm big fan of Asim Azhar and Areeka Haq is queen of tik tok. Besides jealous factors and your hypocrisy. They both deserve what they got. We love you @AsimAzharr keep it up. May you prosper more and more. https://t.co/P3uegdl0AN

— Chota Bheem (@rjofficial001) June 26, 2020
Some couldn't really decide how to react:
Tatti tiktokers-feat:asim Azhar
💀🖤❤️ https://t.co/8dhyJElja7

— 🔰 MOIZ🛡️® (@MIZ__TER) June 26, 2020
Chalo, something good came out of it at least:
Ya dakhna ka bad ma apni "Eyes" donate kar raha ho….😶 https://t.co/hoLpsYINl1

— 𝗡ن𝗔𝗗𝗘𝗘𝗠 🇵🇰 (@Nadeem_V007) June 26, 2020
Oh definitely!
We all need someone who looks at us, the way areeka is looking at Asim azhar https://t.co/4QBrpx6FB0

— Bas kr Khawaajay (@khawaja_jiii) June 26, 2020
People were actually considering Tiktok as a career:
Another disaster of 2020! TikTok download krlo, bht scope hai. https://t.co/rGT3IXRh9e

— Brown Fox (@blackkkcoffee) June 25, 2020
Some were happy to see the local talent being given chances:
So happy to see that people from tiktok are coming up to mainstream media too.
Asim Azhar took a great step ahead of everyone else thinking tiktok is small.
Good going bro. https://t.co/LEyqDIMUYP

— BenDover (@Musanna_Ahmed) June 25, 2020
Exactly!
Pakistani awaam ki aik teenager se hat rhi. Nice to see that.
PS: I don't like TikTok either but it doesn't mean you start hating them. Let them live. https://t.co/g8yUt5K4EZ

— Fernando (@HajiSucre) June 26, 2020
Ek toh yeh cancel culture 🙄
bhai what the actual fuckk cancel asim azhar 😤 https://t.co/KZk1nPdjtV

— Afnan (@iAfnanSohail) June 25, 2020
Hahaha, this tweet is a whole mood!
Tum log esy he apny bister py ulty lait k usko troll krty reh jao gy or wo or kamyab ho jaye go get a life mfs https://t.co/UU4IRhnjFp

— DawوُD (@Dawood_suttybaz) June 25, 2020
Are you excited for this project? Let us know in the comments below!