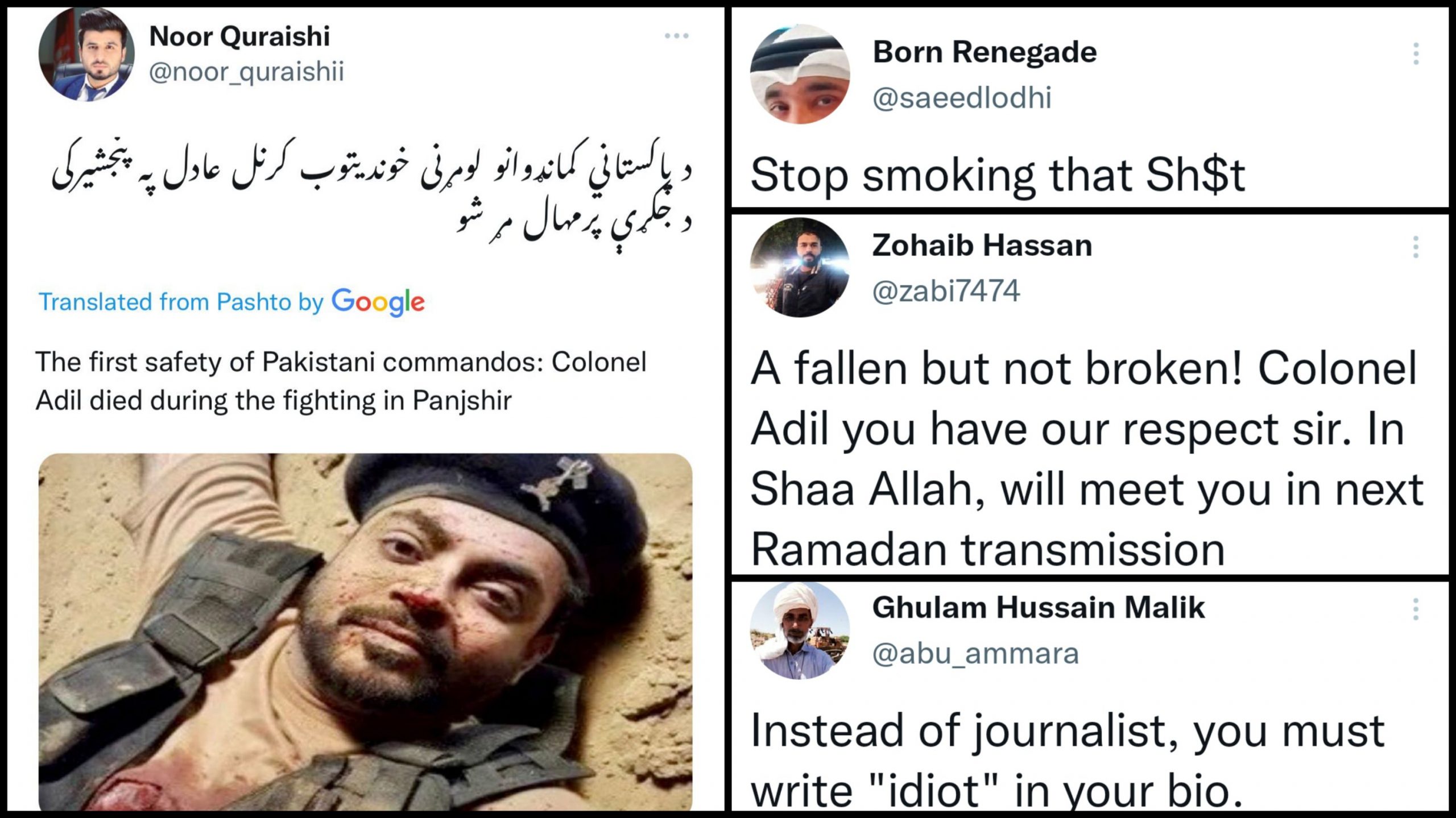 The internet is a whole another world in itself where misinformed facts spread way too rapidly because of the lack of regulation of content, and our people too, blindly believe what the social media tells them.
Becoming a victim of misinformation, an Afghan journalist shared pictures of Aamir Liaquat taking him for Colonel Adil and quoting that the man died fighting in Panjshir. The picture has Pakistani tweeple in fits as they have a field day quoting the tweet:
This is a win for Pakistani meme factory. Congratulations. You've finally scored. https://t.co/CND9qFrnBy

— Abdullah Saad (@kursed) September 7, 2021
No one can beat us!
After Major Adnan Sami here you go with Col Adil😂😂 https://t.co/IUFEptZ0b5

— Fahmidah Yousfi (@fahmidahyousfi) September 7, 2021
People were clapping back at him with the complete video footage:
Here is complete video of Col Adil's #PanjshirBattle #DrAamirLiaquatHussain #GeoTV #Video #AamirLiaquat https://t.co/SpVdWujnSE pic.twitter.com/AbSKKjDJWW

— Naimat Khan (@NKMalazai) September 7, 2021
People were sending their condolences:
RIP ISI Colonel Adil from the Special Forces Unit 420-LPC.#Panjshir #HeroesOfPakistan https://t.co/kB1jCWcNRQ pic.twitter.com/rtm0ZkmsaZ

— Qaiszai (@Pakhtunzoy) September 7, 2021
True!
From india to Afghanistan and Pakistan , –#journalism is in shatters #fakenews https://t.co/uxY9BXTA2v

— Syed Qamar (@sqamarz) September 7, 2021
Waqt kam hai aur muqaabla sakht:
People: Indian media is spreading fake news.
Afghani journalist: Hold my tea.

P.s …. He's a @AamirLiaquat a television host & a member of National Assembly of Pakistan, not some dead colonal Adil. Lmao. https://t.co/YkpTyPtmvp

— 𝚃𝙰𝙻𝙷𝙰 (@TheGuyWithFlaws) September 7, 2021
Same 😭
Bruh I'm crying rn… https://t.co/dj23iwnIf8

— femme (@I_IrsaChaudhory) September 7, 2021
It's real 🤷‍♀️
HAHAHAHHA
This cannot be real, man 😂
They used Amir Liaqat's photo for their propaganda https://t.co/H974rLiL8N

— Monsieur (@TheSmolChungus) September 7, 2021
Always works!
We can't keep getting away with this 😭😭😭

This is at least 3rd time a Pakistani has baited one of these lunatics into showing Amir Liaqat as a dead Pakistani soldier. https://t.co/UvYMJDYDNw

— Saad. (@ThisMyHandle) September 7, 2021
🤦‍♀️
Haha

Pakistan's standard of misinformation is to spam others with pictures of Aamir Liaquat to see who takes the bait.

— Mystic Vedette (@North_Star88) September 7, 2021
Can't wait to see what comes next!
A journalist has shared this photo from Pakistan's famous meme directory! https://t.co/0HHuWzBzim

— Sitara Noor ستارہ نور (@NoorSitara) September 7, 2021
People couldn't believe what they were seeing:
This is not a parody account, he is a proclaimed journalist from Afghanistan 😂😂 https://t.co/B5U7jH0kjN

— Faraz Ali (@Faraz9e) September 7, 2021
We love Aamir bhai!
Yar ajeeb jhootay log hai amir bhae ko marwa dya😂😂 https://t.co/jt9juKro1V

— ShamsUllaH (@shams_Ulla) September 7, 2021
People were remembering Aamir Liaquat for his valuable services:
Sad to know that Maj General "Amir Liaqat" aka Colonel Adil is no more . We remember his serves especially "Aam kayga" and "Lakin pir b may jeeth geya" operations . He fought with bravery in #Panjshir https://t.co/4GajSYHeSk

— Hemat (@Himat75) September 7, 2021
😂
"Dude Pakistan is attacking us"
"How do you know dude?"
"Idk, saw this in my twitter" https://t.co/5ykMLxg2YR

— Taufeeq | توفیق (@pakicommie) September 7, 2021
🤣🤣🤣
@AamirLiaquat has attained global recognition for his services…Khudai di warla Jannatuna Naseeb ki ..ThankYou @noor_quraishii for Finding him through your excellent investigation journalism ..we were missing him for so many days and bringing new life to us with this picture… https://t.co/kcFCXN0RaQ pic.twitter.com/cTmoPGxgFG

— Stay @ Home Stay Safe (@ImranUsafzai) September 7, 2021
💔
Yeh to Gulshan e Bagh ke azeem sipahi thai janaab ke saath yeh kya hogaya 😭😭😭 https://t.co/Db8ZPN7Bkt

— Main Abdul Majid Hoon (@ComicsByMajid) September 7, 2021
What do you think about it? Let us know in the comments below!