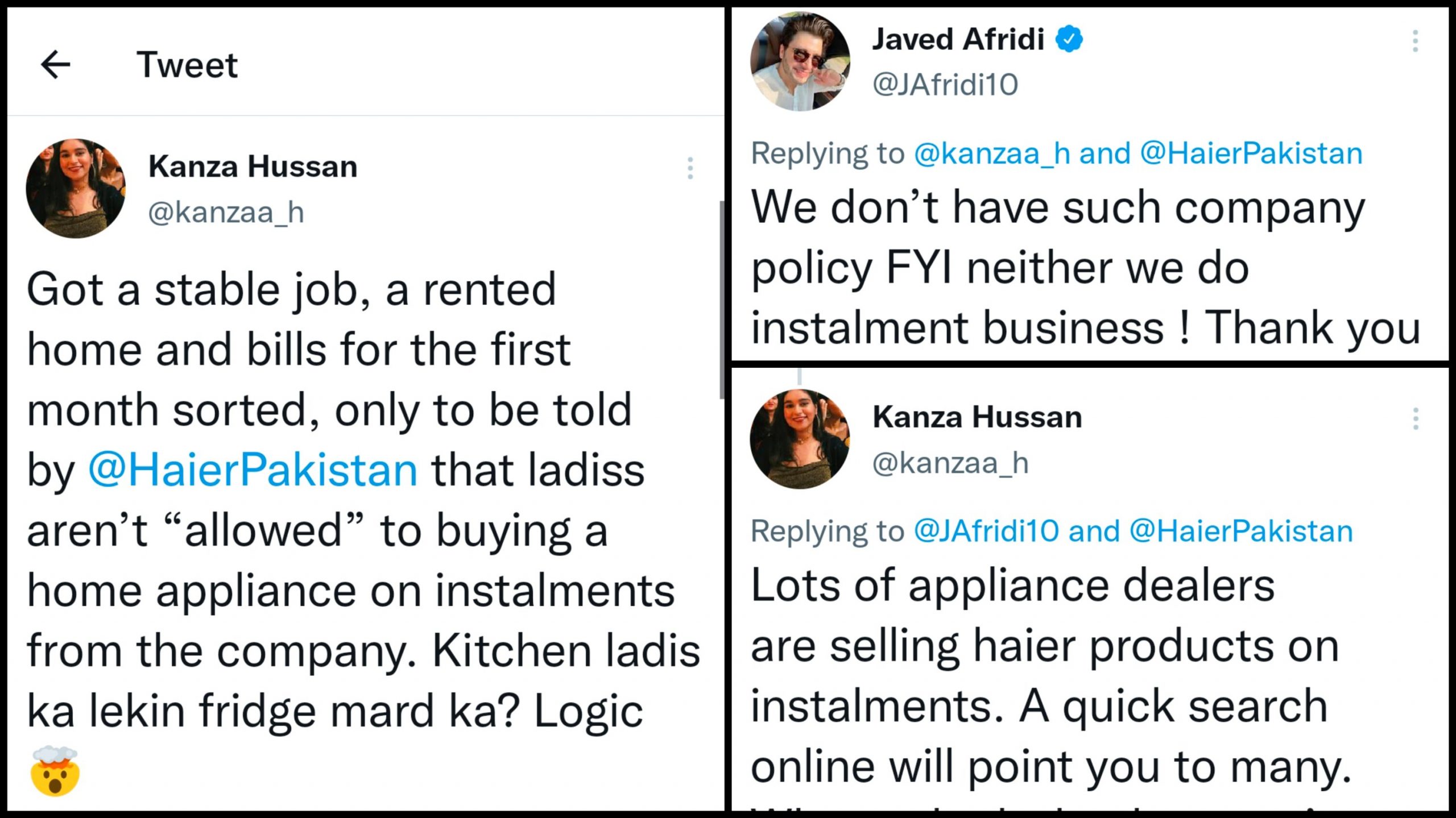 A girl shared her experience to twitter of how she went to buy a kitchen appliance on instalments but the shopkeeper blatantly refused her saying that the company in question, Haier, doesn't have the policy to facilitate women.
Got a stable job, a rented home and bills for the first month sorted, only to be told by @HaierPakistan that ladiss aren't "allowed" to buying a home appliance on instalments from the company. Kitchen ladis ka lekin fridge mard ka? Logic 🤯

— Kanza Hussan (@kanzaa_h) September 6, 2021
The tweet also reached Javed Afridi, the CEO of Haier, who clarified on twitter that the company does not have any such policy and neither do they allow buying on instalments:
We don't have such company policy FYI neither we do instalment business ! Thank you

— Javed Afridi (@JAfridi10) September 6, 2021
Another girl came forward and shared how she faced the same gender discrimination at the hands of Haier:
Same experience

— Astrid (@Astrid_2707) September 6, 2021
A man on Twitter also shared his mum's experience which was pretty much the same:
Same thing happened with my mom, she has been a govt servant for 30 years but couldnt get a washing machine on installments. Pathetic.

— asadbasra (@asadbasra15) September 6, 2021
Some shared how they too faced the same situation where the dealer refused:
The dealer dealing with us was refusing to accept it's because we were women. Ugh.

— Chewing ghum 🇵🇸 (@MajmaySayJuda) September 6, 2021
And while Javed Afridi clarified that they do not sell on instalments, a woman claimed that she'd gotten it on instalments:
Not true. I've bought multiple things from Haier. May be it's shop owner's/manager own policy but Haier doesn't has any such policy

— Ailurophile (@TheRoyalPaw) September 6, 2021
The tweet was met with mixed replies, some appalled at the alleged policy:
This is awful and shameful, @HaierPakistan, not to forget also illegal and unconstitutional. Who's your legal advisor? https://t.co/PCg4bKWsqc

— Usama Khilji (@UsamaKhilji) September 6, 2021
People didn't quite get the logic!
What kind of logic is this? How can this be based on gender and not proof of income? https://t.co/h0iaXqr6rn

— Minahil Khan (@minakhabar) September 6, 2021
People wanted the policy to be changed asap!
Is this true? If so, please change your policy. @JAfridi10 @HaierPakistan https://t.co/hApeHcAcWd

— SJ (@SumairaJajja) September 6, 2021
People were furious!
This is discrimination and against constitutional guarantee of equality @HaierPakistan ! How can this be a policy of a company? @GovtofPakistan We won't accept this outrageous craziness! https://t.co/aBtxvO8otz

— Benazir Jatoi #FreePalestine (@BenazirJatoi) September 6, 2021
People were so done with the discrimination:
every day i read about how hard it is to survive in this shithole of a country without a man and my urge to move out keeps growing 🤩 https://t.co/pwNpNVOFfo

— mahnoor (@gashticult) September 6, 2021
People shared similar experiences with Dawlence:
It's so fucked up. Same with Dawlence. The explanation provided was that a lot of rich men purchase these appliances in their wives names since they're housewives and they are exempted from tax. "Yeh bohot bara scam hai aaj kal." https://t.co/ANDSTSiYuS

— P-Bubs (@Dust_InTheAir) September 6, 2021
People wanted to boycott Haier:
Wao!
Definitely boycotting Haier from now onwards.

— Ayşe 🇵🇸🇵🇰 (@Hussainiya_t) September 6, 2021
People couldn't believe what they'd read:
This is the most stupidest thing I have ever heard

— Rehan Arshad 👨🏻‍💻 (@RehanToday) September 6, 2021
While others were appalled, some had the dealer to blame rather than the company:
Difference between a company and dealers who are retailing the company products. About time, we grow up and stop blaming/defaming the company for the lies told by dealers.

PS: The tweet should have been cleared out after Javed Afridi's response. https://t.co/S9yfVuaRux

— ˢᵃᵃᵈ⋅ (@SaadHere_) September 6, 2021
@HaierPakistan doesn't sell appliances on installments. It's the dealership/shop owner and their policies. Like you don't blame Toyota when bank doesn't approve a loan. https://t.co/S71WN8Iu8y

— Sibtain (@shabyy_butt) September 6, 2021
People also found Javed Afridi's reply to be rude and offensive:
He should ask someone to do communications on his behalf. The tone and vibe is apparently rude.

— Abdul Basit Khawaja (@abdul_basitk) September 6, 2021
People found it to be unprofessional:
What a response. Instead of trying to be helpful and properly looking into the matter, you tell her off like an annoyed school principal. How professional.

— basitsnake | #FreePalestine🇵🇸 (@BasitAli92) September 6, 2021
People found the response to be shameful:
This? This is your response??
Instead of checking with the store and firing your disgusting employees,your response is to lecture the female customer instead?
What a shame.

— #merajismmerimerzi (@thesedcat) September 6, 2021
Jawab dekho aglay ka. https://t.co/I0x0DGp830

— basitsnake | #FreePalestine🇵🇸 (@BasitAli92) September 6, 2021
What do you think? Let us know in the comments below!