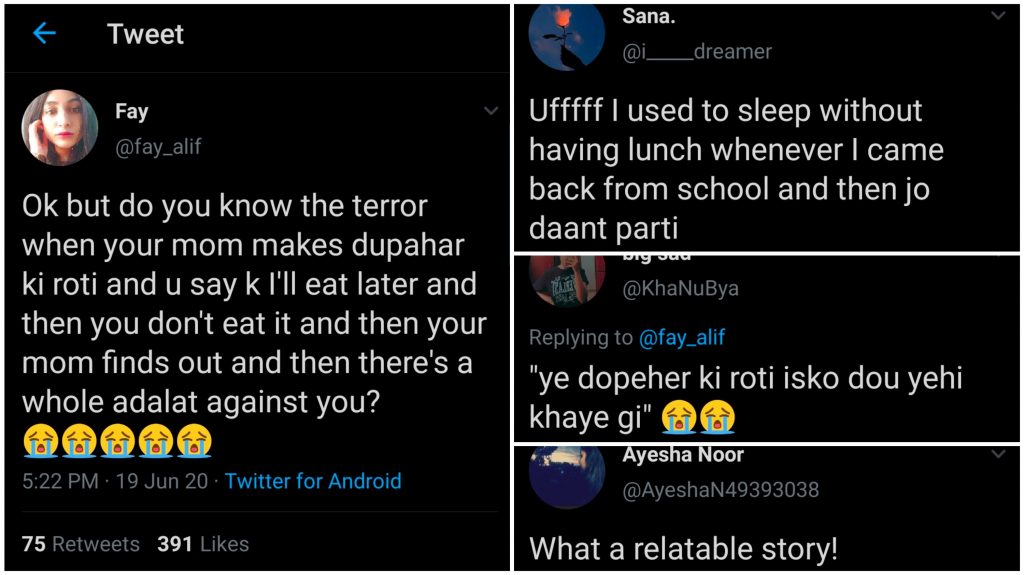 Moms really are something else, their love is so pure and unconditional that no one comes close to them, and especially when it comes to food!
This girl shared how there's almost always a whole adalat against you when you don't eat your roti:
Ok but do you know the terror when your mom makes dupahar ki roti and u say k I'll eat later and then you don't eat it and then your mom finds out and then there's a whole adalat against you?
😭😭😭😭😭

— Fay (@fay_alif) June 19, 2020
And we can't help but relate, because we've all been there way too many times!
Omg. Major relate. My mum and siblings would be on my caseeee. 🤦🏻‍♀️

— Sarah (@sarahHsnNqvi) June 19, 2020
Haha, why are all moms like this?
HAHAHA It happened to me yesterday and she just walked in on me to announce that she knows that I hate her????

— بسکٹ (@sarnakhao) June 19, 2020
Saza toh phir yehi milni chahiye:
"ye dopeher ki roti isko dou yehi khaye gi" 😭😭

— big sad (@KhaNuBya) June 19, 2020
Always!
And the taana that you only eat bahar ka khana and do not value her hard work 😂😂

— Asma Haque (@iamparatha) June 19, 2020
Raise your hand if you read this in your mum's voice 🙋‍♀️
I read this and i heard in my head, "Main pagal an na garmi ch khlo k tuaday waastey rotian banani an."

— General Buddha (@GeneralBuddhaXI) June 19, 2020
Hahaha 😂
ناشتے میں یہی سین ہوتا ہے۔۔ بس کسی دن اماں نے کفران نعمت پہ مجھے کافر ڈکلئیر کردینا ہے

— شہریار رضا (@isheheryarmalik) June 19, 2020
Ditto!
Ufffff I used to sleep without having lunch whenever I came back from school and then jo daant parti https://t.co/yvoXCpTcd4

— Sana. (@i_____dreamer) June 19, 2020
Agreed!
It's just too much pressure. You have to eat it even if at midnight, even if you're not hungry or even if you wanna eat smth else because you don't wanna face the taanay she's gonna give you for the rest of your life https://t.co/zoeES9GJzA

— BF. (@bakhtawrfaisal) June 19, 2020
Aww!
Meri amma tu mjhe table se uthne he nahi detien the aur dady kehte the me kahein le k nahi jaon ga even school b jb tak roti khtm nahi hoti🙂aur ab me kuch b khaa lon,roti lazmi chahye😂 https://t.co/M8tgNbazlM

— Kainat Nawaz🌍 (@El_universo22) June 20, 2020
A lot of people were relating to it!
OMG you're a soul sister!! https://t.co/fGq1QGACXj

— M M (@MaryamMultani) June 19, 2020
What a relatable story! https://t.co/e2BUHKwVRO

— Ayesha Noor (@AyeshaN49393038) June 19, 2020
Baat toh sach hai:
Kahani ghar ghar ki 😁

— Abdul Raqeeb (@abdulraqeeeeb) June 19, 2020
We do, aur hum sharminda hain 😔
OK BUT DO YOU KNOW THE FEELING OF BEING DRENCHED IN UR PASEENA WHILE MAKING DUPEHR KI ROTI IN FRONT OF THE CHOOLAH, THE FIRE LAGTA HY COMING DIRECTLY FROM JAHANNAM & UR FACE FEELS SO BURNT THAT STEAM COMES OFF WHEN U WASH IT & IT GIVES YOU SKIN PORES WHCH NEVER SEEM TO CLOSE😭😭 https://t.co/YcUqCvoBtY

— queen👑 (@issgonnabeokay) June 19, 2020
Does your mom do the same? Let us know in the comments below!