In the digital age, where celebs try to keep themselves on the politically-correct route all the time, there are some who seem to not really care for it at all. One such example is controversy's favourite child, Yasir Hussain.
It seems every passing year, there has been one controversy in the industry that he's been a part of, and of course, 2020 was going to be no different.
Be it making suggestive comments about child molestation, passing opinions on leading actresses, to now, talking against the airing of Ertuğrul Ghazi on PTV, he's done it all, and of course, landed himself in hot waters.
But what else has he said that has kept him in the news for all the wrong reasons? Diva has the lowdown…
Comment on Child Molestation
Awards shows are usually a place to come together and maybe crack a few jokes, but no one thought Yasir Hussain would make the joke that he did! While commenting on that year's hit, Udaari and its villain, Ahsan Khan, Yasir ended up saying, "Itna khoobsurat child molester, kash main bhi bacha hota." 
This really didn't sit well with anyone, and he apologised.
Comment on Mahira Khan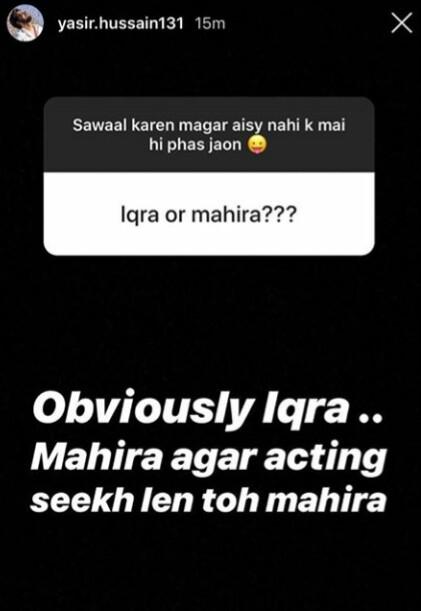 It was yet another chance for Yasir to show his camaraderie in the industry, but it when south quite quickly. The actor was answering some questions on his Instagram page when a fan asked who he'd prefer between his then-girlfriend Iqra Aziz and Mahira Khan. Instead of replying diplomatically, Yasir went for a full offensive, and replied, "Obviously Iqra .. Mahira agar acting seekh len toh Mahira."
Oh boy!
Comment on Hania Aamir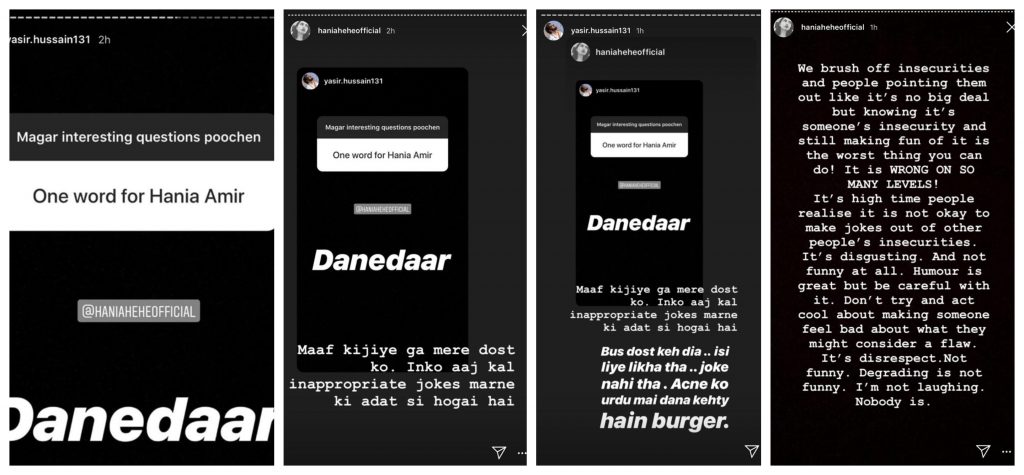 Things seemed pretty much okay between the friends' gang of Hania Aamir, Asim Azhar, Zara Noor Abbas, Asad Siddiqui, Yasir Hussain, and Iqra Aziz back then, but then, of course, Yasir's comment laid the foundation stone for this friendship to go through testing times. It was yet another question round on Instagram, and a fan asked his thoughts on Hania. He commented with a lewd, 'daanedar.' 
Needless to say, Hania did not take this comment sitting and things went awry!
Opinion about Sadaf Kanwal and Mansha Pasha's Spat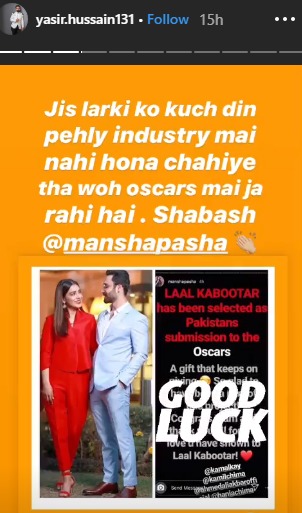 This one was a bit weird since the digital spat between Sadaf Kanwal and Mansha Pasha was going on in their own realm until Yasir commented in support of the latter when her film, Laal Kabootar was selected as Pakistan's entry to the Oscars. "Jis larki ko kuch din pehly industry mai nahi hona chahiye tha woh Oscars mai ja rahi hai," he wrote.
This support for Mansha may be understandable, but why was he commenting on it, at all? No one knows.
Comment on Ertuğrul Ghazi
Turns out Yasir is super protective of the Pakistani entertainment industry, and all of his comments on Ertugrul Ghazi's airing on PTV are proof. Not alright with the show's airing, the actor has gone on to claim that 'the Turkish show will ruin the industry.' He further questioned those supporting the show's airing by saying we lack good stories and asked,   'Can the actors who are saying we should improve our content improve the content when they on the set?"
Clearly, he's not okay with the show!
Have anything to add to the story? Tell us in the comment section below.