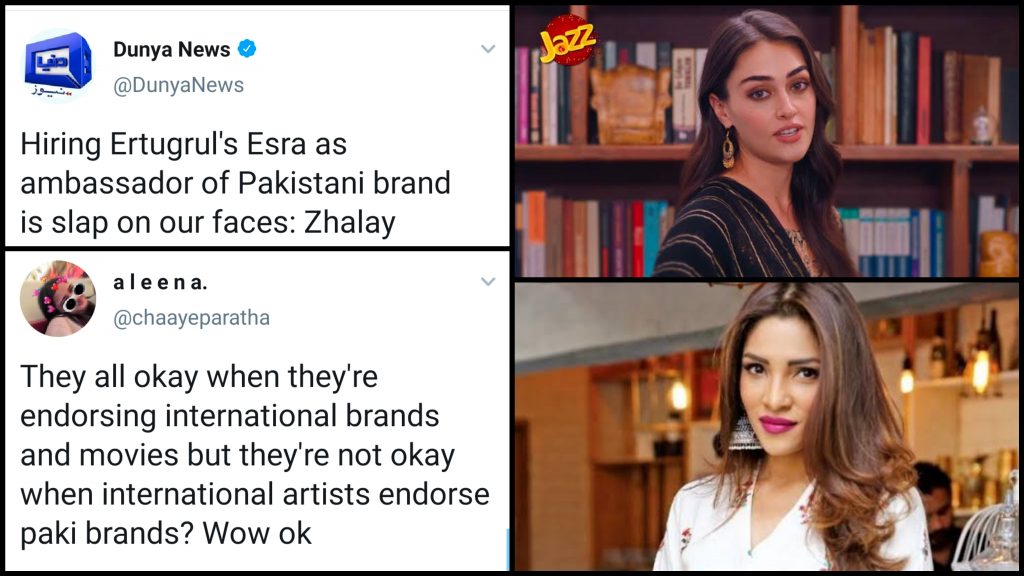 After Yasir Hussain, actress Zhalay Sarhadi shares her reservations on hiring Turkish stars as ambassadors for Pakistani brands, and she did not shy away from speaking her heart out.
When asked on her opinion on international stars coming to Pakistan, Zhalay said "We have short term gains. If you have chosen Halima and made her a brand ambassador over here, it's a slap to our faces. It's an actual slap to our faces. Why are you borrowing a star from another country? Why don't you create anything over here? Why are you afraid of creation?"
Her questions have left people thinking a lot of things:
By Zhalay's logic, Bollywood shudnt take on any Lollywood actors or singers. Hollywood shudnt sign contracts with any artists from other countries cuz locals will feel a chaanta on their face! Ajeeb logic. when they defend working in foreign industry, they say art is global.🙄

— Robini (@despondent2016) August 6, 2020
Many thought she was trying to seek attention:
All these irrelevant actors trying to give these statements so they can have a few minutes of fame they couldn't get during all their career. Makes sense. https://t.co/1fIJ6D8Ql1

— S² (@PsychedSam) August 6, 2020
Others believed it was her fault:
Brand endorsements depend on the fame of the person, not on country of origin. They are spending millions to market their product through a familiar name, not doing charity. It's your fault that you are not as recognized in Pakistan as Esra. https://t.co/RwYP36Tp7v

— 𝘙𝘪𝘻𝘸𝘢𝘯 (@Rizwow) August 6, 2020
Last time I heard of Zhalay was around 2012. Maybe up your game instead of getting offended? https://t.co/XVWTqoYTtc

— Yousaf (@YcubeminusY) August 6, 2020
Many thought she was jealous:
Mehwish Hayat became Tecno's brand ambassador – Chinese enterprise- and we all celebrated it. But as soon some else is appointed in our country instead of natives we suddenly feel ashamed. Wah Jealous Qoam. https://t.co/oeoBQUbXzK

— Carl Jung (@JaunSnow7) August 6, 2020
Some barely knew who Zhalay was:
I have to ask, who is Zhalay? https://t.co/rc6B1AP2XW

— Ozy (@LahoriElite) August 6, 2020
Their insecure minds think Esra Bilgic has snatched their minute stardom. When were they even famous. !? https://t.co/1EY1aPgsuT

— Humel Nadir🇵🇰 (@humelnadir) August 6, 2020
Umm, who's zhalay? https://t.co/t74L28N4Gu

— サダム (@cyb3r_n00b) August 6, 2020
Others thought she was insecure:
No it is not and it is the right of every company to choose whomsoever they wish as their Ambassador. Obviously an international icon gets you more coverage. Why the insecure whining from almost all of our celebrities b

— Issa Fawad (@issafawad) August 6, 2020
Someone pointed out how artists don't come with territorial restrictions:
Not a Esra fan, nor do Turkish Industry attracts me, but artists don't come with patriotic badges & territorial restrictions. We love Bollywood & we love Fawad in Bollywood more. Also seeing Adnan S in Hollywood made me feel proud too. Kiren kher in Khamosh Pani is amazing. https://t.co/C4ct7v3xPQ

— Gangu taili (@ChailChabeeli) August 6, 2020
People were throwing shade at Zhalay and her career:
There's no need for Pakistani actors to feel threatened by Esra. Mobilink hired Nargis Fakhri in the past, they'll always pick celebs that are popular to represent their brand. Said actress in her peak didn't acquire 1/10th of Esra's fame and is honestly quite avg as a performer https://t.co/kByBb4CXVn

— Nadia (@novocainerush) August 6, 2020
Shots were fired:
These people have got to stop taking things so personally.
Brands are going to always want to hire an actor/ model/ musician that's popular w the people.
Rn that's esra.
I haven't even seen erturgrul and I know who she is.
Who is this other lady? https://t.co/VhbsJDJeRj

— ChaiCoffsKey (@ZTan14377) August 6, 2020
Some found it to be very unprofessional:
This is highly unprofessional from Zhalay https://t.co/f8lzereRDC

— Ali Arshad Uppal (@aauppal) August 6, 2020
People were comparing the situation to Bollywood:
Jb hmaray artists ko india main welcome nhi kiya jata to boht aag lagti hai lekin khud bhi wese he hain https://t.co/cYz8Ce8Wlv

— zoobia (@CosmicWonderrr) August 6, 2020
Well, well?
They all okay when they're endorsing international brands and movies but they're not okay when international artists endorse paki brands? Wow ok https://t.co/sPgkOPryC9

— a l e e n a. (@chaayeparatha) August 6, 2020
What do you think about Zhalay's statement? Let us know in the comments below!