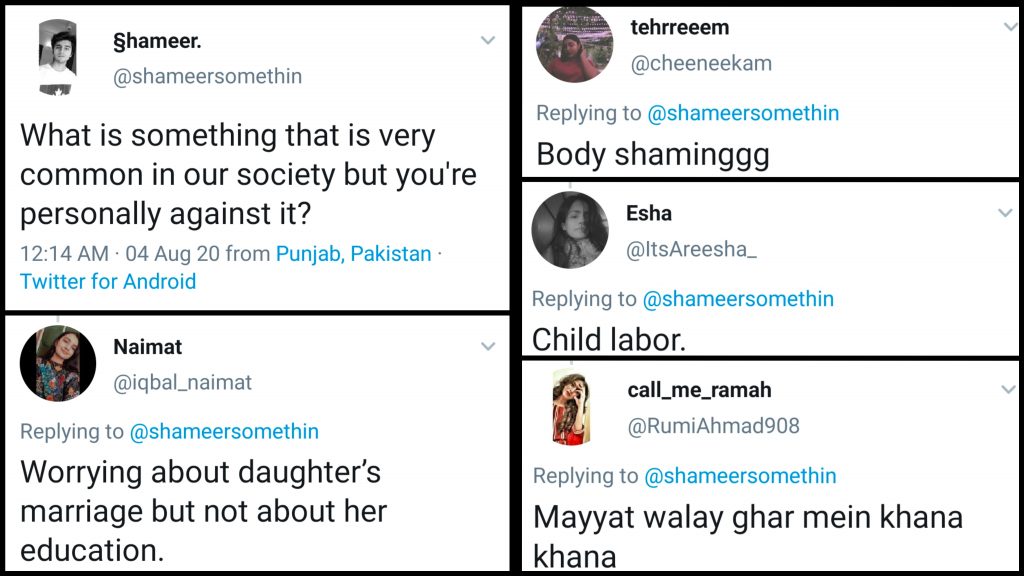 We live in a society where people are so concerned with what others think that we follow certain things blindly just for the sake of fitting in.
And today, this man has the internet talking on things normalized by the society that they're personally against:
What is something that is very common in our society but you're personally against it?

— §hameer. (@shameersomethin) August 3, 2020
And the list is long!
Jahez
Forced marriages
Child marriages
Women Objectification
Men not doing household chores
Gender roles
Taking mental health as a joke
Giving respect only to those people who have money
Pedophilia https://t.co/j4N41LA7qr

— Malaika Nayyer (@Malaikaisdumb) August 5, 2020
Please!
Mayyat walay ghar mein khana khana

— call_me_ramah (@RumiAhmad908) August 4, 2020
If only we could eliminate it:
Child labor.

— Esha (@ItsAreesha_) August 4, 2020
Many were against dowry:
Dowry. https://t.co/VoDljNpfT6

— saif (@thenameissaif) August 4, 2020
Dowry https://t.co/EhjALnD5tp

— momo with cocomo (@curiouschurro) August 3, 2020
😔
jahez
forced gender roles
nepotism
abuse of power and influence
extremism (far right and far left)
cancel culture
support for proven corrupt individuals
not giving people a chance to make ammends
holding someone's past they hate themselves over them

oh how I could keep going https://t.co/EL8cT1UGn1

— Shamyl (@thatsadshamyl) August 4, 2020
Many were against cousin marriages:
Cousin marriages https://t.co/1SZRpaGvHc

— Laiba (@LaibaMustafa6) August 3, 2020
Cousin marriages https://t.co/O0eKxV7yZb

— jeena jeena (@JeenaLinettii) August 4, 2020
Age is just a number:
'Umr nikal jayegi to shadi kisse karogi/Ache rishte nahi ayege'

— Aisha Shaikh (@ai_sha01) August 4, 2020
People had a lot to say:
Racism, cultural sexism, dowry, judgmental ppl and most importantly if someone marries and has children at an early age is considered an achievement whereas working hard and establishing your career is considered a failure 🙂 https://t.co/drIeH1FeK3

— 𝓛𝓪𝓲𝓫𝓪 ✨ (Beghairat ka 🎂 8th Aug) (@stfu__bishh) August 3, 2020
Very important!
Parents not caring about your mental health https://t.co/6ybHELhQNK

— Zaina⁷🕊 (@zainayousaf) August 4, 2020
Impossible!
not minding your own business/ har maamle mein taang arana

— chilli milli stan acc (@wtffatii) August 4, 2020
Stop, please 🙄
brown parents taunting you every other minute https://t.co/jMdQLBQW9j

— 𝘢𝘩𝘮𝘦𝘥. (@_dafaHoe) August 4, 2020
STOP THIS!
Body shaminggg

— tehrreeem (@cheeneekam) August 3, 2020
Judging is our national hobby:
We are soooo judgemental in every matter.
Everyone has a crystal clear idea what others should do but, not what they should be doing.
BE THE CHANGE YOU WANT IN SOCIETY BEFORE TELLING ANYONE ELSE https://t.co/ImtSmg8nzs

— SARWAT✨ (@sarwat_atiq) August 3, 2020
Oof, gender roles!
Ye aurat ka kaam nai hai. https://t.co/AqkeDhemQz

— Sherina A. (@sjunejo1) August 5, 2020
Kuch toh loug kaheinge:
Log Kya Kahenge, Forced marriages, and elders disregarding the opinions of young adults or teenagers under the impression that they're still immature.

— سفيان (@sufiyaaaaaaaaan) August 4, 2020
LOG KYA KHENGE

— Iqra❤ (@iqqujaved) August 4, 2020
This is so important, education >> marriage:
Worrying about daughter's marriage but not about her education.

— Naimat (@iqbal_naimat) August 3, 2020
Some pointed out how co-education was something that needed to be made compulsory till 8th grade:
Non co education (at least 8th se pehle pehle tou co he hona chahiye)

— maida awan (@maidaawann) August 3, 2020
Definitely!
The concept that marriage is the ultimate thing to achieve in life

— Saffi (@SaffiUrRehman) August 3, 2020
Hell yes!
Puri baat sunay or samjhay bagair apnay views dedena.🤦‍♀️

— Noornoodledoodle (@Noornoodledood1) August 4, 2020
Big, fat and unnecessary!
Big weddings.

— Anaya (@Aanuuuuuuu) August 4, 2020
Some had their reservations on the joint family system:
Joint family system.

— ANAS (@yaarwolarka) August 3, 2020
What's something that you are personally against? Let us know in the comments below!