When one thinks of Japanese food, the mind doesn't wander further than the standard fare of Sushi, Teppanyaki or Teriyaki. However, with the launch of Yoshi's in Karachi, it seems that the whole concept is ready to change soon.
Located in DHA's Khadda Market, Yoshi's in the newer rather fresher version of what Chop Chop Wok introduced to the metropolis a few years ago. Luckily, it is also located in the same spot.
Offering a list that is filled with names you may or may not have heard before, the menu includes an interesting mix of offerings that range from Japanese dishes like Okonomiyaki and Karrage to more fusion items such as hot dogs – cleverly titled 'Japa-Dawg' and Sicilian-style pizzas called 'Yoshizza.'
Ordering from their wide range, we chose to go for their play on the Japanese classic Edamame, Spicy Korean Fried Chicken, Okonomiyaki, Miso Japa-Dawg, Miso Beef Burger, Yuzunade, Melon Cheezo, and Vietnamese Coffee Sundae.
Here's how the food fared:
Edamame: Don't let the name scare you away, these steamed Japanese soybeans are a great way to start the meal, even if they are slightly on the drier side. 3/5
Spicy Korean Fried Chicken: Our favourite of the night, this dish is absolutely gobsmacking! This crispy on the outside, tender on the inside delight will leave you licking your fingers and asking for more! 5/5
Okonomiyaki: An umami-inducing Japanese pancake which plays on fusing a mix of exotic flavours together. It surely was a signature dish that must be tried – but may leave some with unexpected taste which they may or may not like! 3.5/5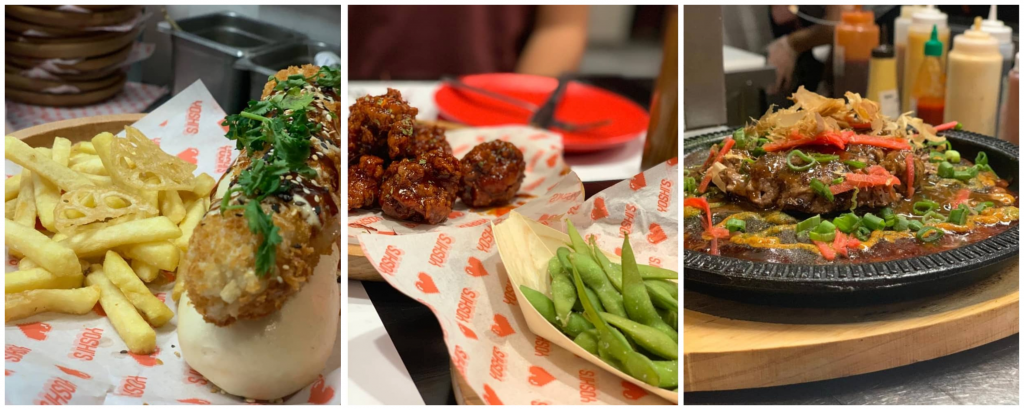 Miso Japa-Dawg: A panko crusted beef sausage over a bao bun, was an intriguing marriage between Japanese and American flavours. A welcome addition to the ever increasing hot dog varieties in Karachi! 4/5
Miso Beef Burger: A twist on the traditional cheeseburger, the rice buns made for an interesting take on an American classic. Be warned, however, as it's more of a sandwich than a burger. We believe that the dish would be much better if Bao buns were added as an option for people to choose. 3/5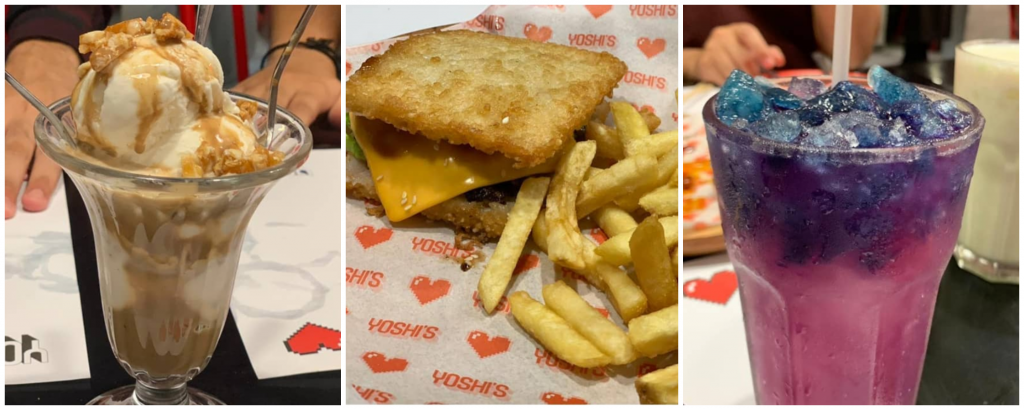 Yuzunade: This Yuzu lemon concoction, while instragamable, lacks the punch one desires. We wish they worked more on the taste than the visual. 3/5
Melon Cheezo: This sweet-savoury mix of a cheesy/honeydew flavour surely isn't for everyone! If you like your fragrant tastes, then this will excite you. 4/5
Vietnamese Coffee Sundae: A coffee connoisseurs' dream, this dessert was a lot more than we expected! Almond brittle layers between the rich, creamy coffee and vanilla ice cream, made for quite the treasure hunt! 4.5/5