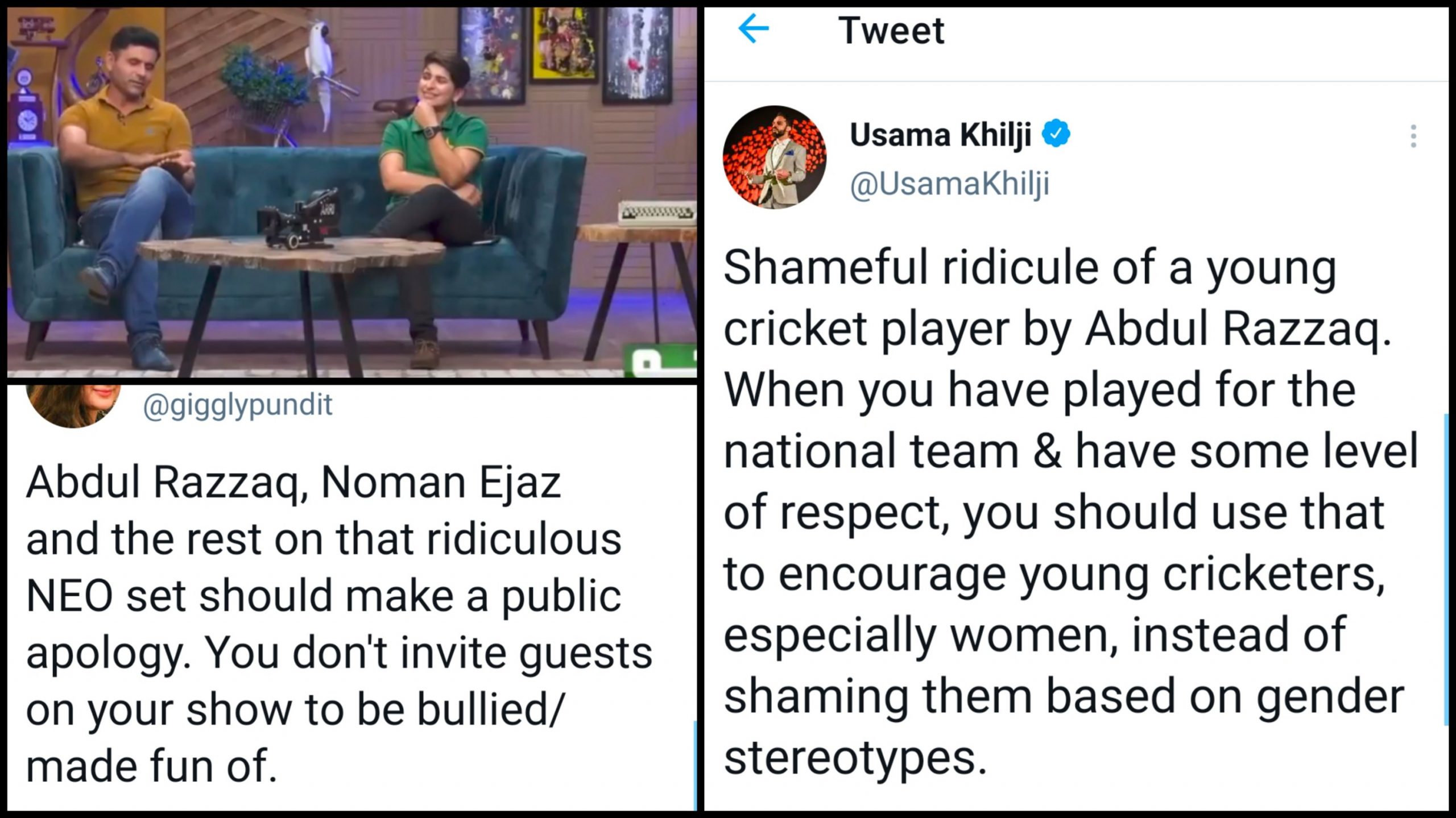 Another day, another controversy! In a show hosted by Nouman Ejaz where he invited cricketers Abdul Razzak and Nida Dar, Razzak was seen passing sexist comments on Nida's appearance, from calling him manly to saying that girls like her don't get married:
Razzaq is making fun of Nida Dar for looking manly 🤭 pic.twitter.com/ECPBgGdBsp

— Ghumman (@emclub77) July 14, 2021
The comedians on the show also resorted to sexist jokes:
Not the only time it happened on the show the comedians also made fun of her pic.twitter.com/NkqZuH8Mgp

— Ghumman (@emclub77) July 14, 2021
Once more this time another comedian pic.twitter.com/MgV9n1qzSM

— Ghumman (@emclub77) July 14, 2021
And while Nida was cornered, she tried her best to defend herself. And the clips from the interview have infuriated people:
I am appalled, angry and disgusted that this was allowed to happen. Ye 'legend' hain is mulk ke? https://t.co/6P2IV1XAQN

— Roha Nadeem (@RohaNadym) July 14, 2021
True!
This is disgusting. She seems like a wonderful person and dealt with this with so much more poise than he deserved.

Nothing about this was funny, and people shouldn't be invited to talk shows if they don't know how to hold a civilized conversation. https://t.co/mxJpPo0ZUN

— sohni (@sohnianika) July 14, 2021
People found it shameful:
Shameful ridicule of a young cricket player by Abdul Razzaq. When you have played for the national team & have some level of respect, you should use that to encourage young cricketers, especially women, instead of shaming them based on gender stereotypes.pic.twitter.com/CtemldIcNb

— Usama Khilji (@UsamaKhilji) July 14, 2021
Shots were fired:
I find it disgusting that a cricketer who is performing well is having to go through this humiliation.
Mard bara zabardast khelrahay hein na jaisay. pic.twitter.com/DZ3RMi6kJu

— SJ Ahmed (@SuhaibJAhmed) July 14, 2021
People were feeling sorry for what the women athletes have go suffer:
not even a surprise.
if Razzaq can casually say all of this on tv, imagine what women athletes have to go through on a daily basis in this country just to follow their passion https://t.co/thaYBqPqsW

— Anam Nadeem (@anamnadeem) July 14, 2021
Not okay!
They invite successful women to their talk shows to belittle and humiliate in the guise of light hearted kaaamedy. We see thru your shit man give it up https://t.co/PUDaa2rR8y

— pdf hoarder (@beeeseaa) July 14, 2021
People were calling him insecure:
His insecure ass couldn't deal with the fact that a woman is being celebrated in the same field as him. https://t.co/L9YF1be7VA

— arsuy #FreePalestine (@smolandsed) July 14, 2021
Baat toh sach hai:
The misogyny is so deeply entrenched in the minds of Pakistani men. They cannot have a normal conversation with a woman, where her gender does not come under attack. https://t.co/epTW6Jb1n1

— Riz (@RizKhan1345) July 14, 2021
People wanted him to apologize:
This is how a Pakistani professional cricketer is making fun of a female professional cricketer??? Shame on you @ARazzaqPak. You have reduced a women's life just to get married and look "feminine". What disgusting mentality. Should apologize! https://t.co/SNdeYQWdOr

— Team Gautam Gambhir (@gautamgambhir97) July 15, 2021
People were furious:
How dare you make fun of her like that that to publicly. Disgusting!!! You're a trash man. You deserve the worst! Fck off! @ARazzaqPak 🤢 https://t.co/xAKiDvD9lF

— PS ⚡️ (@Neelaasapphire) July 15, 2021
People were sharing how it takes a second to invalidate women and their struggles:
In a society like ours, women work so hard to be somewhere and THIS is how you invalidate their effort. Shame on him.
Not everything has to revolve around kitchen. Just because men are conditioned to think that women belong to the kitchen does NOT mean they do. https://t.co/tAxUKxiERQ

— khansha (@Khaaksaar__k) July 15, 2021
✌legends✌apparently:
They are discussing her hair and marriage instead of discussing her successful career? Who are these people? https://t.co/6bR5N3L9R3

— karishma Ali (@karishmaAli22) July 14, 2021
People wanted everyone on the show to apologize:
Abdul Razzaq, Noman Ejaz and the rest on that ridiculous NEO set should make a public apology. You don't invite guests on your show to be bullied/made fun of. https://t.co/pPeS8IXndu

— Sonya Rehman (on a hiatus) (@gigglypundit) July 15, 2021
Same!
Disappointed, but not surprised🥲 https://t.co/kq0thCdg0J

— Professor Biscuits. (@Decaffitated) July 14, 2021
People were disappointed at PEMRA's silence:
Disgusted and ashamed of what he said. Disappointed that pemra didn't notice an issue to this channel for airing such derogatory remarks about a female that represents us at national level. Nida is our pride and so is every female character. They don't need male validation https://t.co/z96rPB6VPO

— Ellie 🐾🇵🇸 (@blurredoutname) July 14, 2021
👏👏👏
Paki TV is inviting 2 national players & making fun of one of them for being a woman. Razzaq who's entire career has average written all over, the other 2 goons & the woman in pink have NOTHING substantial to say to her. Sorry Nida you deserve a better forum & a better country https://t.co/osFh2inLGc

— Noori Poppins (@NuriJaamTamachi) July 14, 2021
What do you think? Should the team apologize? Let us know in the comments below!