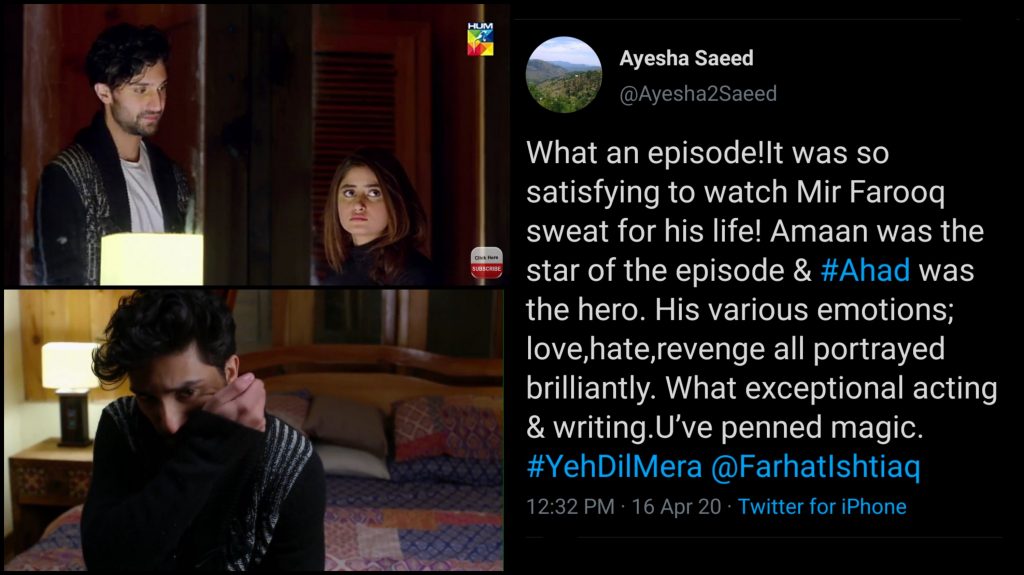 Of all the dramas that have been airing at the moment, #YehDilMera is the most intense of them all. With Aina fighting for her Agha Jaan and Aman realizing how much he loves Aina, the episode had our hearts pacing with so many emotions!
And it left the audience just as speechless as us!
Their performance yesterday left me speechless! The pain of getting her trust broken that Aina was feeling and the pain Amaan was going through by seeing her hurt😭 You could feel every emotion they portrayed! THEY ARE THE BEST!#YehDilMera #Sahad pic.twitter.com/Di3cIxUAfF

— Ishita (@__letmebe_) April 16, 2020
For real, stop playing with our heart like this!
my heart aches at how concerned he is about Aina, how he didn't eat anything coz she didn't, how he couldn't see her crying, how he couldn't sleep coz she would be terrified alone.
ALL OF THIS IS A BIT TOO MUCH FOR MY KAMZOR DIL, ALSO THE PERFORMANCES.😭💗#YehDilMera pic.twitter.com/dR6oZiWeIu

— ch abdullah (@Chabdullahazu) April 15, 2020
The truth has been spoken!
Next time ahad raza mir attends an award show, make sure he leaves with a best actor trophy because there's no alternative to that. #yehdilmera

— enthusiast101 (@Idkkk1010) April 15, 2020
People couldn't stop praising Farhat Ishtiaq for the magic!
What an episode!It was so satisfying to watch Mir Farooq sweat for his life! Amaan was the star of the episode & #Ahad was the hero. His various emotions; love,hate,revenge all portrayed brilliantly. What exceptional acting & writing.U've penned magic. #YehDilMera @FarhatIshtiaq

— Ayesha Saeed (@Ayesha2Saeed) April 16, 2020
Ooof, the dilemma!
What i love about this scene is that nothing here was FAKE…be it aina's pain,sorrow or the guilt in amaan's eyes…it was PURE🙌💯#YEHDILMERA pic.twitter.com/c9OwywHEVM

— ǟşӄ🌸 (@Deep_Fredo) April 15, 2020
That's what we call 'executed to perfection:'
Another shot: Just look at the lighting of this scene. The dark side of Amaan's face symbolizes the demons of his past while the side facing the light represents his love for Aina. Aina was his savior all along!🤧🤧 #YehDilMera pic.twitter.com/xyHJKdBwuD

— Muhammad Ibrahim (@m_ibrahim345) April 15, 2020
People were sharing how Aman is not your typical Pakistani hero:
He is not a typical Pakistani Male hero,he has some serious layers,and if he says that he loves Aina so it is transformation of a character,don't you ever try to compare him with typical mard of Pakistani dramas#yehdilmera
Attacks on me is allowed aa jao
Don't judge me

— SHIZAAAAAA🌼🌸 (@Shizarehman18) April 15, 2020
Amaan may not be your perfect male lead but for heavens sake don't compare him with those misogynistic male leads who lead lives of luxury with rich parents who dote on them and end up getting the girl despite their trashness along wid privilege. #YehDilMera pic.twitter.com/32A9VW9jpd

— Norah Bing🌸 (@BingNorah) April 16, 2020
This drama deserves every award to exist out there:
Amanullha Khan, what a beautiful way the character has been graphed. After confessing his love for Aina, one more shade of his character has shown today & that's beautiful. Ahad is completely apt for the role, his every expression, emotion are on point. #YehDilMera #AhadRazaMir pic.twitter.com/NDAxWg9FQ7

— ~ p e a c e ~ (@shyama_shyam0) April 15, 2020
YEH DIL MERA DESERVES ALL THE AWARDS.
FOR
BEST MALE LEAD
BEST FEMALE LEAD
DRAMA OF THE YEAR
FOR SUCH AMAZING STORY PLOT
AND LIST GOES ONNNNNNNN.. 🥺

— fari 🌙 (@ansari_xxx) April 15, 2020
Ali Bakhsh had his fair share of memes:
Whatta entry boss….my CHULBUL PANDAY🙊🙌🔥#bakshoo4president #YEHDILMERA pic.twitter.com/1CxB7mpQv8

— ǟşӄ🌸 (@Deep_Fredo) April 15, 2020
People were especially blown away with Aina'a transformation:
I LOVE THIS AINA. MY GIRL IS ON 🔥 She is slapping him with her words 👌 Sajal nailed this scene. Well she is phenomenal in every scene 🔥🔥 #yehdilmera pic.twitter.com/MmWawU3p4w

— Zehra (@Liveinthmoment) April 15, 2020
We can't see them breaking apart 😭
Amaan's concern for Aina was so heart touching…😭😭💔
I love the fact that Amaan has atleast admitted that he loves Aina…>>>>❤❤#Yehdilmera #AhadRazaMir #sajalaly pic.twitter.com/GCCfG8ydyj

— 阿仙✨ (@PariwishEhsan) April 15, 2020
Ah, the call that Mir Farooq really needed:
ahad as amaan is just something else. how freaking amazing he was in this scene?! i just can't get over it. uff man. #YehDilMera • @ahadrazamir pic.twitter.com/88ikTRQwuv

— نور (@ihudaaa_) April 15, 2020
Yar 😔
How hurt she was when she found that everything was a part of AMAAN's plan💔#YEHDILMERA pic.twitter.com/o0M6OjBe5t

— ǟşӄ🌸 (@Deep_Fredo) April 15, 2020
People were sharing their favourite dialogues from the episode:
"tumhari awaaz aa jae gi"

Idk why but this one line hit me hard.🤧#YehDilMera pic.twitter.com/xNmt1jbbUd

— 😉 (@_ChocoFa_) April 16, 2020
Poor Aina!
she is already so broken because of amaan's betrayal..and she doesn't even know about her agha jaan yet. 💔#yehdilmera pic.twitter.com/Fxa7ly6ocA

— sara without a h (@shootingsitara) April 15, 2020
The scene where it hits Aman:
"meri mohabbat jhooth nahi thi Aina. Meri mohabbat jhooth nahi hai. Kabhi nhi chahta tha ke Tumse mohabbat karu,par karta hu. Tumhe Kaise yakeen dilau ke tumhe dukh deke khud Kitne dukh me hu. Tumhari Mohabbat ko apne dil se nhi nikal sakta."#YehDilMera pic.twitter.com/z0zhy6fds9

— Sonali (@SonaliK05) April 16, 2020
People were living for the aesthetics:
This scene is so aesthetically pleasing.
Aehsan talish shot it so beautifully.
#YehDilMera pic.twitter.com/SOD33gfMgl

— Reshma🌸 (@Reshma0774) April 15, 2020
Agreed 😂
paltu kutte tops everything 😂#YehDilMera

— a (@asfisstetho) April 15, 2020
Okay wow, that's high praise!
Ahad Raza Mir as Amaan in that deep red jumper, absolutely killing Mir Farooq with his allegations is my favourite thing on tv this past week #YehDilMera

— Tujhbinnahilagda (@splendeurr) April 15, 2020
We can't handle it!
"Tum akele kamre main darogi…iss khayal se main raat bhar nahi so sakun ga"

The parallel 💔#YehDilMera #YeDilMera #Amaina #SaHad pic.twitter.com/oSnPoQeXKZ

— Syra Fayyaz (@FayyazSyra) April 16, 2020
Aman on the other hand is now tormented in trying to accomplish his revenge and also trying to not keep hurting Aina even if it's not part of the plan. The fact that he isn't able to sleep the whole night just to make sure she is sound is all heart😭♥️#YehDilMera

— Divya (@filmyarchu) April 16, 2020
The complexities in Aman's character are written and directed flawlessly!
He still had the little Mani hidden inside him who is still wanting to be good, to love, to be be loved, who is still finding his home. He is not an entirely bad person, he just made some bad choices in his life. He is distracted, he is lost.#YehDilMera

— escapist 🌸 (@_lucky_life) April 16, 2020
The guilt of wrecking Aina and the fear of hurting her even more after she finds out the truth, only Ahad could have executed it!
Amaan has been a master manipulator from day one but you cannot help but feel soft for the concern he shows Aina here. He knows she has withdrawn herself from his life and THIS wrecks his being. He cannot help but care for her. He always has and perhaps always will.#YehDilMera pic.twitter.com/69NAnQI7dN

— sohini🥀 (@sohudg) April 15, 2020
It had some tearing up!
This might not be one of those typical confessions to rave about but the honesty and sincerity in that broken voice, the tears in Amaan's eyes relaying his pain, his trauma, his guilt and his love just made me sob like a kid.@ahadrazamir you beautiful insaan. 💕#YehDilMera https://t.co/FTX0RWmUAL

— sohini🥀 (@sohudg) April 15, 2020
We know right?
Aik tou har do minute baad ali baksh ko yeh establish karna hota hai kay amaanullah chalaak hai aray bhai sab ko pata hai kaam ki baat karo. #YehDilMera

— 🤪 (@ghairhaazir) April 16, 2020
Next time someone asks you for the best drama, you know which one to recommend!
This Show is just brilliant. Every thing about it is! The suspense, the acting, everything is on point! #YehDilMera

— ReebzyTweets (@areebazuberry) April 16, 2020
How did you like the episode? Are you team Aina or team Aman? Let us know in the comments below!