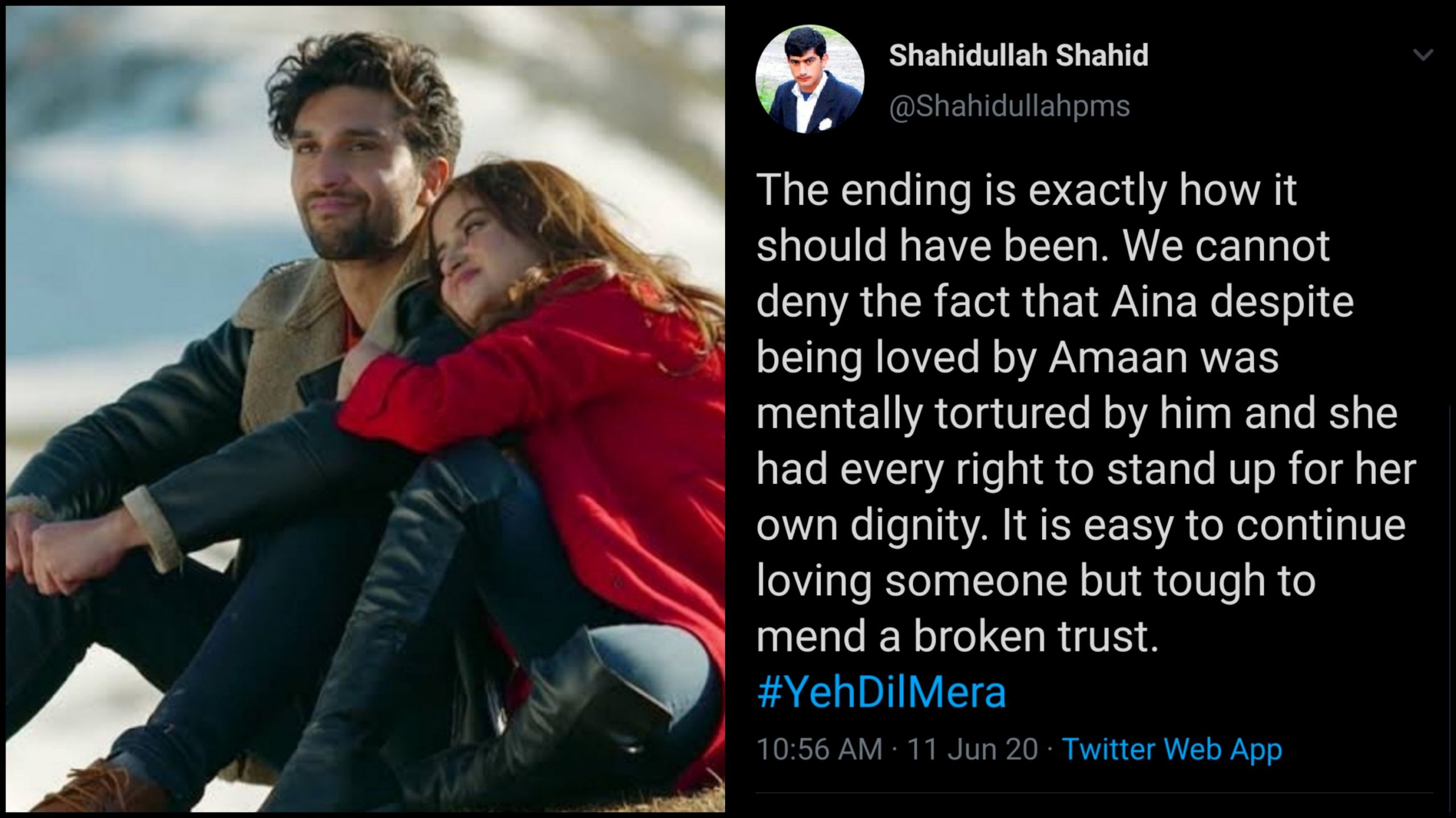 After 33 thrilling episodes, Yeh Dil Mera finally came to an end last night. With Aina still unsure but very much in love with Amaan, the ending took the audience by surprise!
While the drama proved that Sajal and Ahad are the next big thing in the industry, people also loved how well Adnan Siddiqui played Mir Farooq Zaman till the very end! But it was the open-ending, leaving it all to the audience's interpretation, and here's what they have to say!
The open end to their story makes a lot of sense actually. With their history, there was no way they could've gone back to their normal selves and lived with eachother. My only wish was that amaan got a chance to tell his side of the story, he deserved 💔. #YehDilMera pic.twitter.com/CKZxWbsWE0

— αdhírα🌦 (@adhira_v) June 10, 2020
For some, it was the perfect ending:
Neither the writer could given a happy ending,else you all would have thought that she glorified toxic relationship.
Nor she could have give a sad ending otherwise it would be injustice to amaan's character.
So it was the best ending @FarhatIshtiaq could ever write!#Yehdilmera

— ǟşӄ🌸 (@Deep_Fredo) June 10, 2020
Spot on!
The ending of #YehDilMera was perfect considering the emotional turmoil both Aina and Amaan went through. Amaan might have had his reasons for whatever he did, but Aina did face a lot of collateral damage in it…her life turned upside down, which also can't be ignored.

— Sree R (@a_sreedevi) June 11, 2020
Exactly!
They both need time to heal and they will eventually. My friends Amaan and Aina's separation is temporary its an OPEN ENDING. She loves him but needs time to heal and forgive him. Long story short they will UNITE iss janam main ab rona band karo.😑😂#YehDilMera pic.twitter.com/mnRz0h1xhR

— Norah Bing🌸 (@BingNorah) June 10, 2020
People were feeling for Amaan:
I know I know it's a justified ending but he realised, he accepted and he regretted his mistakes… so he did deserve a second chance..my heart cries for Aman a little more because he has always been a loner..💔 he deserved to be loved..#YehDilMera

— Taz (@Taz24637200) June 10, 2020
Some were a 100% on board with the ending:
You all are just not focusing on this particular last scene,such a conclusive end for ydm with a great message!
Also this place is so beautiful man,the visuals😍#YehDilMera pic.twitter.com/S4dxiP0bUT

— ǟşӄ🌸 (@Deep_Fredo) June 10, 2020
For many, the ending was justified:
About the ending of YDM: It was justified, well thought and different from all other serials. You cannot expect a relationship built on lies and deciet to continue when the truth comes out. And obviously, the visuals of the last scene were worth a million!! Brilliant #YehDilMera

— ᗪ尺卂匚卂尺ㄚ丂 (@m_ibrahim345) June 11, 2020
Some were trying to reason:
The ending was written quite justified…don't you remember you all were the ones who kept ranting about "YDM shouldn't have a happy ending or otherwise i am gonna riot"
I remember it clearly.
So why are you guys not happy with the end now?
What happened now?!#Yehdilmera

— ǟşӄ🌸 (@Deep_Fredo) June 10, 2020
Some thought that Amaan deserved a second chance:
No matter what, Amaan deserved LOVE. And a freaking SECOND CHANCE! He realised, he regretted, he apologized. He has had his fair share of flaws and mistakes but what hurts me the most is that he was ALWAYS ALONE and now, he always will be😭😭💔💔#YehDilMera

— Annie (@AnniiieeGiggles) June 10, 2020
Definitely, eye candy!
The last few scenes were magical! Such beautiful places and these two! #YehDilMera pic.twitter.com/oY64ViVSFn

— ruba syed🌸 (@RubaSyed) June 10, 2020
People had their own theories:
'Tumse rooh ka rishta Juda hai Amaan, saans ke sath hi tutega.. jeteji nahi tutega'
The voiceover of Aina at the end broke my heart in to pieces..
Aina lost everything she ever had..obviously it'll take time for her to forgive Amaan #yehdilmera pic.twitter.com/FCJ06JWfoO

— Reshma🌸 (@Reshma0774) June 10, 2020
The only interpretation you need to understand the ending:
The ending is exactly how it should have been. We cannot deny the fact that Aina despite being loved by Amaan was mentally tortured by him and she had every right to stand up for her own dignity. It is easy to continue loving someone but tough to mend a broken trust.#YehDilMera

— Shahidullah Shahid (@Shahidullahpms) June 11, 2020
Absolutely!
End may be bittersweet but loved the show, especially coz of the exceptional performances by @Iamsajalali & @ahadrazamir & unique storyline by @farhatishtiaq. It was a brave attempt. With all its directional & editing flaws it was the best show onair & I just loved it #YehDilMera pic.twitter.com/Ai7gAGM5IS

— SabahatMS (@SabahatMS) June 11, 2020
People were all praise for Farhat Ishtiaq and her magical characters:
"Tum aaj bhi mery laadly ho"

"Mery jeeny ki wajah tum ho, mera sb kuch sirf tum ho" @FarhatIshtiaq your leads still make me miss my heart beat Yet I'm mature enough But somethings never Change and here I go with Amaan & Aina❤❤❤😘
You have my heart ❤❤#YehDilMera

— Ayesha 🍁 (@Ayesha_Fahad21) June 11, 2020
This scene though>>>>
"Aankhein kholo… Dekho… Ye dil Mera"

The Story Of love and Revenge comes to the end… ❤️❤️❤️#YehDilMera pic.twitter.com/1Rl5TNOKk1

— Umaima 🐼🇵🇰 (@U_Pandaa) June 10, 2020
Yeh cheez!
Amaan didn't die,He live to see how much Aina loved him even after knowing the truth that he used her. Romance can't get over the Toxic relationship they both suffered What else be more justified end other than this?
That's the reason I adore you😍❤ @FarhatIshtiaq #YehDilMera

— Ayesha 🍁 (@Ayesha_Fahad21) June 11, 2020
Bilkul!
just a reminder that this is ahad's best performance of his career so far. he truly deserves all the praise and recognition for it! #ahadrazamir #yehdilmera pic.twitter.com/49mvjJA4p4

— sara ᵇˡᵐ (@shootingsitara) June 11, 2020
STOP 😭
Ok but this particular scene will always have my whole freaking heart.😭❤️
When bua g went to Amaan, Aina couldn't control herself to see her love… She stood up to see Amaan and she only not cried herself but also she made me cry 😭😭💔.
She still loves him 😩❤️#YehDilMera pic.twitter.com/c1SHVWMR3E

— 🌻 (@noorulemans) June 10, 2020
Same 😭😭😭
I'll miss Aman and Aina😭 I got so attached to this show that now I feel so sad😭😭😭 #YehDilMera

— ••Ayesha•• (@2310ayesha) June 11, 2020
And guys, that's how Amaan and Aina made a place in our heart, so special, it hurts to see the drama end:
The cutest "pheww" and "ooo" till date!:(#YehDilMera will be missed! pic.twitter.com/mH4NoLL28p

— Baneen🦄🌈 (@baneenayy) June 10, 2020
How did you guys like the last episode? Let us know in the comments below!