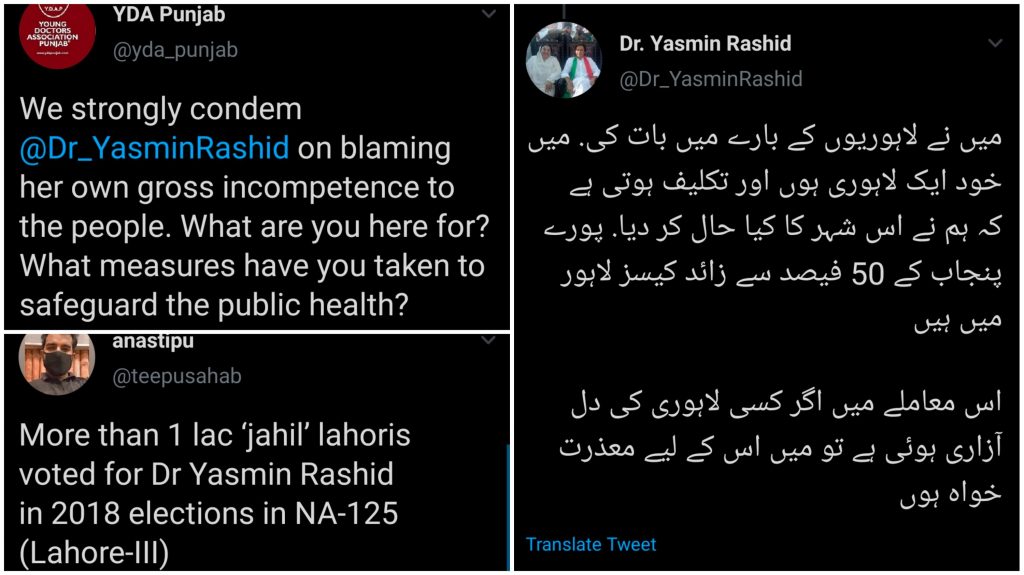 With Covid-19 cases on the rise in Pakistan, the government is opting for a selective lockdown to control the spread and is urging people to follow the recommended SOPs every time they step out of their houses.
The lockdown is being implemented from today in Lahore, and to shed some light on the alarmingly high number of cases in Lahore, Punjab's Health Minister, Dr. Yasmin Rashid, was invited to a talk show and things didn't really go well for her as she called the Lahoris an 'alaehda makhlooq' in the heat of the moment:
ڈاکٹر یاسمین راشد لاہور کے عوام سے ناراض ۔ انکے مطابق لاہور کے عوام کوئی بات سننے کو تیار نہیں ہوتے۔ اور ہر چیز کو بطور تماشا دیکھتے ہیں جو بہت افسوسناک بات ہے۔ ڈاکٹر یاسمین راشد 2/2 pic.twitter.com/3bxc8P7t9q

— Shahzeb Khanzada (@shazbkhanzdaGEO) June 15, 2020
And people were divided, some agreed with her while some disagreed and were furious!
Disappointing to hear Dr Yasmin Rashid repeatedly call the people of Pakistan, and Lahore especially, jaahil on Aaj Shahzeb Khanzada Kay Saath.

Again and again and again and again.

Guess the government considers Pakistanis too jaahil to bother to pretend to govern at all.

— Sher Ali J Khan (@SajKhan01273642) June 15, 2020
People were demanding an apology:
I am SHOCKED to the moon and back after the remarks of a Provincial MINISTER about #Lahoris How dare you put the blame of your in-competencies on innocent people of #pakistan
I am very angry i apologize for my harsh words! But people are dying because of you! #YasminRashid pic.twitter.com/mW6ub1Zam3

— MUNIB HAMID (@MunibHamid) June 16, 2020
People were blaming the government for their incompetence:
We strongly condem @Dr_YasminRashid on blaming her own gross incompetence to the people. What are you here for? What measures have you taken to safeguard the public health? pic.twitter.com/wjOW5KBcMM

— YDA Punjab (@yda_punjab) June 16, 2020
Many regretted voting for her:
More than 1 lac 'jahil' lahoris voted for Dr Yasmin Rashid in 2018 elections in NA-125 (Lahore-III)

— anastipu (@teepusahab) June 16, 2020
People were bashing her and the government:
I just heard #YasminRashid, Provincial Minister of Punjab for Primary & Secondary Healthcare calling Pakistani Nation 'jahil' on a TV program, well i would say right back at ya, you jahil, incompetent clown. 🤡

— Mahnoor Sheikh (@mssheikhh) June 15, 2020
People were sharing stitched videos, taking things out of context:
Lahoris are a weird creature, for them everything is a joke, they are so Jaahil they dont listen and dont care; no other nation is bigger in jahaalet and stupidity than Pakistanis; Punjab Health Minister Dr Yasmin Rashid says #CoronaVirusPakistan pic.twitter.com/YND8NULp5w

— Murtaza Ali Shah (@MurtazaViews) June 15, 2020
Some wanted her to stop playing the blame game:
#YasminRashid waly Elzam o buhtan k elawa kia krty hn???

Koi koi minister Sahfyon ko bura bhala kehta hy. Kbhi rishty leny deny ki bat krta.
Kbhi PM sb Sunt Mubark Rakhny walo ko By Eman kehta Kbhi minister Ulma py Tanqeed krta.
Wajaaaa???@ShaheerSialvi @SHABAZGIL pic.twitter.com/3TnKIYflML

— M Shahid Iqbal Nonari (@shahid_nonari) June 17, 2020
Others argued how people say the same thing themselves but are angry because a minister said it:
Some of you who wanted Government to impose strict lockdown because people won't follow SOPs out of their unconsciousness are now angry when a Minister basically said the same thing

— Qasim Zaidi (@QasimZaidi_) June 16, 2020

Some actually tried bringing the actual clip to light to explain the context:
Sometimes the entire propaganda is based on an edited video stiched together to support their dirty narrative

Watch this FULL CLIP to see where & in what context the term JAHIL was used by @Dr_YasminRashid — it was in terms of the OPPOSITION 🤣 being listed in that category 👍🏽 pic.twitter.com/oLUR0sKWhx

— Awab Alvi (@DrAwab) June 16, 2020
Some were trying to justify what she had said:
I can understand that many people are offended due to the recent remarks of @Dr_YasminRashid but given the efforts that she has put in since this disease entered Lahore I think we should give her that space to show a bit of anger. Work pressure can be very stressful.

— Mansoor Ali Khan (@_Mansoor_Ali) June 16, 2020
Some explained the context:
This is what Yasmin Rashid meant when she said Lahoris are jahil. Btw this video is a month old pic.twitter.com/0vuNUhWc5b

— Ahsan 🇵🇰 (@AftabSahab_) June 16, 2020
Some tried…
So Yasmin Rashid called Pakistani People 'JAHIL'…😡
Lets start following all the SOPs… Not sell our BLOOD PLASMA… Keep necessary items at their true prices and prove her wrong… Lets rub it in her face..
How dare she?..
Thora ziada hogya nahi… 🤔 Jahil he theek hain.. 🤷‍♂️ pic.twitter.com/AIn4riFoZH

— Usman Niaz (@UsmanNi43265758) June 16, 2020
Some looked at things differently:
Assorted: How dare Yasmin Rashid call Pakistani awaam jahil for not following sop's!!! Outrage!!!

Pakistan awaam: haan aur yeh loag zehr k injection bhi day rhay hain hospitals mein koi hospital na jaye, Bill Gates 10 lakh rupay deta hai doctors ko for every body.

— Waqas (@worqas) June 16, 2020
Some took it as a compliment 😂
Dr.Yasmin Rashid: lahories alag makhlooq hain🙄
Me being lahori taking it as a compliment:#Lahore pic.twitter.com/91LwEIlfD2

— Samreen Sheikh (@Sammitummy) June 16, 2020
Dr.Yasmin Rashid: lahories alag makhlooq hain..
Le Lahori: Yeh qualities to hamein bhi nahi pata thi
Thanks for the compliment😂#Lahore

— Tåhręėm🦋 (@tahreemsays_) June 16, 2020
Some boldly agreed:
No , doubt Dr.yasmin Rashid say just true and realty .#Lahore pic.twitter.com/3k14g0bPHY

— Muhammad Azam (@Azam_Officiall) June 16, 2020
People from other cities we're throwing shade:
Hum islamabadis ko burger sb kehty hain pr ALHAMDULILLAH kisi ne jahil nai kaha. 🙊#yasminrashid

— 🥀 (@khushnawa_) June 16, 2020
Some actually shared first hand experiences with Lahoris:
I do agree with Yasmin Rashid because I personally know many lahoris who still believe that "Corona yahodiyan di sazish ay ty daktar teaka la kay banday maar raye nay". So there's no need to be offended over her remarks.
Ignore it as you're ignoring preacautions!#YasminRashid

— Muhammad Talha Jutt (@mTalhaSipra) June 16, 2020
Dr. Yasmin then took to twitter to clear that she didn't specifically target Lahoris as jaahils, but she used the word 'hum:'
کل ایک پروگرام میں میں نے کورونا وائرس کے حوالے سے پھیلائے جانے والی غلط اور سازشی تھیوریاں پھیلانے والے افراد کے حوالے سے اپنا نکتہ نظر بیان کیا تھا
میں نے اس کلپ میں "ہم" کا لفظ استعمال کیا. pic.twitter.com/LHjBuw3n0w

— Dr. Yasmin Rashid (@Dr_YasminRashid) June 16, 2020
She then admitted that she used the word 'alaehda makhlooq' in the heat of the moment:
میں نے لاہوریوں کے بارے میں بات کی. میں خود ایک لاہوری ہوں اور تکلیف ہوتی ہے کہ ہم نے اس شہر کا کیا حال کر دیا. پورے پنجاب کے 50 فیصد سے زائد کیسز لاہور میں ہیں

اس معاملے میں اگر کسی لاہوری کی دل آزاری ہوئی ہے تو میں اس کے لیے معذرت خواہ ہوں pic.twitter.com/FVfy2UR7Lh

— Dr. Yasmin Rashid (@Dr_YasminRashid) June 16, 2020
And people were actually on her side:
You do not have to apologise at all Doctor. You know how vile our people and media is, they manipulate and tweak statement. You are absolutely right, hum Jahil qaum hain and you all have a tough job ahead. May Allah make it easy for you all. Ameen.

— Güzel (@RumzSk) June 16, 2020
God bless you Dr Yasmin. There is no need for you to give an explanation on what was clearly a repeatedly cut/doctored video.

Your dedication and hard work is second to none. Keep it up 👍

— ملکMalik (@Malik__73) June 16, 2020
You were absolutely right. Not just Lahoris, entire nation is at fault. They don't care whatsoever. No leadership from Earth or Mars can handle this nation with full of ignorance and arrogance. They are responsible for flooding and collapsing the already weak healthcare system.

— Maria Jamali (@JamaliMaria) June 16, 2020
What do you think about Dr. Yasmin's remarks? Let us know in the comments below!