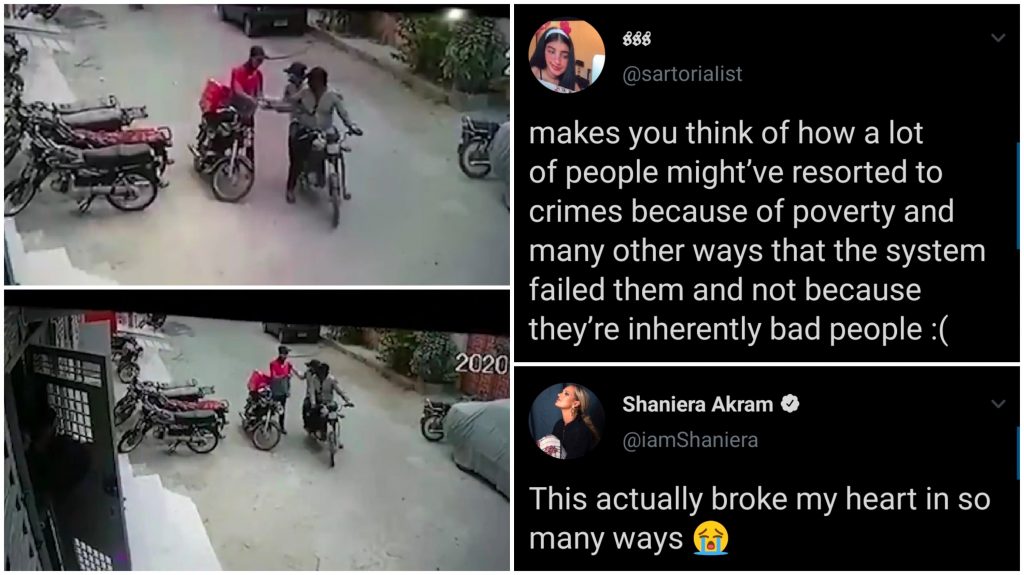 If you're from Karachi, snatching is not something new to you. And while we see numerous CCTV footages of theft everyday, this one will move you:
WATCH: CCTV footage of robbers in #Karachi consoling #food delivery man and returning his valuables after he breaks down into tears goes #viral.

For more: https://t.co/sjyrWUXJoc pic.twitter.com/GsgmurCNAw

— The Express Tribune (@etribune) June 16, 2020
A video of robbers consoling and returning the snatched goods to the rider is making rounds on social media and people are feeling bitter-sweet:
humara mua'ashra bura nahi, bus bhooka aur majboor hai.
in a society like ours, most men aren't driven by a desire for wealth but by a desire to survive. to make ends meet. https://t.co/gCyS66VqeP

— Qasim Farooq (@MangoLassC) June 16, 2020
People were heart broken:
This actually broke my heart in so many ways 😭 https://t.co/jxzYB9AEFT

— Shaniera Akram (@iamShaniera) June 16, 2020
People were lauding them for showing empathy:
Frankly these criminals have displayed more empathy for the poor in this incident than most of our elite can manage on their best day. https://t.co/NV59GhQCko

— D (@Le_Sabre54) June 16, 2020
Some had an elaborate scheme planned:
What if the rider is asymptomatic and he just handed over Corona to both the robbers as they shook hands? The city would be 2 robbers less in a week. That's the Batman we need. https://t.co/AfZrc91cAs

— Puffin Man (@junaidakram83) June 16, 2020
Some thought that it was because the system/society had failed them:
makes you think of how a lot of people might've resorted to crimes because of poverty and many other ways that the system failed them and not because they're inherently bad people 🙁 https://t.co/ol7ZmHxZ1V

— 𝖘𝖘𝖘 (@sartoriaIist) June 16, 2020
People rob/steal because society fails them. Not because they're bad people. https://t.co/k0PgGcxYaS

— Ayesha. (@AyeshaSGardezi) June 16, 2020
Some were throwing shade at the politicians:
"There may be honor amongst thieves, but none in politicians" – Lawrence of Arabia https://t.co/KvzffsoDip

— Zaitoon Zafar (@zaitoonzafar) June 16, 2020
Okay…
Someone show this to Nawaz Sharif so he returns our money too 😔 https://t.co/DXNMKZcDJY

— . (@PsychedSam) June 16, 2020
Now that's an epic story!
Compassionate robbers. Reminds me of that story of my friend whose car got stolen. A year later when the police arrested the thief, he gave my friend a motivational advice: "Never work for anyone. Always be your own boss".

My friend left his job and started his business. 😂 https://t.co/cawBuVh17X

— Hussain Nadim (@HNadim87) June 16, 2020
Some couldn't decide what they were feeling:
This is hilarious and depressing at the same time. https://t.co/ld7KMisYVL

— Ali (@Bhuut_) June 16, 2020
People were sending prayers for the three:
Allah teenon ki mushkilain asaaan karray. https://t.co/VMjDE5vlfT

— حسن علی (@Mhasanalii1) June 16, 2020
Some had their faith in humanity restored:
Faith in humanity restored. https://t.co/HmqA0KGjY2

— Sir Saith Abdullah (@SaithAbdullah99) June 16, 2020
Some thought it's the desperation to make ends meet that drives people to this extent:
We overlook that it's mainly desperation that leads people down the criminal route in developing countries, not that they're inherently bad. https://t.co/nWPHjTRkLM

— jned (@Englistani) June 16, 2020
probably because a lot of small robberies happen as a result of desperation and poverty so they might understand another desperate human's pain when they see it in person, unlike white-collar criminals who commit major crimes without ever thinking about the victims. https://t.co/AzoPewYehc

— Hamza (@wingsforus) June 16, 2020
Absolutely!
we really need to have the conversation about foodpandas riders' working conditions more often https://t.co/bDWMNRs2H9

— rameen☆彡 || bIm (@incongrxity) June 16, 2020
People were sharing similar stories of empathetic robbers:
lol. know of a robbery in Korangi where they stole this guy's motorcycle at gunpoint and then dropped him home on the way on his bike. https://t.co/NHBUe9KCoq

— HawkesBay (Löuche) (@HawkesBay) June 16, 2020
Some were calling them Robinhood robbers:
Steal from the rich not the poor. "Robin Hood" robbers in Karachi at their best. #PowerToThePeople ✊🏿✊🏽✊🏼 https://t.co/XsRXCdAFjp

— Salman Khan سلمان خان सलमान खान 🏳️‍🌈 (@ImGreenGuru) June 16, 2020
Some had questions:
Aren't these robbers better than 70% of Pakistanis? https://t.co/5tm3aotfvf

— Saad The Happy. (@saadghaffar2000) June 16, 2020
An apt description:
asshoes with hearts !!! https://t.co/re3YBgT0Y5

— Faisal Rafi (@faisalrafi) June 16, 2020
What do you have to say about this video? Let us know in the comments below!