Let me take you back to a time when the there was no burger fad trending anywhere in Pakistan. Way back in the 80s when Mr. Burger first opened its doors to the populace of Karachi, the peppery, mustardy goodness of the premium beef patty sandwiched between fresh burger buns evolved into a force to be reckoned with even today. Children of the 80s and 90s will understand what I mean. Fresh burgers and fries from Mr. Burger followed by ice cream from Snoopy's ice cream parlor was my favorite weekend dinner as a child.
While the menu at Mr. Burger has evolved over the past few decades, with additions of even a triple burger patty, fried chicken and rolls, purists will stick to Mr. Burger (with cheese), Mr. Big (with cheese), Mr. Big with egg, or a Mr. Deluxe. It's not because we hate experimenting with our food, it's because we will stick to what we grew up eating throughout our childhood/teens. My personal favorite used to be Mr. Burger with cheese, which later on evolved into Mr. Big with cheese when I realized one patty wasn't enough.
Now, with all the various branches and franchises throughout the city, my personal favorite outlets are Khayban-e-Rahat and 26th Street. As a child, there only used to be a branch at Tariq Road, which used to be the food street, or at Boat Basin, Clifton. Since we lived near the former, that's where we chose to visit the most.
So if you want a taste of the 80s and 90s, you don't need a time machine. All you need to do is visit a Mr. Burger and enjoy the taste of old school goodness!
When Xander's first appeared on Karachi's food scene, I had no doubt it would be a great addition simply because passion for good food and experience in the food and beverage industry runs in the family. I can tell the future because I definitely wasn't wrong on that guess. I say this because this eatery keeps a consistent quality check on the food and service. While the service might be slow on some days due to traffic and understaffing issues, 95% of the time Xander's has always maintained its quality.
For those of you who aren't familiar with Xander's a variety of breakfast, lunch, dessert and coffee options are available. This gourmet cafe is all about bringing its consumers fresh, seasonal and delightfully flavorful dishes. I can't even tell you what my personal favorites are because I love everything; the eggs, salads, pizzas, French toast, pastas, burgers, sandwiches and brownies.
Since Xander's has been around for a while, and as it goes with all old favorite haunts, there is a fixed menu for the time of day I visit Xander's. If it's breakfast, these are my top favorites:
1. Classic Eggs Benedict with Smoked Salmon – The perfect filling breakfast, their hollandaise sauce has always been great, which in my opinion really counts in an eggs benedict.
2. The Full Monty – When I'm not in the mood for poached eggs and hollandaise sauce, and I'm particularly starving, I will choose the very filling Full Monty, with fried eggs, sausages, Rosti potatoes (drool), turkey bacon and a grilled tomato.
3. Cappuccino – I need a coffee to start my day, and while this isn't the best cup of coffee in town, I ask for a double shot of espresso, which gets the job done.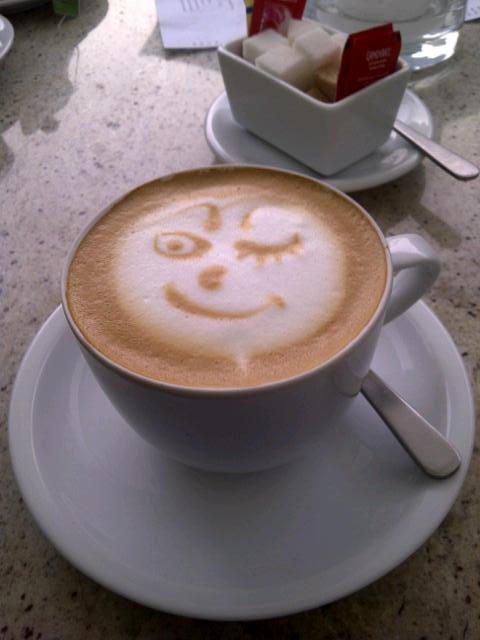 4. Apple and Cinnamon French Toast – The perfect end to a filling breakfast, the apple and cinnamon french toast is a fluffy, almost buttery toast with a caramelized apple and cinnamon magical concoction in between.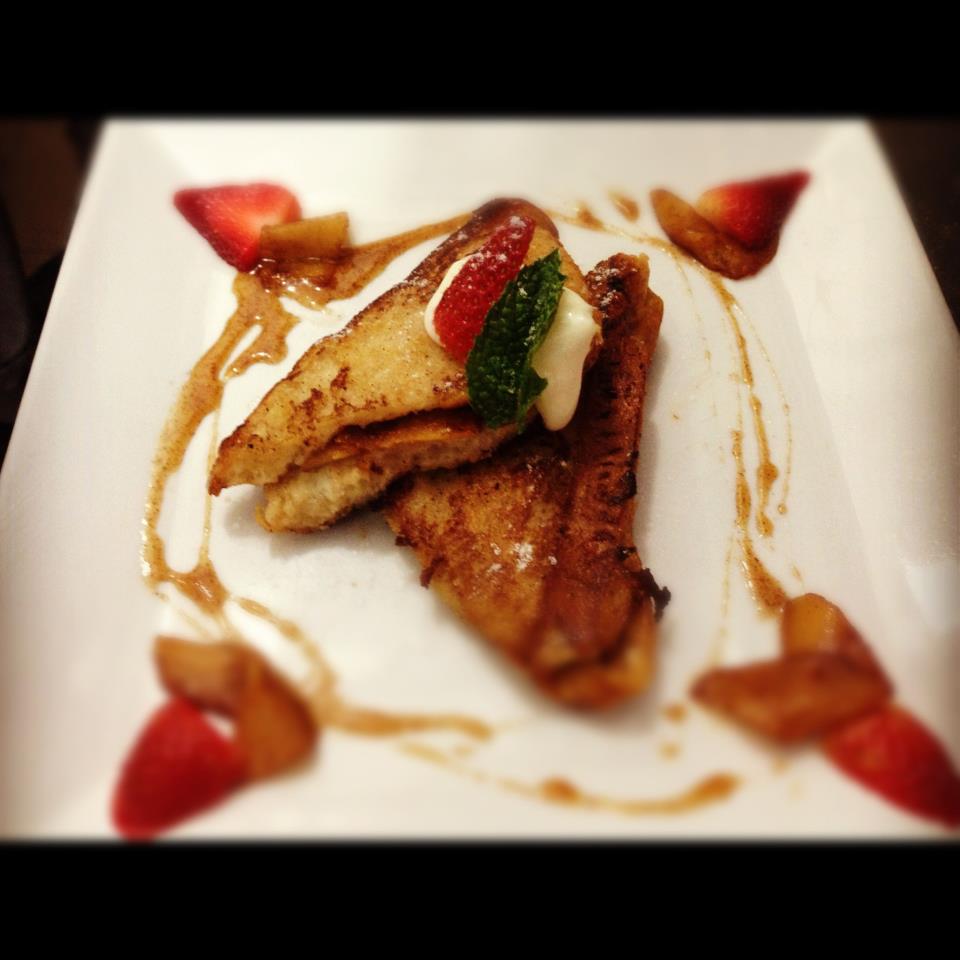 The Caesar Salad is a particular favorite of mine, which I often order with the Crab Gratin and Crispy Calamari. This is my perfect Xander's appetizer trinity.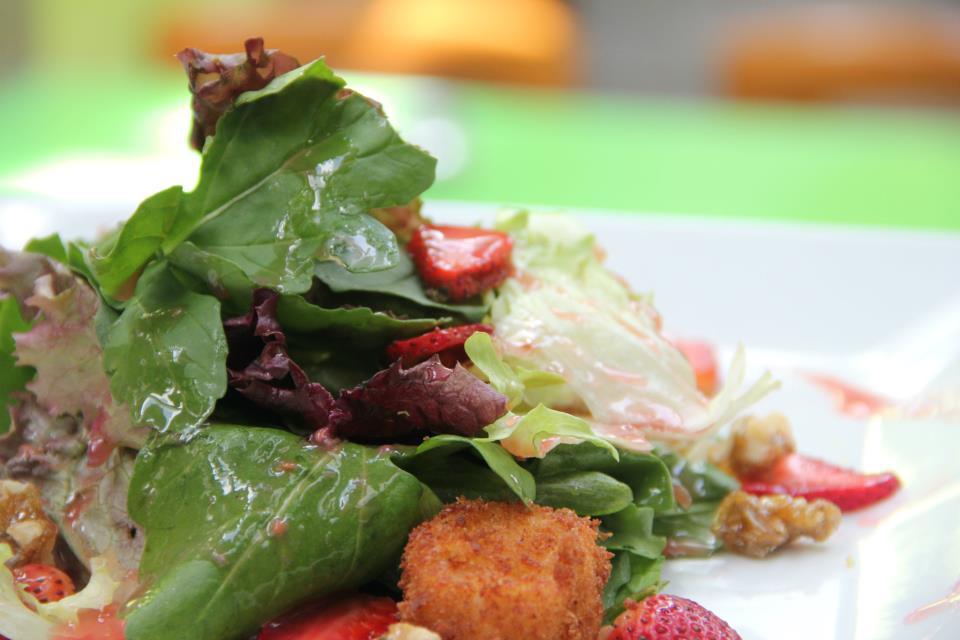 For mains, I quite boringly stick to the Prawn and Calamari Spaghetti, which is a spicy, delicious seafood delight. With generous helpings of prawns and calamari dotted with red chili peppers and herbs, I absolutely positively love this dish. It never does me wrong. However, if you're not in the market for seafood, do try the Lasagna or the Pasta Alfredo with chicken. So, so good, especially with their garlic bread.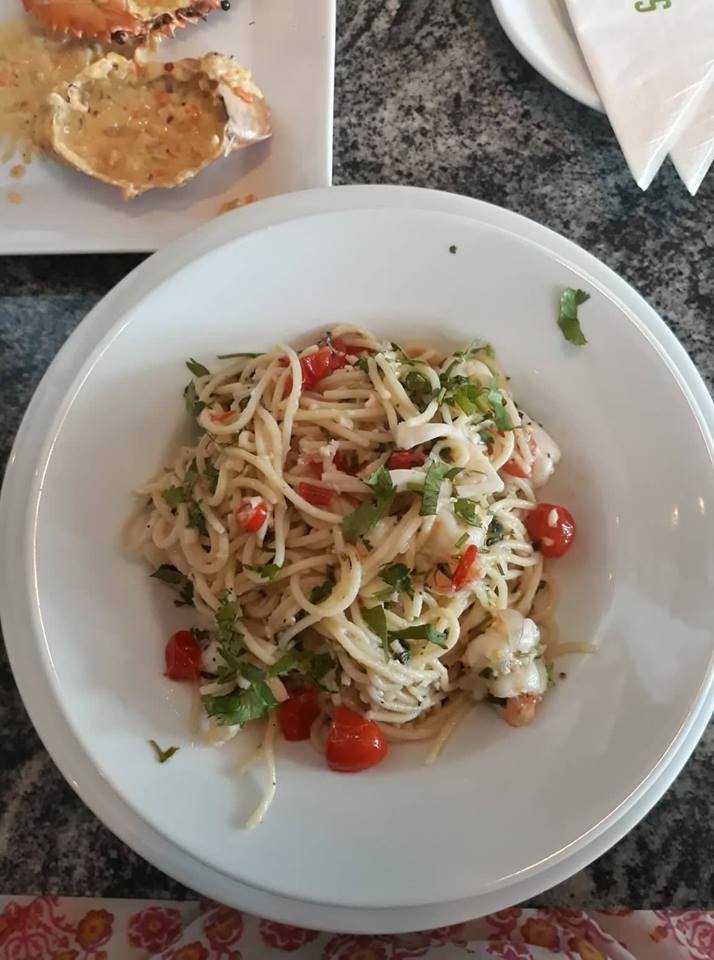 As for sandwiches and burgers, you just can't go wrong, and the Xander's Club Sandwich is definitely one of the best in town. Let's not forget the delicious waffle fries served with it. The Old School Burger and Jalapeno Beef Burger are also in my top picks when I'm not in the mood for pasta, and I love how the burgers hold together and don't fall apart halfway through.
For those who wish to enjoy a coffee or tea with desserts, I have recommendations for you too! The Croissant & Butter Pudding, Double Chocolate Brownie and Flourless Chocolate Cake are all absolutely brilliant desserts I love to eat if I ever have room for dessert.