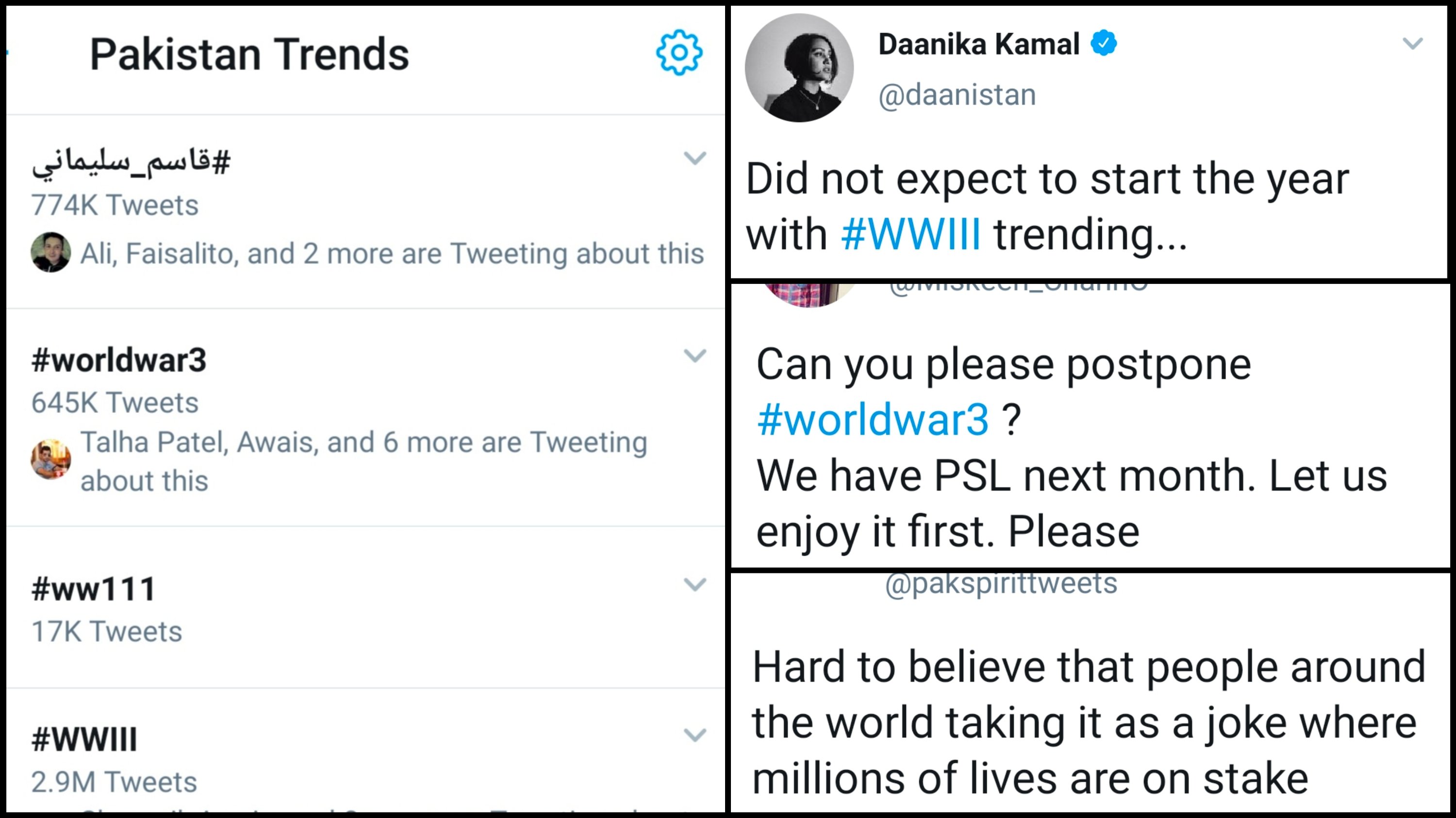 2020 was a year of change and peace for many, but only 4 days into the new year, the hashtags regarding war have been a top trend on Twitter globally after an Iraqi military leader Qasem Soleimani was killed in an air strike by the US.
And the internet is losing it!
Can't believe that just 72 hours into 2020 & the world is already teetering on the edge of war. I guess this is wht happens when the "leader of the free world"takes unilateral decisions without regard for international laws. This isn't just abt Iran &USA.God protect us #Soleimani

— Mehwish Hayat TI (@MehwishHayat) January 3, 2020
Same!
Did not expect to start the year with #WWIII trending…

— Daanika Kamal (@daanistan) January 3, 2020
And while some were worried, others were having a field day!
Can you please postpone #worldwar3 ?
We have PSL next month. Let us enjoy it first. Please#WWIII

— Rashid Deen (@Miskeen_ChannO) January 3, 2020
Bhaago!
me on the battlefield during world war 3 pic.twitter.com/1lVj8gp5rF

— Sabya Papi (@SabyaPapi) January 3, 2020
Some were living their best life:
Me eating my favorite snacks before #worldwar3 #WWIII pic.twitter.com/N9YqQyKT91

— Tizk Abdullah (@Tizk04) January 3, 2020
Aao na maidaan mei:
Fortnite Players showing up to the Battlefield with their Custom Skins #WWIII pic.twitter.com/ro9jr6jPoL

— Khalid Nadeem (@KhalidNadeem_14) January 3, 2020
Oh…
When you open Twitter and see World war 3 and 'Iran' is trending worldwide #WWIII #Iran #worldwar3 pic.twitter.com/1kyN0xdvvs

— CricArsalan 🇵🇰 (@Arsalan8901) January 3, 2020
Some were absolutely hopeless:
the world was supposed to end in 2012 but 2020 works fine for me too #WWIII

— yumna (@ehyumna) January 3, 2020
Some had theories:
There is NO #WWIII happening no country is rich enough or short-sighted to be plunged into a worldwide war over a person's assassination on account of Trump's act#Suleimani

— Learned Counsel (@SaifAbbas19) January 3, 2020
Planning what to do next:
*Everyone having the high hopes for the new decade*

But Me, after hearing about Iran vs USA. #WWIII

— JISHAN (@iamsrkJishan_) January 3, 2020
Sorry…
Me laughing at all the #worldwar3 memes then realizing it could actually happen.#WWIII pic.twitter.com/u9kTxPhdTa

— Mashood Ali (@mashoodali67) January 3, 2020
Subse aagay khara karo inhein!
Keyboard warriors ready to take part in #WWIII #ww111 #wwlll pic.twitter.com/HH8Hg2KTGh

— Post Script (@pakspirittweets) January 3, 2020
Girls taking advantage of the patriarchy:
Good luck in the war boys, me and my girls know our place 👋🏻 #WWIII pic.twitter.com/3nu8oX3qD2

— 𝕯𝖚𝖒𝖇 𝖆𝖘𝖘 𝖍𝖔𝖊 (@3wJVm3lkV504Sfv) January 4, 2020
Shoot your shots, guys:
Jokes about #WWIII aren't funny. But does anyone want to confess their love for me before the war begins?
C'mon guys it's the right time.

— Saima Khan (@isktweets) January 3, 2020
With many memes all over social media, people were mad at others taking war as a joke:
Hard to believe that people around the world taking it as a joke where millions of lives are on stake #WWIII

— Post Script (@pakspirittweets) January 3, 2020
Well:
American Weapon industry after knowing that there is a possibility of World War-3#WWIII#worldwar3 pic.twitter.com/S4Gv50KZCX

— Tahir Aziz (@TahirAziz7) January 3, 2020
There are always consequences:
For those who consider war a videogame in some virtual reality, who have not seen the body parts, walked over the bloodstained shards of broken glass, smelt death and overloaded on destruction, lost friends, family and colleagues – to you, #WWIII trending worldwide must elate you

— Gibran Ashraf (@GibranAshraf) January 3, 2020
People were disappointed:
War memes is all I've seen since the morning, do they even know what war means.#WWIII #worldwar3 #Soleimani

— SyedRajalAbbasRizvi (@rajal_abbas) January 3, 2020
Bus kehna asaan hai:
People are happy to start WW111 while they can't even starve for a day. #StartStarving #WWIII

— Basheer ahmed (@bsr_anwar) January 3, 2020
With so much tension worldwide we can only hope that better sense prevails. What do you think about this situation? Let us know in the comments below!