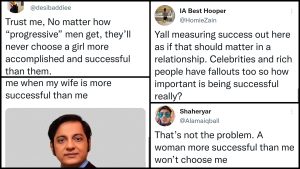 In a society where people want a doctor bahu only to sit home, tweeple are debating is men can really gulp living with a woman more accomplished than them.
Trust me, No matter how "progressive" men get, they'll never choose a girl more accomplished and successful than them.

— S. (@desibaddiee) November 25, 2021
And the debate is on!
me when my wife is more successful than me https://t.co/4ijwjMdkOE pic.twitter.com/xyNPs4qIKL

— ammar (@ammar_balti) November 26, 2021
People were sharing how they push their spouse to do better:
My wife's a doctor and working at a top end hospital, and I push her to excel further. so I mean… Don't push your toxic views on others maybe? https://t.co/DCJ0PsvBTQ

— Halaku Khan 🇵🇸 (@HalakuKhan_) November 26, 2021
Makes sense!
That's not the problem. A woman more successful than me won't choose me

Sada haq aithay rakh and all dat pls https://t.co/Kr3oV9fz6u

— Shaheryar (@Alamaiqball) November 26, 2021
Sister, I will choose a woman more successful than I am, 🙁 but the only problem is no successful woman will choose me.

— maan (@AlrightMaan) November 25, 2021
People were arguing that it's the mentality at fault, not the gender:
Will a "progressive" young woman choose a man less successful than she is?
It's not about GENDER, it's about MENTALITY.
And I'm sorry for the type of men you've met in your life for you to have established that idea in your head. 🙂 https://t.co/uJO3qob3g7

— Manan Shahdad (@shahdad_manan) November 26, 2021
Exactly!
Yall measuring success out here as if that should matter in a relationship. Celebrities and rich people have fallouts too so how important is being successful really? https://t.co/r5kf5A9fe9

— IA Best Hooper (@HomieZain) November 26, 2021
👏👏👏
Why's the amount of growth even a question? You literally want your partner to be as successful as they want to be and help them grow, no matter men or women

All you're talking about is old age male ego and desire to assert themselves on women https://t.co/UjnKUTQzIg

— A (@khogayehamkahan) November 26, 2021
People were quoting real life instances:
False also if earning more has any kind of upper hand then that'd be a problem.

My cousin married her wife who's academically more successful and also earns more than him and they live happily.
I have seen more cases. https://t.co/qVB2NKIc7l

— Moby wan kenoby (@MistrBlueSky__) November 25, 2021
Okay!
mujhe koi problem nahi hai bhaipic.twitter.com/b6XOBKJ36f

— 𝒉𝒂𝒔𝒔𝒂𝒏 (@hi__hassan) November 25, 2021
Yaaas!
me if my wife raking in more money than me https://t.co/2x2si9PV0N pic.twitter.com/Gr5jjGA28K

— mongphali (@_peanut_man) November 26, 2021
Yep!
Can't be generalised but still a sad reality. https://t.co/3hHYWCW2ir

— Maham Mushtaq (@MahamMushtaqPAS) November 26, 2021
Some changed the question:
Loll that's not the right question.
The real question is whether a woman choose a man any less than her in any of above aspects. 😅 https://t.co/0FGOYRRRzO

— 🌹 (@ranaayyyyy) November 26, 2021
Good for you!
My wife literally is more qualified than me and went to a better college https://t.co/rkGDMkJOgU

— AS (@duskafterburner) November 26, 2021
Lmao 😂
I mean i wouldn't have a problem at all. I'd be the happiest. Imagine being able to play all night and not worry that your finances wont keep the house stable because you got a wife that earns so much she could buy the house AND buy you along with it. https://t.co/SbEnQxGPXx

— Samurai Jack (@ComaMierda_Puta) November 26, 2021
👀
People in other countries: After extensive research I've reached this conclusion.

Pakistanis: Trust me. https://t.co/dGJkO49KzF

— Zohad (@Zohadtweets) November 26, 2021
Basically, men were ready:
Goals. https://t.co/QZ6JPDPZfd pic.twitter.com/kgkiOKbEig

— M. (@FanahBaqah) November 26, 2021
lmao all i want in life is to be a trophy husband to a successful woman https://t.co/2lnuzQn8yB

— ? (@undeadsafwan) November 25, 2021
Some believed it doesn't matter after a certain income bracket:
While it might be true till a certain income bracket for most men, after that it really doesn't matter. https://t.co/iGYRPrsauP

— HNK (@Hnk_89) November 26, 2021
Some believed that men ready to throw themselves in front of rich women were idiots!
The fact, Only jobless idiots are backing the intention of marrying a successful woman so she could endure his expenses?
On the other hand, the Life of a working woman is so horrible. She has to earn and then do the housewife shit both at once which humanly torturing. https://t.co/SltEqv5jrn

— maan (@AlrightMaan) November 26, 2021
…
My Wife :
1. Earns more. Faarrr more than me.
2. Has better prospects to rise higher
3. Ghr main bh usi ki chalti hai.
O hum kahan jayein phr?? https://t.co/WpCNvufW1o

— CVS (@chalo_ge) November 26, 2021
We know, right 😂
The way yall think a successful woman would run after men is laughable https://t.co/QHxLgjUqa4

— pucci cucci (@00violet0) November 25, 2021
It is what it is:
Men who have high self worth and are self aware will not be threatened by this. I know several healthy couples like this. https://t.co/KOmmxYSp2P

— 🐈 (@momofmoomz__) November 26, 2021
We stan!
Hi @desibaddiee,
My wife is actually more successful and accomplished than I am. I can say this with a guarantee that I have only added more value to her success and career accomplishments.
I am not sure what and why are you so worried about. https://t.co/dHQCcKSXo9

— Khawaja Ahsan Saeed (@ProtectHERPLS) November 26, 2021
What do you think? Let us know in the comments below!