Whenever a movie comes out, people often look at the reviews before they invest their time and money watching the movie. And same is the case with the recent release of Khel Khel Mein which gathered mixed reviews.
And Fahad Mustafa has a little something to say to the people giving these reviews:
This industry needs support 🙏 pic.twitter.com/3tfI0exATv

— Fahad Mustafa (@fahadmustafa26) November 28, 2021
And people have a lot to say!
Movies achi bnao bhai and
👇 pic.twitter.com/IKtA8GxuVR

— Haniya 🌻 (@yestroublemaker) November 28, 2021
Fashion journalist Maliha Rehman shared her take on Fahad's stance: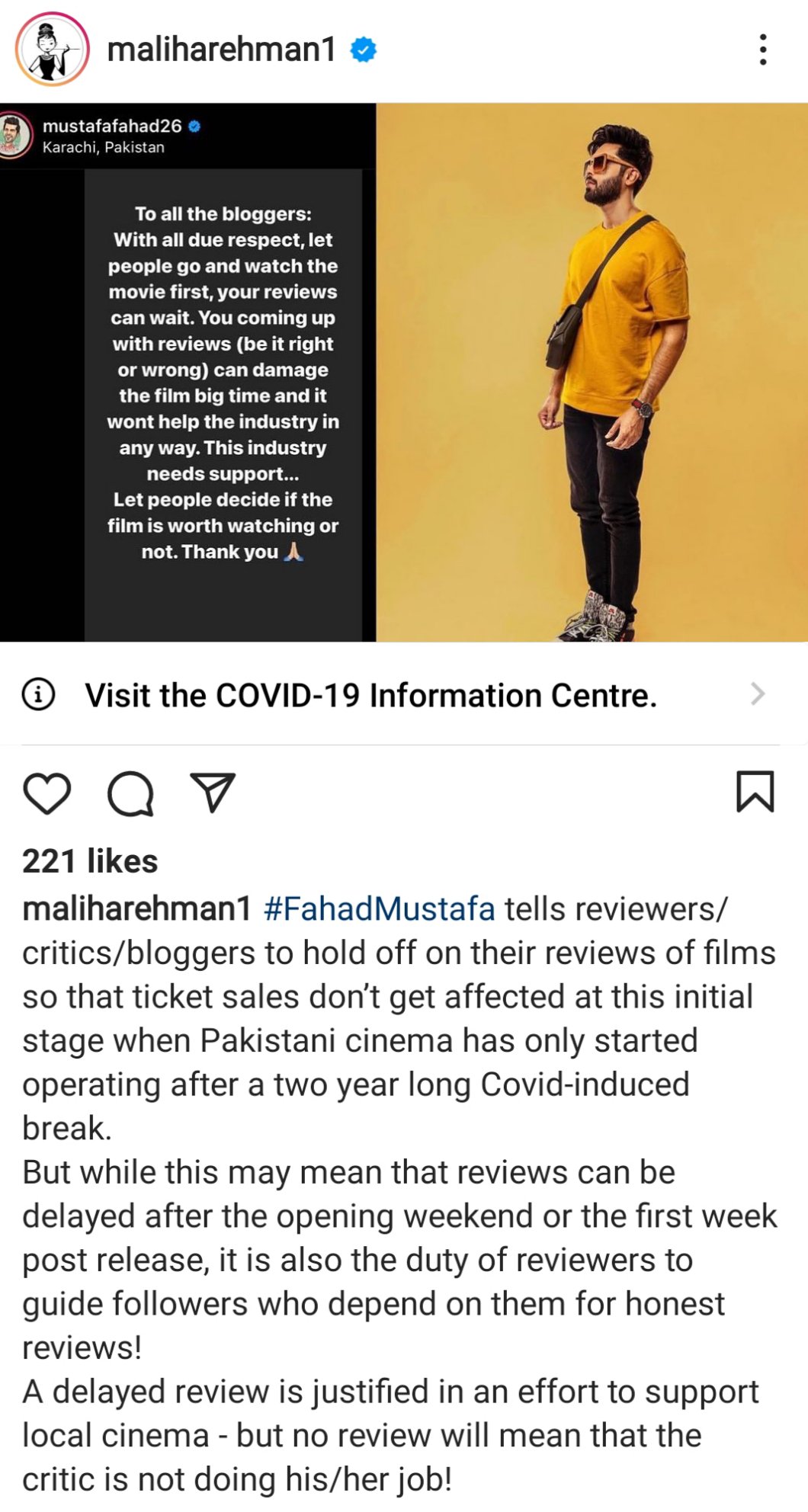 Journalist Aamna Isani also responded to Fahad Mustafa:
I understand that cinema needs space to regenerate but it won't survive without strong content. A journalist's job, to report and review, supports revival & survival. Maybe stop having media junkets and press previews? That'll at least delay reviews…

— AHI (@aamnaisani) November 28, 2021
People wanted to watch good films:
Aap buri film banao ge aur chalao ge, toh audience is not bound to watch it for the sake of "supporting industry". Audience ko kuch nhi pari k woh industry ko support kare, we go there for the sake of entertainment, aese he bilawajah kharch kare ghareeb awam apne 900 🤦🏻‍♀️-_-

— ⚘ (@vibenthrive) November 28, 2021
People wanted to know why Lollywood should be treated differently:
It is the norm in all film industries across the globe so why should our industry be treated differently? And instead of asking critics not to critique the films, wouldn't it make more sense to simply try and make better films?

— Kashif Hashmi (@SyedK2010) November 28, 2021
People believed that the industry needed support in making good films:
This tweet does not make sense at all, if we want the industry to grow, we have to work on it, make better films, not silence the REVIEWS 🙏🏼

— Ali Arif (@i_AliArif) November 28, 2021
There were disagreements:
yup let people be as tone deaf as the film makers about events of 1971, beef jokes, tea jokes, stereotyping. how dare any blogger point out how distorted history is in a movie based on our actual history 😤.
btw how long will these guys ask to support avg movies ?? https://t.co/G80wGJDV2P

— Ayesha (@ayishaikon) November 28, 2021
People were sharing how they didn't see any blogger asking people to not watch the movie:
(1/2) With all due respect, nobody wants to give a bad review. Instead of focusing on improving quality, you are asking journalists/bloggers to be ignorant? Haven't seen any reviewer telling people not to watch the movie. https://t.co/roB2eRTXLI

— Warshma Chughtai (@WarshmaChughtai) November 28, 2021
Shots were fired!
If you make good movies you don't have to tweet things like this. The work speaks itself.

— Summertime sadness (@BiyaAli9) November 28, 2021
People had questions:
So, no one should criticize bad work? Bloggers/ critics should not stop people from wasting their money?
ARY pe reh reh k ajeeb dictatorial sooch ho gye hai hazrat ki https://t.co/aI0y3WfqcG

— Hamza Azam Cheema (@HamzaAzamCheema) November 28, 2021
People wanted the industry to support people as well:
bhai ap bhi support kro public ko ticket 200rs ka rakho https://t.co/Zo4ZtNXzDo

— Usman Jan (@TargaryenKhan) November 29, 2021
People wanted him to know the purpose of reviews:
You understand how reviews are used, what is their purpose right ? https://t.co/t9r3a6KW5y

— Shoaib Jafri (@shoaib_jafri) November 29, 2021
People believed that mediocrity cannot to be tolerated in the name of support:
Bakwas. Industry needs to do better, mediocrity can't be tolerated in the name of supporting the industry. It's not like anyone is charging any less to support the industry. Btao, are you doing roles without money? https://t.co/FAusX2Lifs

— Waqas Habib Rana (@waqas464) November 28, 2021
People agreed with him:
Exactly, Critics should stop reviewing any movie, let the audience decide
I agree Dont believe these bloggers they give lot of fake reviews
Go and watch yourself then decide by yourself
Dosray jo keh rahy hai us ka comment dekh k sary keh rahay k buri hai @fahadmustafa26 https://t.co/Yc3wzP2LI7

— Fatima (wbian+iqrarian) (@ChZararAhmed2) November 29, 2021
I agree with him on this. Even for Hollywood, some of the films critics did not like at all proved to be highest grossers. One such example is The Greatest Showman. And here for an already weak industry, the fashion journalists turned reviewers can wait for a week or two. https://t.co/Q8XIEkXugT

— I want uncut Harry Potter Movies 🇵🇸 🍥 (@harrypotter_pak) November 29, 2021
People were sharing how the movie was a great watch:
Absolutely!
Speaking of industry "Khel Khel main" is a fantastic movie…Go & watch guys! https://t.co/AOQ3uOnbMH

— Hennah Khan afreede (@HAfreede) November 28, 2021
What do you think about Fahad Mustafa's stance on holding off the reviews? Let us know in the comments below!