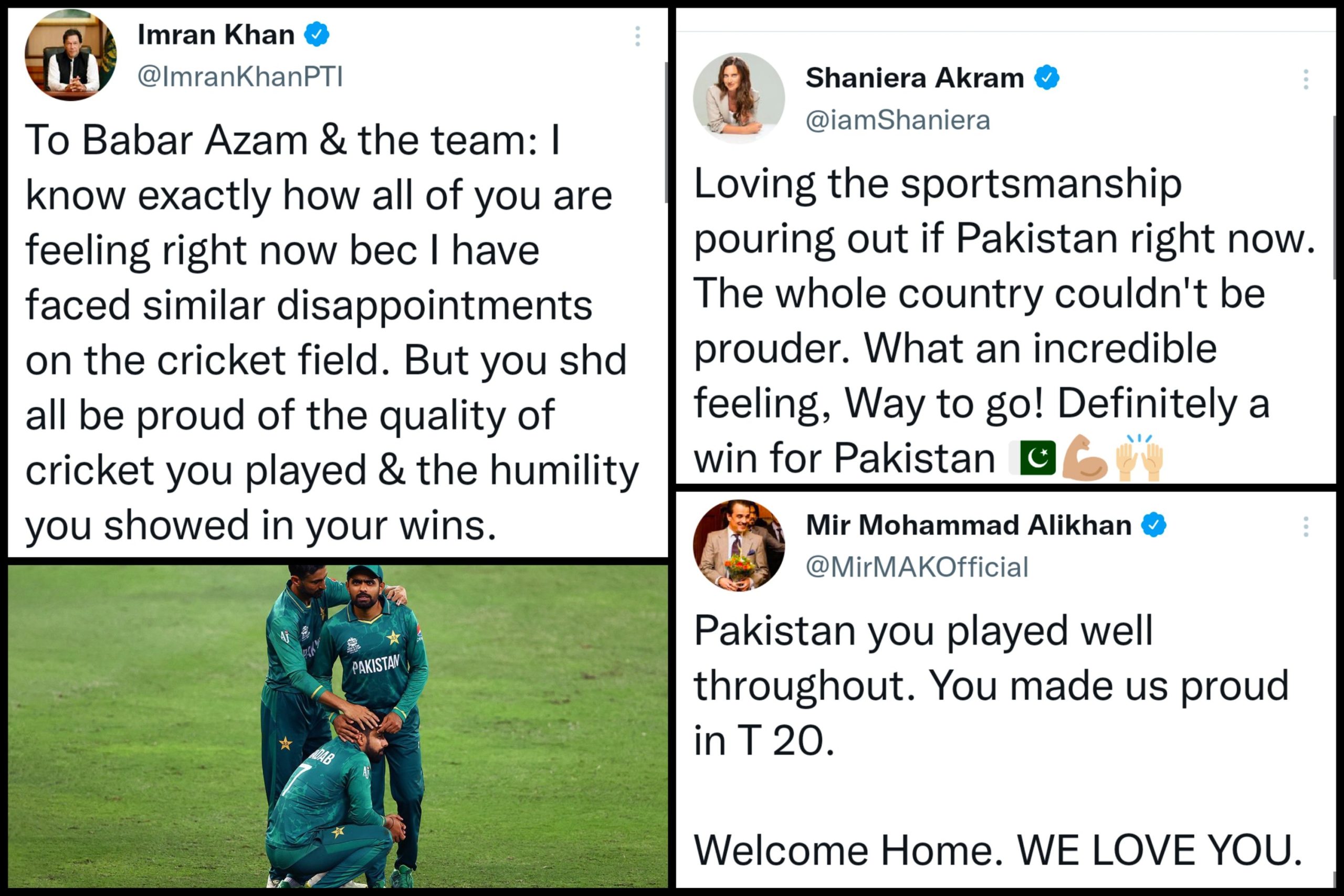 In an intense semi-final last night, team Pakistan fought till the very end but lost by 5 wickets. In a rather nail-biting match, despite the players being under the weather, they tried their very best.
And Pakistanis, despite losing to Australia, are celebrating the consistency of the team this year under Babar Azam's captaincy.
Babar Azam, Saqlain Mushtaq and Matthew Hayden are proud of their side despite a five-wicket defeat in #T20WorldCup semi-final. pic.twitter.com/kAem5PrWjj

— Pakistan Cricket (@TheRealPCB) November 11, 2021
PM Imran Khan also took to Twitter to congratulate the team for their hard work throughout the series:
To Babar Azam & the team: I know exactly how all of you are feeling right now bec I have faced similar disappointments on the cricket field. But you shd all be proud of the quality of cricket you played & the humility you showed in your wins. Congratulations Team Australia.

— Imran Khan (@ImranKhanPTI) November 11, 2021
People also loved how Babar backed his players:
As classy as your cover drive @babarazam258 pic.twitter.com/pEmeVKccZz

— PSL Memes (@PSLMemesWalay) November 11, 2021
With a win-win situation for Shaniera, people were sharing her reactions:
Shaniera bhabhi rn: pic.twitter.com/eqnlJheqvw

— adiba (@notabidaa) November 11, 2021
Yaaas!
Good morning. First thought as I wake up: I absolutely love this Pakistan cricket team. All of them.

— Rizwan. (@RizwanTakkhar) November 12, 2021
🥺🥺🥺
This picture tatters my heart & fills me with pride at the same time. 3 gems. pic.twitter.com/DnZbrZQQpG

— Shizaa (@blearyeyes) November 11, 2021
We might just believe you:
now that i've had time to process, i am fully convinced that the Pakistan cricket team is on a sports anime protagonist arc where before a huge victory, there is an equally sad heartbreak that is necessary for character building. trust me.

— Hamza (@wingsforus) November 12, 2021
People were especially lauding Rizwan:
For me, Rizwan defined the spirit of Pakistan Cricket.

He was in ICU for 2 days but played today; hit on the face with a bouncer but went on to be the top scorer; kept the wickets with a vicious bruise on the face.

You showed the world why they can't ignore Pakistan cricket! pic.twitter.com/CMSbWPQBzl

— Umar Saif (@umarsaif) November 11, 2021
Flu tha tou 60 maar diye rizwan fit hota tou kya kerta bhai

— nma (@namaloomafraaad) November 11, 2021
It's was memes galore at twitter:
Shadab to Warner: pic.twitter.com/mcdCK030v5

— Wasiq (@WasiqTarar) November 11, 2021
Noooo, my heart!!!
Just when I thought I was getting over the loss, these pictures popped up and I'm sad all over again pic.twitter.com/jOoJGp0gXo

— noor (@ohnoorii) November 11, 2021
And it ain't even funny, lmao!
mfs who didnt even make it to the semis have a lot to say🥱

— tayyiabah (@localcatf1sh) November 11, 2021
Aisa toh hota hai:
Nothing just tears. pic.twitter.com/dzCMUj0w6D

— keke (@pagalauurat) November 11, 2021
Passion!
We might have lost but the boys showed something I haven't seen in decades

— Arhum (@arhuml92) November 11, 2021
Hahaha, 10/10 would agree!
Smol kids crying in the stadium remind me of my childhood because we've been losing knock out matches since forever 🤡

— فاطمہ (@Famakbye) November 11, 2021
Jo baat hai!
Let's forget the game & talk about shadab's confidence. My man convinced both the umpire & warner himself that it was out. Unreal ! 😂

— Zohad (@Zohadtweets) November 11, 2021
❤
We All feeling the same? pic.twitter.com/KzqeCqyN2a

— YOLOO (@chuwara) November 11, 2021
True that!
Koi nahi Asif tum apnay pooray tournament ka quota poora kar chukay ho already

— Osama. (@ashaqeens) November 11, 2021
We absolutely do!
Pakistan you played well throughout. You made us proud in T 20.

Welcome Home. WE LOVE YOU.

— Mir Mohammad Alikhan (@MirMAKOfficial) November 11, 2021
Love was pouring in:
pakistan cricket brought many families together, gave us a reason to be happy about all these days lets show them the respect they deserve, the team as in whole performed excellent. Lets not forget defeating new zealand and india in a dramatic way. WE LOVE YOU PAKISTAN TEAM. ❤️

— haseeni (@ahmedrana619) November 11, 2021
Chins up high!
No shame, boys. You gave it your best and we love you. @TheRealPCB You're heroes. Keep those chins up.

— ظلِ الہٰی (@XilleIlahi) November 11, 2021
Hahaha!
Humari trophy tou Mohammad Rizwan hai bhai. Kya banda hai yaar qasam se mohabbat hogayi hai iss se

— nma (@namaloomafraaad) November 11, 2021
Melts our heart!
"I see you brother & I am here for you."

This is the stuff true greatness is built of. So proud of the camaraderie & empathy in this team.

Humanity is the essence of why we are here- to support, to love & to hold space. When the material disappears there's only love ❤️ pic.twitter.com/tIZUaHkISx

— adnanmalik (@adnanmalik) November 11, 2021
Truly a win!
Loving the sportsmanship pouring out if Pakistan right now. The whole country couldn't be prouder. What an incredible feeling, Way to go! Definitely a win for Pakistan 🇵🇰💪🏽🙌🏼

— Shaniera Akram (@iamShaniera) November 11, 2021
😠😡😠😡
Australian team not seeing heaven for making him this sad pic.twitter.com/NTTTwmt3jn

— em (@mujhemaardo) November 11, 2021
Uhhhh…
Allah karay Australia mein PTI ki hakoomat ajaye

— Jasir Shahbaz (@LahoreMarquez) November 11, 2021
What did you think of the team's performance last night? Let us know in the comments below!