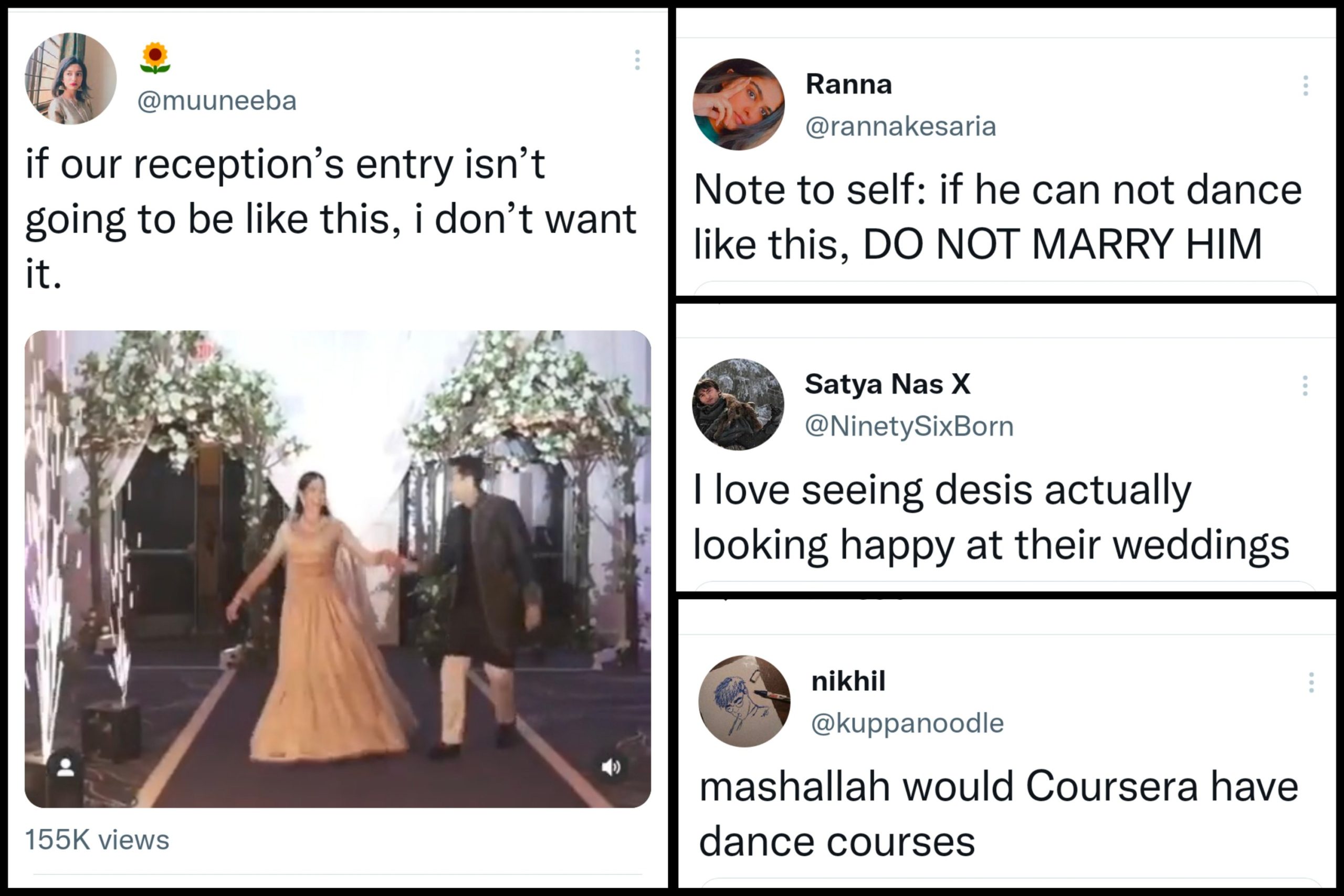 Super cool wedding entries are all the rage this season, with some entering all lit up (quite literally), some arriving on a flying carpet, it's quite the competition. And we might have found a winner!
View this post on Instagram
Opting for a classic Bollywood style entry, couple Shivani Bafna and Shyam Shah have been going viral for their classic, yet super cool entry. And netizens are loving it:
if our reception's entry isn't going to be like this, i don't want it. pic.twitter.com/fiCFTbTQc3

— 🌻 (@muuneeba) November 8, 2021
😭
I have been watching video on repeat since yesterday 🥺😍 @ allah mian i see what you're doing for others https://t.co/1yUSswnW5m

— Safia (@_safiamahmood) November 10, 2021
Yaaas!
ma man got footwork https://t.co/hGALI5P2kO

— 👻🎃💀🦇 (@sadzzilla) November 9, 2021
Haina?
@ universe I am once again asking for a dance partner
p.s they so cuteeee AND so in sync https://t.co/qQE4RS9vqB

— 🌼 (@iFirewhiskey) November 8, 2021
Hahaha, we don't think so:
mashallah would Coursera have dance courses https://t.co/WGuw8LZnn4

— nikhil (@kuppanoodle) November 9, 2021
Contagious!
Their energy >>>
Cutiessss https://t.co/IvRCrQdtR7

— ✨✨✨ (@SendCheesecake) November 8, 2021
People found the change refreshing:
Wow..the guys knows some moves!
So refreshing to see a happy couple https://t.co/7PhbzqQ0mH

— Sunshine (@VoiceOfValor) November 8, 2021
Of course, it's #DivaApproved
Stop everything you're doing right NOW and check out this ooh-so-cool bride and groom's entry at their reception. Loving their energy and moves. 10/10 for the groom. Bhai tussi cha gai ho🔥❤️🧿 pic.twitter.com/lMmdKi7kKO

— DIVA MAGAZINE PAKISTAN (@DivaMagazinePk) November 11, 2021
We know man!
the way they nailed that ghunghroo step so satisfying man https://t.co/SMtDGvpnRR

— vicks inhaler lover (@avidamit) November 9, 2021
This is the standard!
This is the correct way,
we have been doing it all wrong….pic.twitter.com/KIi8jRtdQ3

— Vikas Bahl 🗨 (@HumorMonger31) November 10, 2021
Loug-kya-kaheinge mentality 😭
Girls!!! What's stopping you for such gorgeous entry??? https://t.co/QebOnA7g86

— joy (@AraiaJoy) November 10, 2021
Ours too!
Someone stole my dream https://t.co/0V2LVfxBLu

— Karthi 🌌👽 (@karthi_knn) November 10, 2021
💕
If the bride and groom are happy, all y'all nasty opinions can rest in your arses! Geeze proper aunty vibes from you lot. https://t.co/j9vxeYySKT

— Elon ࿗ (@nalayuck) November 9, 2021
Oops!
The pandit in front of whom you promised each other 7 janmo ka sath , watching you dancing on 'kya karne h umaro ke waade' : https://t.co/6rXZ2F3jQD pic.twitter.com/fu6MVp1Yy2

— MAGGI MASALA (@Helloo_jii) November 9, 2021
Lol, same 😭
Introvert me watching this and thinking 'ye toh mai sapne mein bhi nahi kar paugi'

— Sakshi Sharma🇮🇳 (@sakshi___sharma) November 9, 2021
That's the spirit!
I went to one Couple's reception, they danced for half an hour on entrance. Thats the only wedding I have seen bride and groom really happy on wedding day https://t.co/cFa13fxYEU

— Swa-Pun-il  (@alec_bingeman) November 9, 2021
Us too!
I love seeing desis actually looking happy at their weddings https://t.co/d1oKpXoomQ

— Satya Nas X (@NinetySixBorn) November 9, 2021
Yes!
Note to self: if he can not dance like this, DO NOT MARRY HIM https://t.co/FywtIPxdXy

— Ranna (@rannakesaria) November 9, 2021
What do you think of this entry? Let us know in the comments below!