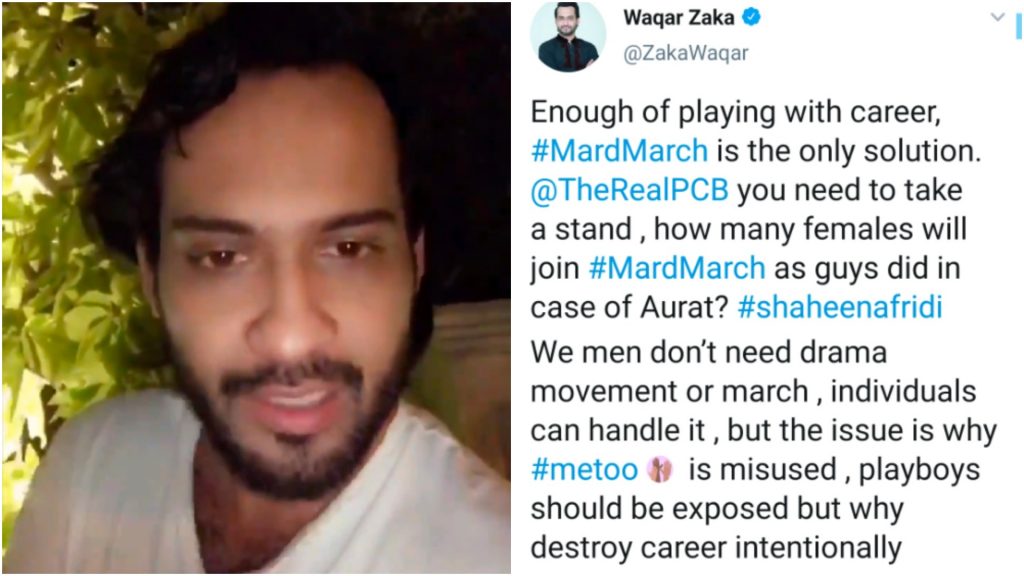 In the last few weeks, celebrities, YouTubers and cricketers were exposed on the internet which include Ukhano, Mohsin Abbas Haider and cricketers Imam ul Haq and Shahin Afridi. Private screenshots were leaked, inappropriate pictures were shared, it was a hot mess!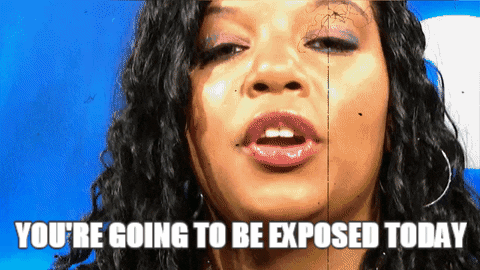 And while a ton of people agreed that screenshots and private conversations shouldn't have been leaked, Waqar Zaka took it to twitter to share a video message:
Enough of playing with career, #MardMarch is the only solution. @TheRealPCB you need to take a stand , how many females will join #MardMarch as guys did in case of Aurat? #shaheenafridi #Imamulhaq pic.twitter.com/mQtYpMx0TR

— Waqar Zaka (@ZakaWaqar) July 25, 2019
In the video, Waqar says that no one can blackmail you with consensual conversations and that it was merely a personal benefits to affect the careers of the men exposed. He urged both the cricketers to file an official complaint and also called for a Mard March against such women.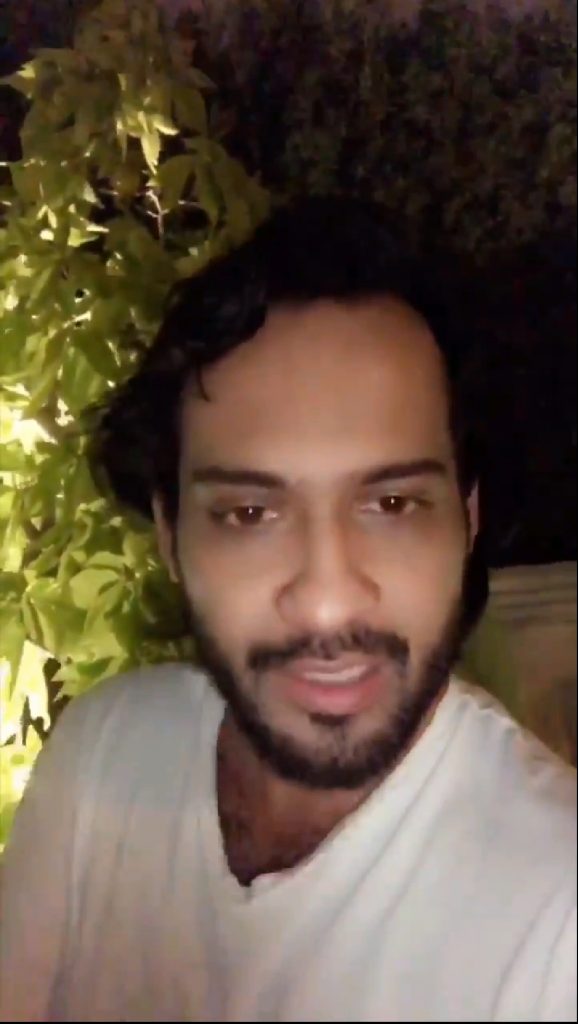 Waqar also called out on men who support women in such cases, he also said that he couldn't get the gist of words like 'pervert' being used in a consensual chat that was taking place. He then continued to say that if the conversations/exchange happening between two people is consensual then leaking it is a serious offence and asked people to stop misusing the #MeToo movement to their advantage because then people don't take it seriously and cases of real harassment get lost in the middle.
He then went on to tag Ali Zafar under the tweet:
@AliZafarsays jee bhai

— Waqar Zaka (@ZakaWaqar) July 25, 2019
A lot of people on social media agreed with him:
Sahi baat hai. Kal ko bnda apni biwi se bhi khof khaega k us ki private agay na karday.

— Kazim R (@SKazRN) July 25, 2019
Many thought it would bring about a revolution if he was able to pull it off:
If you're able to successfully pull this off, it would be the beginning to a new worldwide movement that would be lead by you. Because nobody has done this successfully and seriously yet. Let's see.

— Zain Khan (@ZKhanOfficial) July 26, 2019
To which replied that he just wants no drama for men and wants to stop people from misusing the MeToo movement:
We men don't need drama movement or march , individuals can handle it , but the issue is why #metoo is misused , playboys should be exposed but why destroy career intentionally

— Waqar Zaka (@ZakaWaqar) July 26, 2019
People appreciated him for raising awareness:
To be honest, the awareness u have regarding legal rights and all the things about social media is much appreciated. You are going good and InshAllah you will succeed in this way

— Syed Hamza (@Shamzaofficial) July 26, 2019
Someone questioned why there were no NGOs working for men:
Right and I have one Question why don't have any Ngo for men's

— Jabbar Bajwa (@jabbarbajwa613) July 25, 2019
People showed their support:
We are with you waqar bhai bus organize karo yeh march

— SaaJ (@sajidirfan22) July 26, 2019
Totally support your idea.
This thing is getting out of control.

— Faran Ahmad, MD (@drfaranahmad) July 26, 2019
Not a fan of you but do agree with you on this 🙌💖

— Maham (@itsmahaam) July 26, 2019
I never liked you bro.but this time i'll surely be standing next to you. Best of luck

— YOUSUF JAWAID (@YousufJawaid) July 26, 2019
i totally agree with you

— Kamran Zeb (@KamranZ40172685) July 26, 2019
People whole heartedly agreed:
Exactly. This whole issue can't just be limited to social media. This social stunt has spread deadly. #MardMarch must begin. This social stunt doesn't only ruin careers but also de-moral the terms like feminism and metoo. #Imam_ul_Haq #shaheenafridi

— Mehreen Parvez (@mehreen_parvez) July 26, 2019
People said they wanted this to end:
Yes I agree this plotting should be traced back to not only the girl but all the boys involved who paid or got paid for this fake propaganda to defame celebrities.
If we don't start tracing it now it will be a threat to not only male but more females will b harassed /1

— Manam (@ManamFahad) July 26, 2019
Many corrected him that he should march for an Equality March with a balanced approach:
@ZakaWaqar "Equality March" with a balanced approach i.e. speak about how men n women BOTH suffer violence, harassment, exploitation, etc. from each other. It will be helpful if men speak for women n women speak for men in that march. This will be different than one sided marches

— desitravelsaround (@desitravelsarnd) July 26, 2019
Many emphasized how there's zero privacy in Pakistan:
hmmm privaCy protection is need of 2019 in Pakistan here everything is memes "net hai yyaha sb chalta we should put an end on this"

— Sherdill Malik (@SherdillMalik) July 25, 2019
Some commented how both the genders used this card to their advantage:
Both genders using cards for own sake likewise real culprit always hid.leaking private chats is insane but we need to create strong message how to behave with others

— Aysha (@AyshaMoiz) July 26, 2019
Some pointed out how favoring one gender over the other was not the solution:
میرا ایک سوال ہے آپ سے ۔۔
میں کسی مرد کے خلاف نہیں
اور کسی عورت کے ساتھ نہیں ۔۔
میں صرف غلط عمل کے خلاف ہوں چاہے وہ کوئی عورت کرے یا پھر مرد ۔۔
آپ مرد مارچ شروع کر رہے ہیں
کیا جب کسی بچی کے ساتھ کوئی مرد یا پورا گینگ زیادتی کرتا ہے
ہے تو تب آپ نےکبھی کوئی #justiceMarch
کی ؟

— 🅷🅰🆁🅰🅼💮(حرم)💟 (@haram84848) July 26, 2019
Someone also pointed out how the screenshots shared were technically consensual:
1/1 Sir Waqar Zaka cyber crime has nothing to do with Imams case as imam ul haq himself told these victims that if he cheats on them they should expose him. So now when we talk about consent I guess the whole expose thing has been done with consent too. Imam totally gave thm

— Cricky Updates (@CrickyUpdates) July 26, 2019
permission to go public as seen in the screenshots we have received.
Last but no the least nobody is playing with Imams carrier here these victims are trying to save other girls and showing them the real face of imam ul haq that's all.

— Cricky Updates (@CrickyUpdates) July 26, 2019
Some thought it was a joke:
#MardMarch HAHAHAHAHAHAHAHA Its going to be a good day .. Thank You for this good Joke. Seriously would love to see the blokes with some placards 🤣

— Anis Chandio (@Pryda88) July 26, 2019
Some blamed both parties:
I am not supporting women. & I am against this orat match type of things. But if you share your bold pics with someone, you are equally guilty. Don't blame the other person for leaking it bcz he/she is as bad as you are.

— Hijab 🇵🇰 (@hijabhere) July 25, 2019
Some schooled him on what consent was:
Consent wth? DO U EVEN KNOW WHAT CONSENT IS? THERE ARE LIES AND DECEIT INVOLVED, CAN YOU EXPLAIN THAT HOW VALID CONSENT IS BASED ON LYING? PLS? so this counts as manipulation and abuse of power, given that he can easily get away with this

— Fatimah. (@FatimaAlive) July 25, 2019
Some wanted him to forget this and bring back living on the edge…
Bhai kis chakar main par gaye hu. Forget all of this. Lets do Living on the edge show. I have watched many of your episodes. I only enjoyed the auditions.

— Papu Kanga (@Papukanga) July 26, 2019
Some had the weirdest theories!
Campaign is being run to support Women Harrasment is actually a FITNA to ruin the culture and I am sure that it's a dajjali supporter team behind this all shit.
It tried to enter in 🇵🇰 a couple of months back but failed & now they're trying again.
May Allah give us enough…

— Ashar (@iamashar1986) July 26, 2019
Many wanted him to mind his own business:
Tere pas aur koi kam nhi jo harr jagah tang ara raha hota ha?

— Hyderrr (@Taptaann) July 25, 2019
Some thought he was afraid of his chats being leaked:
Iski phati padi hai abhi kahi mere chat nahi nikal jaye karke

— Seriously!? (@Seriously_000) July 25, 2019
People wanted him to stay out of personal matters:
Enough of being pretending so wise and gentle Mr. @ZakaWaqar. Jitna logon ko nahi pata hoga woh aap se pata chal jaye ga. Personal life mein involvment bund karo. U don't have and right to do this. Sub ki apni apni life hai

— Owaid Iqbal Hussain (@owaidiqbal) July 25, 2019
Many thought he was out of his mind:
Are u out of ur mind? What r u blaming women for? For coming out, raising their voice? You are trying way too hard to stay relevant which u clearly are not. Please do everyone a favour and shut up.

— 🌹 (@darlingcry) July 25, 2019
Some took it in another direction…
Stupid man in islam consent isnt precondition .Islam doesnt allow even consensual sex or meet https://t.co/ljG8xzvybc vl still be deemed Rape/illegitimate.So dont mix western + eastren ideas & vomit up confused amalgam of foolish ideas

— AK (@schandenfreud) July 26, 2019
Some were PISSED!
What career fuck career 22 caror awam k fellings k 7 kel ray hai ye log @ImamUlHaq12 ground me ata hai 50 score b nai bana sakta ground me stamina nai sex me stamina hai Shame on this gay mujy afsos inky leye nai apny mulk k leye hai parchi wala nizam taba kar deya hamry mulk ko

— Syed Ibrar Shah (@SyedIbrarShah14) July 25, 2019
Some asked why he always puts the blame on women:
Why are you always trying to put the blame on woman?

— Faryal (@Faryalajaz) July 25, 2019
Do you agree with Waqar Zaka? Let us know in the comments below!