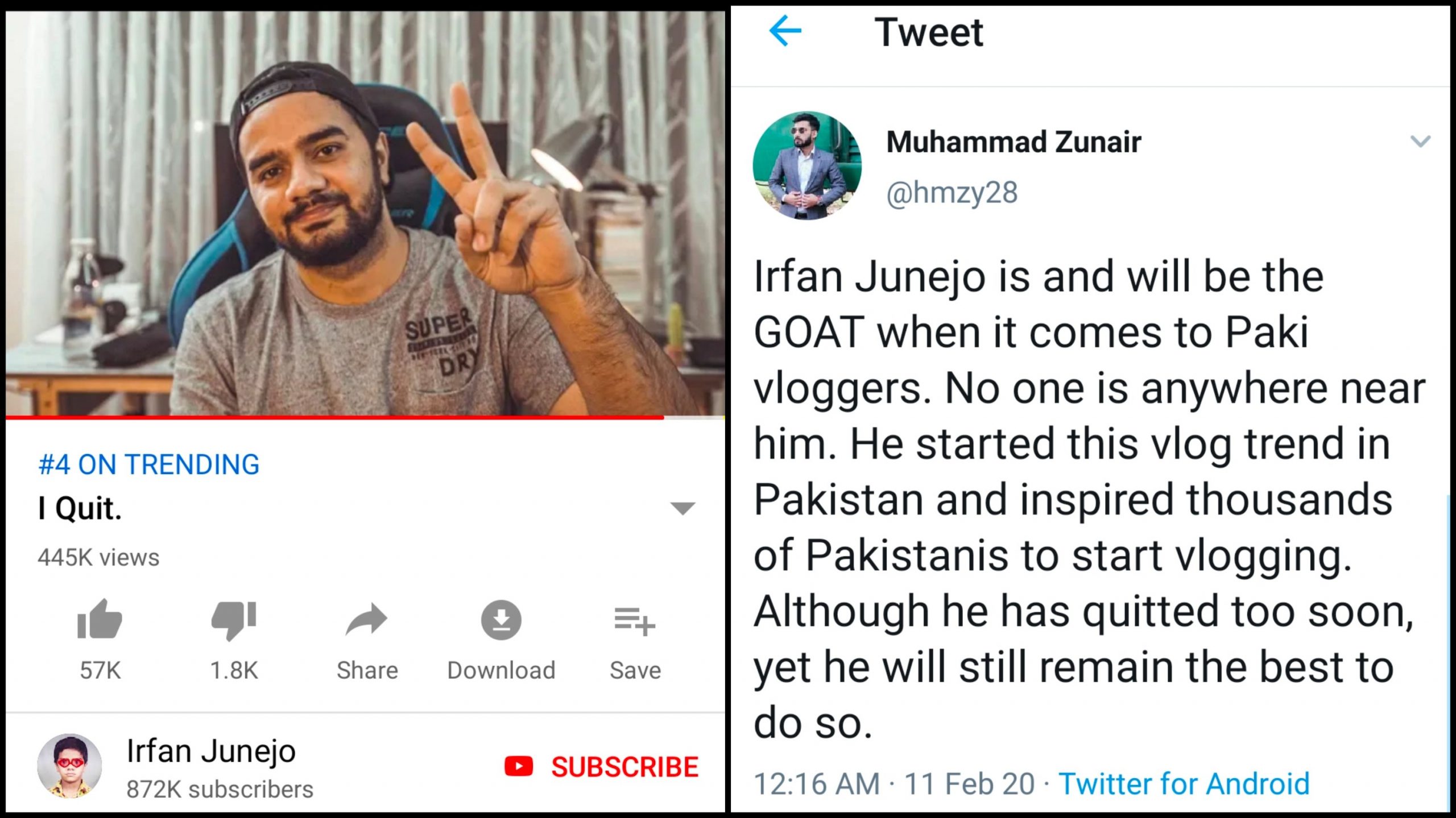 Everyone's favourite and one of the best vloggers of the country, Irfan Junejo, uploaded a heartfelt video to YouTube marking the end of his vlogging career:
Titled 'I Quit,' Irfan Junejo starts off with how life has changed for Irfan as he got famous, he reveals how it made him more and more reclusive. And how he has self-esteem issues, anxiety and no confidence left in him, that too, at the peak of his career. Actor Imran Ashraf too sent words of encouragement and support to the Vlogger:
And while the news upset many fans, they were wholeheartedly supporting Irfan Junejo for focusing on his mental health:
I love you man ! What you said is true. Jis kaam mai khushi ho wohi karain ❤ will always be waiting to see your work ❤@irfanjunejo Respect man respect ❤

— Salahuddin Masood (@Salahuddin_96) February 10, 2020
Absolutely!
Irfan Junejo is and will be the GOAT when it comes to Paki vloggers. No one is anywhere near him. He started this vlog trend in Pakistan and inspired thousands of Pakistanis to start vlogging. Although he has quitted too soon, yet he will still remain the best to do so.

— Muhammad Zunair (@hmzy28) February 10, 2020
Jo baat hai:
irfan junejo will always be a step ahead from his peers, cause he's not just a content creator that made vlogs.

best of luck @irfanjunejo bhai for whatever comes next your way 🙌

— anastipu (@teepusahab) February 10, 2020
Many were sharing how big of an inspiration Irfan has been to them:
Irfan Junejo has been nothing less than an inspiration to me. He was one the reasons I found my passion in vlogging. His decision to quit vlogging is completely justified, because life is about finding one's self, whether it be through a different form of art. 💕

— Huzaifa Khan (@_HuzaifaKhan) February 10, 2020
People were sharing how great it was to be a part of his journey:
https://t.co/ml7eg985og@irfanjunejo It was wonderful to be part of you through the journey as a fan i truly understand and appreciate what you have decided for yourself , you always will be the Champion ❤️❤️ and definitely will miss " Scenz Kuch aise hi"

— Aamish Singh (@Btechbuoy) February 10, 2020
Comedian Shehzad Ghias lauded him for making the right choice and defining the daily vlog genre in Pakistan:
Would like to congratulate and appreciate @irfanjunejo for pretty much defining the Daily Vlog genre in Pakistan! What an amazing journey!

Smart to quit – you can't pour from an empty cup bro, best to prioritize yourself and your mental health!

The era of daily vlogs is over

— Shehzad Ghias Shaikh (@Shehzad89) February 10, 2020
Fans were full of support:
The moment when you got exhausted doing the same thing everyday it turns out from fun to duty and it start to feel like punishment,then it is the right time to leave that thing.
You are the definition of class @irfanjunejo and will always be.Just do what makes you happy. fin

— Taha (@taha_i_am) February 11, 2020
We're not crying either 😭
Irfan Junejo quits vlogging.
I'm not crying.

— Faiber (@lordsadan) February 10, 2020
Same!
Irfan Junejo quit vlogging. Watched his latest video with a very heavy heart.

— Faizan (@FaizanButAnon) February 10, 2020
Ooof, hearing it in the video made us very sad:
My heart literally melts when irfan junejo said SCENEZ KUCH AESE HEIN in his recent vlog I QUIT.

— فکر مند (@iits_hassan) February 10, 2020
@irfanjunejo : scnz kuch aisay hein ka thank you for everything, take it easy.✌️
Me: pic.twitter.com/82okrMm7Ne

— Maلik یحییٰ (@Y_Malik18) February 10, 2020
@irfanjunejo : scnz kuch aisay hein, thank you for everything
Me: https://t.co/IzyGXdCdy6 pic.twitter.com/96XpARBmKt

— Rex Buckingham (@zabardastlodhi) February 10, 2020
Saddest thing I watched today.his expressions while saying "to scnz kuch aisay hain" …🤐😔#scnz #irfanjunejo #respect pic.twitter.com/ryUrbGboSl

— Reeya Ch. (@reeyamehmood) February 11, 2020
The way @irfanjunejo said 'Scnz kuch aese hain' in his latest video made me cry.

— اریشہ (@areeshaysysys) February 10, 2020
Just saw @irfanjunejo video where he announce that he going to quit YouTube. I do respect your decision. Don't know about others but I'm gonna miss you & "SCNZ KUCH ASY HAI". pic.twitter.com/7EuLZ2bcvZ

— Naina🍁 (@NainaKhan5277) February 10, 2020
Fans wanted him to cheer up:
Hello jee! @irfanjunejo

Best of luck for your future. Thanks for everything And we love you ♥️🙌

(Bs hamain yeh larka itna demotivated dekhny ki adat nahi ha so plz recover from this phase as soon as possible)🌸

— Zain Bin Shahid (@imzain17) February 10, 2020
It reminded some of a very apt saying:
Junejo's last video reminded me of someone famous saying everyone should get famous to know it's not the answer. Stay strong, @irfanjunejo. Take your time. Wishing you best for the future.

— Bukharigate (@Jarrar25) February 10, 2020
Fans were wishing him luck:
I'm literally tearing down right now but an artist does what he thinks is the best and that's the beauty of it, thank you for making me a better human being through your personality and work both @irfanjunejo, good luck for the future <3

— 𝖆𝖇𝖉𝖚𝖑𝖑𝖆𝖍🔰 (@dumbdumbledor) February 10, 2020
Irfan Junejo was the best vlogger we had and its sad to see him quit. All this time I thought success has gotten into his head but actually he was going through anxiety and mental health issues maybe something else. wishing him best for his future. 'SCENES KUCH AISE HAI' ❤️ pic.twitter.com/BsO3TO05Ho

— cousinkibaatein (@AhmadZahid8117) February 11, 2020
Yeh baat:
The number of people he has inspired is insane. More power to this power house of talent, creativity, hardwork and innovation. 💯
You can quit youtube but not from your place in our hearts ❤@irfanjunejo #scnzkuchaisyhain #FIN

— Uzair Kiyani (@boluzair) February 11, 2020
People were happy to see him focus on his mental health first:
"Running against the wind"
I am very happy whatever you decides for yourself @irfanjunejo
Great wishes & prayers for your life

But still
I cant take it easy bro#FellingDelusional#FayMeemKiSoch

— Faiza Mubeen (@FaizaFaymeem) February 10, 2020
Exactly!
Few months ago NO.1 youtuber PewDiePie left youtube… And now no. 1 vloger of pakistan @irfanjunejo quite vloging.. It means money,fame,recognition can't bring you peace and happiness… You can do any sort of work only untill you love to do it..

— Alyas (@alyasakram3) February 11, 2020
An inspiration to many:
IRFAN JUNEJO QUITS VLOGING!!!

He says, Vlogs doesn't excite & make him happy anymore & he would only do what, HIS HEART WOULD REALLY WANT TO DO!! What a Man! Inspiration!! ❤❤

Best of Luck @irfanjunejo!!#IrfanJunejo #ScnzKuchAiseHain

— Ubair Khan (@ubairkhaan) February 10, 2020
💔
Who says break-ups hurts the most.@irfanjunejo just made video about quitting vlogging…🤐

— Minhaj Iqbal (@Minhajiqball) February 10, 2020
Some had bigger plans for him:
I Quit. https://t.co/FxTry7JiNG
Irfan Bhai no matter what, you'll always be an inspiration to those who consider you as a mentor.
After some time you'll be back as a Director/Producer on big screen. InshaALLAH.🌹@irfanjunejo

— Hunny 🍁 (@DobaraMatPochna) February 10, 2020
Fans promised to be by his side on whatever he decides to do:
Almost got a heart attack when i saw the title.
Your subscriber since before you hit 100k. I have seen your growth.
I know you will do good work and i wish that you come back soon (inshaAllah)
SCENZ KUCH ESY HAIN IRFAN BHAI K
Till then i will wait.
God bless.@irfanjunejo pic.twitter.com/cF3c6HYsQY

— Mehreen (@coco9ut) February 10, 2020
People were sharing their love for him:
Tumarey scenes hi one of a kind hai. @irfanjunejo

"Never give up, for that is just the place and time that the tide will turn."– Harriet Stowe

Have a wonderful journey ahead. pic.twitter.com/jqlCsBllAo

— Laraib Khan (@MUFClaraib) February 10, 2020
Fans were sending him love and prayers:
@irfanjunejo I rate you as the best YouTuber from Pakistan till date because of your authentic real and chichorapan free content. You are source of inspiration to many including myself. My prayers are with you. I can understand what you must be going through at the moment. pic.twitter.com/x8RwiR7bzQ

— Ahmer Jalil 🇵🇰 (@AhmerJalil) February 11, 2020
😔
Till the last second of this video I was expecting "Hello Jee Camera laga hai haath hila dein, prank ho gaya aapkay sath." from him. @irfanjunejo #heartbroken 💔#irfanjunejo #irfanquits pic.twitter.com/xMPfE5dJsM

— Ali Imran (@ali_ucl) February 10, 2020
People were excited to see what Irfan will have to offer next:
Irfan Junejo Quits! :(( …..a sad ending of a beatiful journey, but insha'Allah he will come back with another amazing journey…. 🙂 @irfanjunejo pic.twitter.com/qQwiPuqtUf

— Sarang Kashif (@sarang_kashif) February 11, 2020
Some had lost hope:
Irfan junejo nay bhi Vlogging chor di….Aur tmhen lgta hai tmharay wala tmhay nhi choray ga?!
Seriously ?

— Hiرa (@BusAiseHi) February 12, 2020
What do you think about Irfan Juenjo's decision to quit vlogging? Let us know in the comments below!