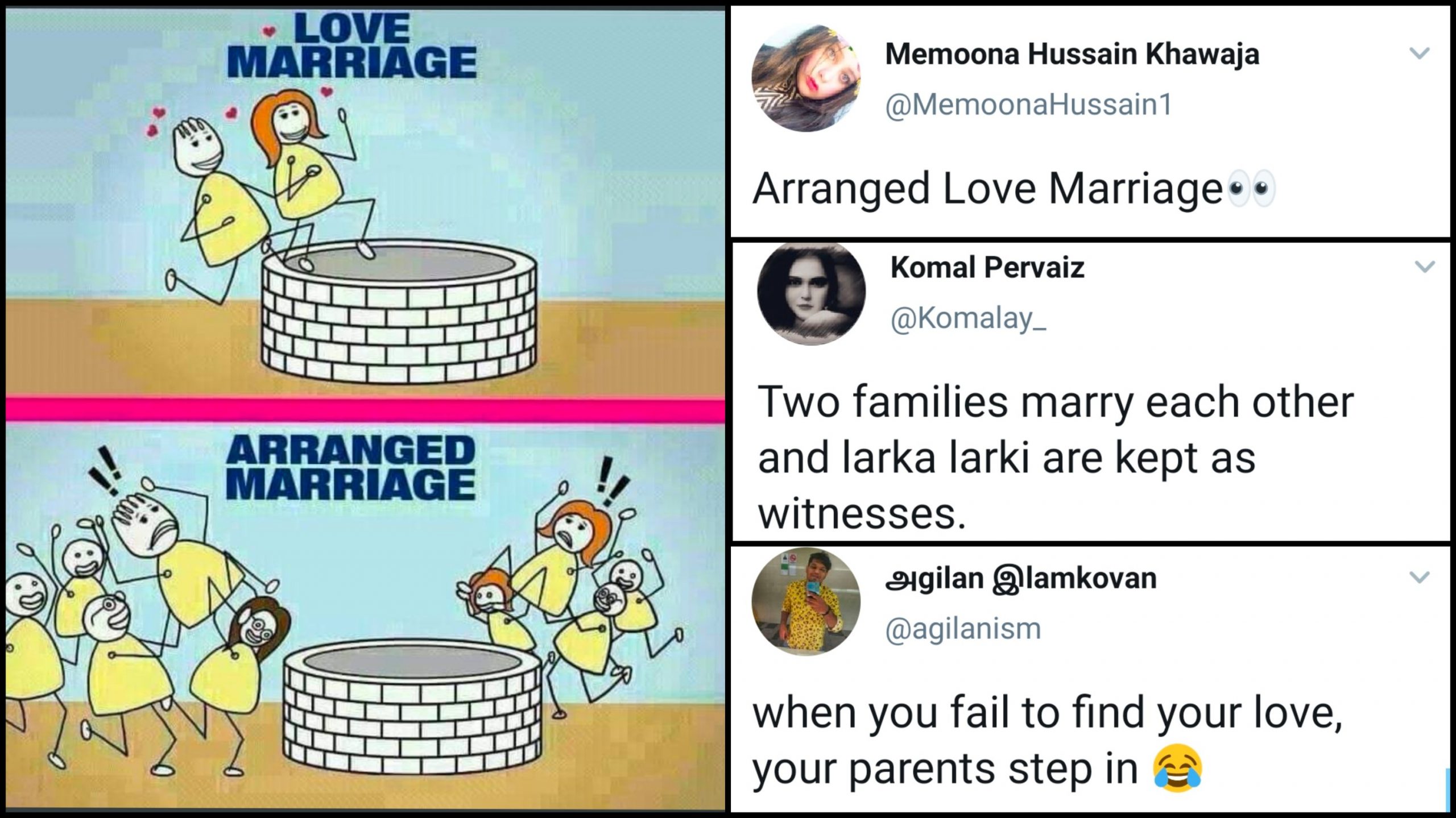 In today's episode of what the netizens are unsettled about, we have them discussing love marriages vs arranged marriages and honestly, its a never ending debate!
And people have a ton of opinions!
Two families marry each other and larka larki are kept as witnesses. https://t.co/2NonRlXmmP

— Komal Pervaiz (@Komalay_) February 10, 2020
Some wanted to change the perspective of forced marriages vs arranged marriages:
Your parents chose a potential spouse for you and then based off their taste, you accept or decline.
It's all your choice.
Stop making arranged marriages seem like they're forced.
"But in alot of cultures they force"
Then thats a forced Marriage not an arranged one. https://t.co/vNePz0xyRr

— Sumbal (@Sumballl) February 10, 2020
Jo bhi kerlo, end toh same hi hota hai:
— zaka.. (@zaka1855) February 10, 2020
People were busting the myths:
"arranged marriages work longer than love marriages" is a myth. mostly in arranged marriages the girls compromise alot & there is hardly any mutual understanding between the couple, they're just married for the sake of getting married argue with your mum https://t.co/KrBVFWunon

— hoor (@hoorrulain_) February 9, 2020
Well, we kinda agree!
Arranged marriages can work if it isn't forced upon someone and there's love and trust between two people, but that doesn't mean "love marriages" are more likely to end up in divorce. Both can work or can be disastrous depending on the people. https://t.co/8aHa9XsVGk

— sai (@Saisailu97) February 10, 2020
Some were absolutely hopeless!
The only option left honestly https://t.co/RLjtAdyQkQ

— ريماز (@Reemaz___) February 10, 2020
Facts:
I guess you only get the 'd' after the marriage https://t.co/WUHNzwThwe

— بدون اسم (@beshimatisnah) February 10, 2020
Some were strictly against it:
You really wanna spend the rest of your life with a person you don't know at all?
Don't even bother saying "yeah but you can get to know each other during the engagement period"

Bro

برو

I feel bad for you if you think you can get to know a person fully in a month or two https://t.co/PLFHhFqnJC

— Zαyed (@WorldsGift) February 10, 2020
Hahaha!
when you fail to find your love, your parents step in 😂 https://t.co/TKOdkqYRhF

— அgilan இlamkovan (@agilanism) February 10, 2020
Rishta guru spotted:
Zindagi k us morr pe hun jahan areange marriage ya love marriage ki bjae sirf "arrange a marriage" pe focus hai bas jaldi se 😀 https://t.co/rjyqqmuuKs

— Abu Shalwar (@Abu_Shalwar) February 11, 2020
You'll probably need to shoot your shot, Sarah:
Backup plan if the loml doesn't magically appear in my life https://t.co/7C9rSFtibr

— sarah majid (@sarahmajidz) February 9, 2020
It had people changing:
I use to scream against it but now, it's looking very possible 👀 https://t.co/cPu3WrrAH2

— فردوس (@Dows_x) February 10, 2020
That's one way to look at things:
Can't wait to see my mum flirt with his mum https://t.co/VPWUz6baLl

— im saikik (@Sai_sighing) February 10, 2020
It was the only hope for many:
At this point, I don't even mind cuz looks like LOML isn't coming https://t.co/UoX75oPNp4

— K. (@Ore__K) February 10, 2020
Truer words have never been spoken:
When you look the way I look this is all you got 🙏🏽 https://t.co/vtPNW9P8Z2

— 🏴 (@jaihindia) February 10, 2020
We are stan!
Arranged Love Marriage👀 https://t.co/Ypbql8AWBJ

— Memoona Hussain Khawaja (@MemoonaHussain1) February 11, 2020
Some of us like living on the edge, mate:
Risk takers https://t.co/ImX4q90YtE

— CDS (@positivelyhapy) February 10, 2020
Something a lot of us can learn from:
To me an arranged marriage should be like a blind date, someone sets you up you go meet the person if you like them you keep getting to know them till one day you might get married and if not you part ways after that first date not this kinder surprise bullshit that happens here https://t.co/e6CKbJ3Jc1

— علياء⭐️Alya (@aleyarh) February 10, 2020
Preach, girl!
I wouldn't do it but no one has the right to sit online & bash people who got married this way or their culture. A close friend & his wife got married through an arranged marriage & they're one of the most fun & loving couples I've ever met.

People are free to do what they want. https://t.co/PKiciSHLv0

— Naser (@NaserMestarihi) February 10, 2020
Some were ready!
I'm cool with all my guy cousins so I'm not trippin https://t.co/rfdOk0u6Z2

— Nahil kardashian (@halal_hennessy_) February 9, 2020
The reply we love!
No, u arrange https://t.co/o0Omz0hqPH

— What Since 92 (@ObiWanManobi) February 10, 2020
Some had their priorities set straight, we likey!
Alright here goes: No likey, no wifey https://t.co/yyttFXmpmk

— XL (@MixedRaceLad) February 10, 2020
Okay 💔
Gonna be single for the rest of my life. Marriage looks like such a unrealistic goal nowadays. It's sad but it's true. https://t.co/WtzyJDkzJg

— KWSR (@kvwsar) February 10, 2020
Oooh, that's gonna hit hard:
You can grow to love someone and that love is more pure than any 'love' people claim to have for eachother these days but you lot are not ready for this conversation https://t.co/HgpQHkOsgW

— Noor🌹 (@NoxrRx) February 9, 2020
PLEASE!
ammi, i beg, do your thing https://t.co/bPCxvhMv2u

— aqal kithe aa (@haafsasbaqwas) February 8, 2020
To ama aba: arrange marriage pls!
When you love each other but have to convince your parents too. https://t.co/pzTG0ZMUx3

— prop swag (@zZoker) February 11, 2020
What do you think about arranged marriages vs love marriages? Let us know in the comments below!