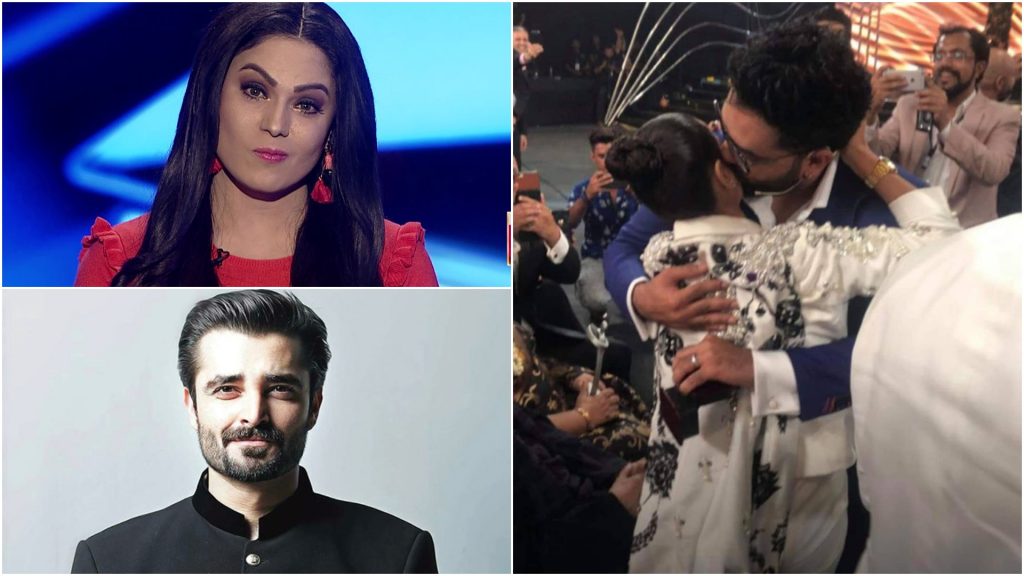 The internet has been going nuts after Yasir Hussain proposed Iqra Aziz at the Lux Style Awards 2019. Their public display of affection triggered many, and everyone from their fellow celebrities to their fans are talking about them.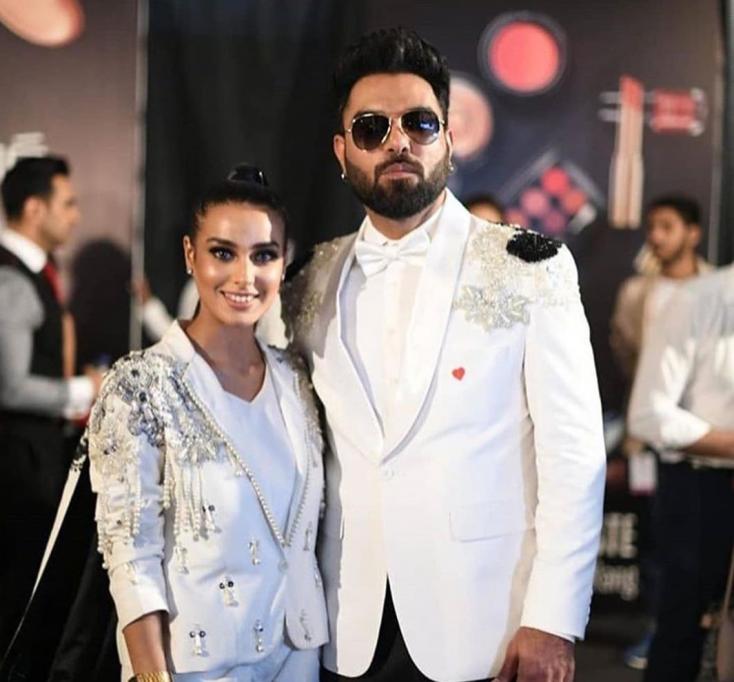 Fans were upset because they didn't like Yasir and Iqra sharing kisses and were schooling them on the religious ruining when Hamza Ali Abbasi jumped in to defend them:
#IqraAziz In an era when ppl prefer haraam over halal, how can U find faults in a man asking a woman for nikkah? Bcz he hugged her or kissed her on the cheek? STOP IT! Instead celebrate the good… Heartiest congrats to Yasir & Iqra. May Allah bless u both in ur new journey. pic.twitter.com/5jsxGUSYZy

— Hamza Ali Abbasi (@iamhamzaabbasi) July 8, 2019
He quoted religious rulings in his tweet defending the two.
And fans were furious!
Disappointed!!! Humza really? You are the one u scold 16 years old girl to not to sing an item song.. you are the one who said that item songs are not our culture it's behayai xyz now just to "Protect" one 3rd class person you are posting Hadith saying no to say anything? Woow

— ​ ♓𝐞𝐞𝐧𝐚 (@IAmGrumpyArtist) July 8, 2019
Tou item number say Kia problem hai? Let people see and do what they wanna do. Neither kissing like that or item numbers are part of our culture. Do not justify the one and ridicule the other. Makes no sense.

— Zartash Chaudhry (@ZartashChaudhry) July 8, 2019
Hamza Logic

Kissing very good
Item song very bad

Dunya very good
Dunyaa walay Very bad

— Chaudhry Nabeel 🇵🇰 (@DrNabeelChaudry) July 9, 2019
As the fans were roasting Hamza, Veena Malik came in and tweeted a series of tweets regarding Hamza Ali Abbasi's take on the situation:
(6/1)Iam working in the Pak industry after long break almost 9 years.I met @iamhamzaabbasi Sahab on #PakistanStar set & became acquaintance.What I know about him so far that he's some1 who is upright,high principled,virtuous & impressed me so much in all walks of life https://t.co/zabTciBfJA pic.twitter.com/Z7cwy5wQoa

— VEENA MALIK (@iVeenaKhan) July 8, 2019
She elaborated how she thought of him being on the same page as her:
(6/2) be it his acting,hosting,judging but his thoughts which he usually tweet & always takes stand 4 right & always clearly callout wrong.Also just recently saw a video of urs on God which made me realize that u are insightful,cultured & enlightened and then this tweets came up

— VEENA MALIK (@iVeenaKhan) July 8, 2019
She then continued to say how PDA before Nikkah is haram:
(6/3)Nowhere in r Religion & quran it is written tht u can hug & kiss before Nikkah.I think we shouldn't bring religion 2 support their PDA.2 wrongs don't make a right.Ofcourse, congratulations to the couple & so happy 4 that they'll get married & preferred Halal over Haram

— VEENA MALIK (@iVeenaKhan) July 8, 2019
She shared how she found the PDA after the proposal inappropriate:
(6/4)but how the proposal ended wasn't appropriate as the act was utterly uncultured.We live in a Muslim country r Religion & culture both doesn't allow that & such acts r looked down upon.U rightly said that this era isnt like the previous1 now u have to show alot of more

— VEENA MALIK (@iVeenaKhan) July 8, 2019
She then said how people in the industry should be more responsible on what they do and support:
(6/5)responsibility & moral ethics towards society.This PDA doesn't represent r moral & cultural values,let alone religious.Every Media personality have a responsibility towards society, people follow them. So,they r not supposed to set wrong examples 4 the masses. #hamza

— VEENA MALIK (@iVeenaKhan) July 8, 2019
And how haram should not be made halal:
(6/6) U are talking about Haram and Halal & yet defending the kisses before Nikkah?If someone is following islam and doing Nikah then why doing Haram before Nikah? Even for some Halal acts you can't go public so they should have been a little careful!!

— VEENA MALIK (@iVeenaKhan) July 8, 2019
And the fans were moved!
Veena Malik just won my heart 💟 I feel sad about our celebs though, how quite they sit when it comes to their own friends yet never fail to bash the general public in other matters.

— Arsalan Khan (@khanarsalan51) July 8, 2019
Some pointed out how one can't always be right:
I do believe, that you got the right path. @iamhamzaabbasi is nice person himself, but it doesn't mean he ll be always right. Thanks for the thread @iVeenaKhan

— Said Wahab (@caidwahab) July 9, 2019
People gave her thumbs ups for raising her voice:
Completely endorse what you say. Unfortunately most people these days only focus on "who" is saying it instead of concentrating on "what" is being said. Kudos to you for raising your voice when everyone is silently endorsing this abomination @iVeenaKhan

— Asim Riaz (@asimmriaz) July 8, 2019
People were also lauding her for making everyone speechless!
Kou de na de … Veenu bohot acha defend krti hai or in sb k mou bnd krti hai… salaam ho @iVeenaKhan aap py.

⚔️🇵🇰⚔️

— InvisibleSoldierOfIslam 313 🇵🇰 (@MussabSiddique) July 8, 2019
What do you think about the situation? Let us know in the comments below!