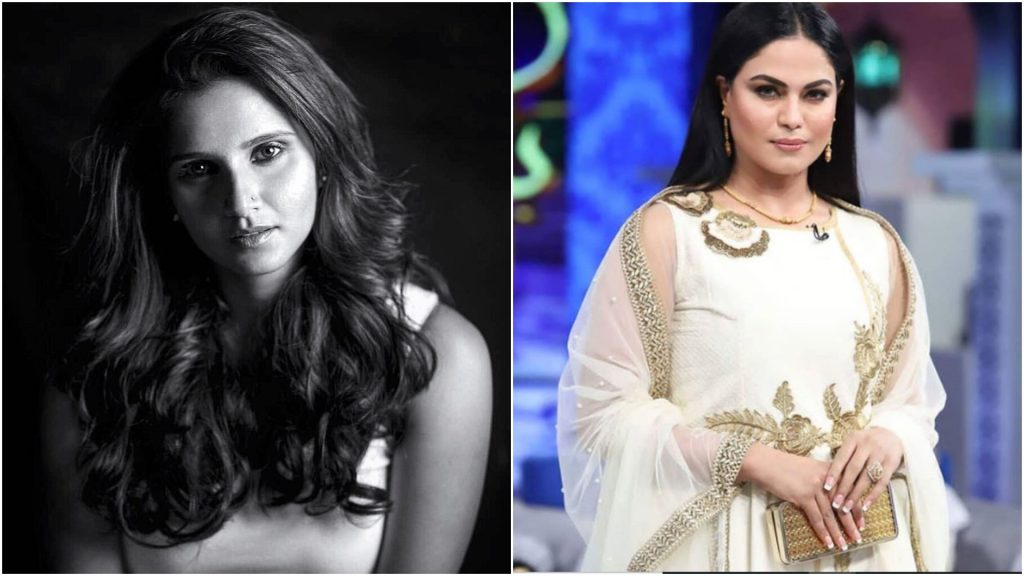 You'd want to grab some popcorn or a snack because Sania Mirza and Veena Malik can't stop firing shots at each other!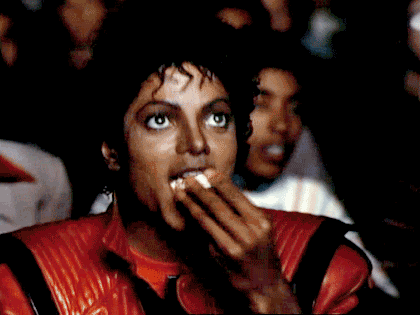 In the recent light of Pakistan losing to India in the World Cup match, people have been blaming Sania Mirza for the poor performance after she was seen with her husband Shoaib Malik and a few other members of the team.
As people started criticizing Sania Mirza, she responded with an angry tweet
😂That's the video you shot without asking us,disrespecting our privacy even though we had a child with us?& got told off for doing so,& u came up with this crap?FYI 'outing' was dinner & yes ppl are allowed to eat if they lose a match!Bunch of fools!Try better content nxt time😂 https://t.co/51gnkMWUYu

— Sania Mirza (@MirzaSania) June 15, 2019
Amidst all the drama, came Veena Malik, who schooled Sania Mirza on her parenting:
Sania, I am actually so worried for the kid. You guys took him to a sheesha place isn't it Hazardious? Also as far as I know Archie's is all about junk food which isn't good for athletes/Boys. You must know well as you are mother and athlete yourself? https://t.co/RRhaDfggus

— VEENA MALIK (@iVeenaKhan) June 17, 2019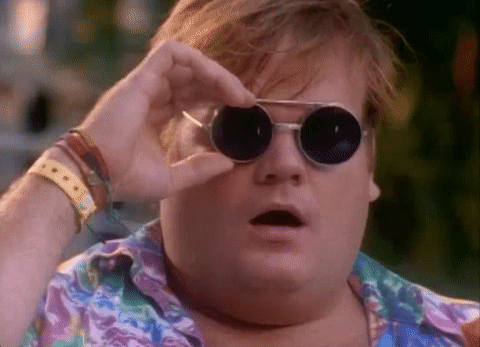 But Sania came back at her in the most savage way:
Veena,I hav not taken my kid to a sheesha place. Not that it's any of your or the rest of the world's business cause I think I care bout my son a lot more than anyone else does 🙂 secondly I am not Pakistan cricket team's dietician nor am I their mother or principal or teacher https://t.co/R4lXSm794B

— Sania Mirza (@MirzaSania) June 17, 2019
she also mentioned Veena's scandalous magazine cover but deleted the tweet almost immediately: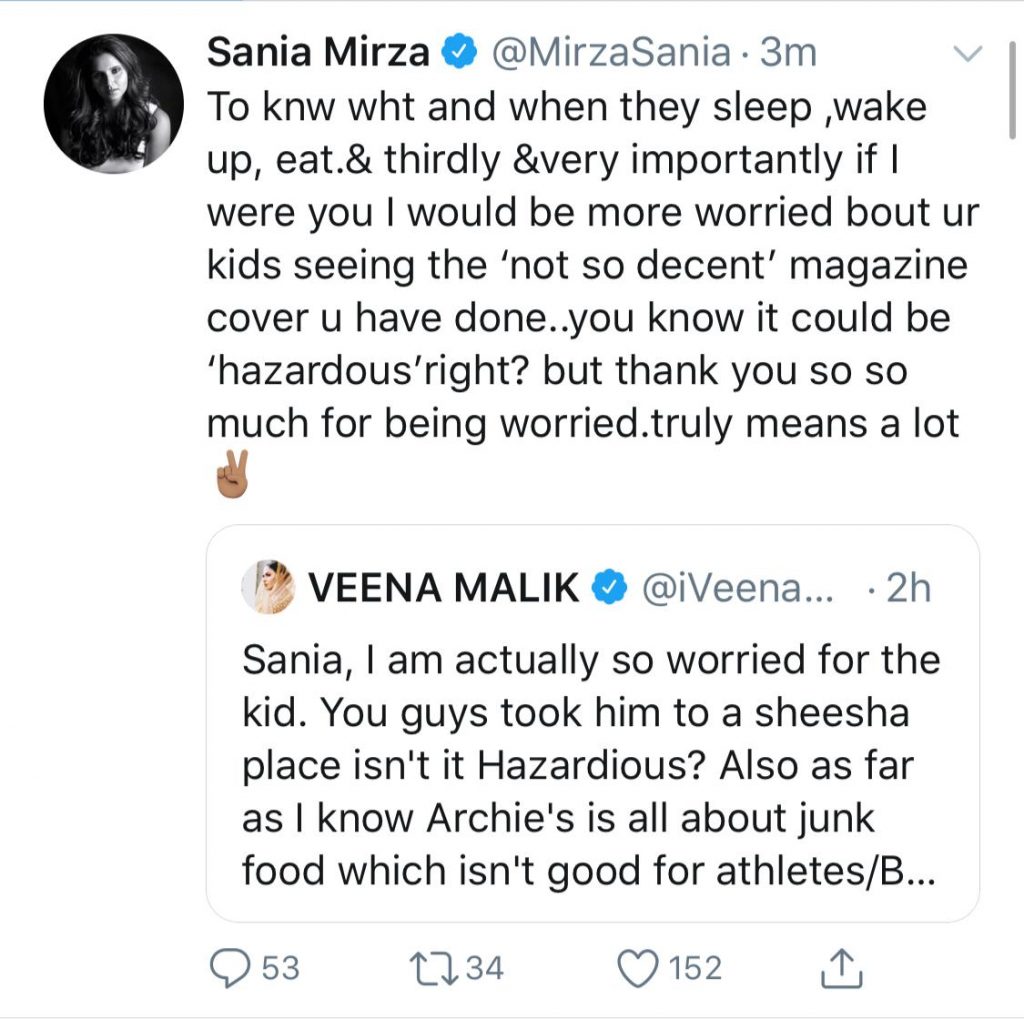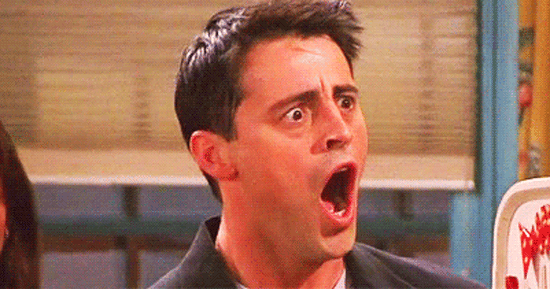 Sania then replied to the tweet again, excluding the magazine taunt:
To know when they sleep,wake up and eat ..
thank you for your concern though .. means a lot ✌🏽 https://t.co/R4lXSm794B

— Sania Mirza (@MirzaSania) June 17, 2019
Even though Sania had deleted the tweet, there were screenshots everywhere and her fans were disappointed:
No one should blame sania for anything. Mujhe Veena bhi koi itna khas pasand nai hai, infact I've always been a sania admirer but she slut shamed Veena for her past here which is wrong

— Maryam (@BefourMaryam) June 17, 2019
Fans were living for her reply:
— Shakeeb Arshad (@ArshadShakeeb) June 17, 2019
And fans supported her:
Lol it was great shot👍@iVeenaKhan is behaving like "phuppo" of your son. Obviously parents knows what to do and how to do & it's really their personal matter ( Sania n kid)to go and eat whatever they want . Rest we should better ask from the team directly what were they doing?

— Kiran Khan 🇵🇰 (@light_frmheaven) June 17, 2019
Woohoo, you go girl!
Veena Malik very maturely pointed out Sania Mirza taking out her kid to a Sheesha place. She shouldn't have, it's not her kid. But then comes the world class athlete bhabhi who called Veena out for her past, the past that she has left behind. Very very low from Sania. pic.twitter.com/RIFeSCn94W

— Maryam (@BefourMaryam) June 17, 2019
People agreed how Veena behaved better than Sania:
@iVeenaKhan sometime entertainer can make positive change and I think Veenas done this in this particular case. I would say well done Veena and Pakistan should be proud of u #shukriapakistan

— VB MEDIA (@in10seprod) June 17, 2019
And people were having a great time, asking all the devars to stay out if it:
Ye Bhabhi our nanad ki ladai hai Pakistani devron our Indian salon ko beech mai nahe parhna chaheye ,😍😍😂😂🙏😂

— Aftab Ahmed (@AftabAh79128069) June 17, 2019
To which Veena Malik replied:
Great to hear that u didn't took ur kid their. Oh did I mentioned you are a dietician or mother of the Pak team? I said u are an athlete and u must know how much fitness is important for athletes.Also aren't u a wife of cricketer? U should take care of his wellbeing.Isn't it? https://t.co/zZKS3r0xSk

— VEENA MALIK (@iVeenaKhan) June 17, 2019
But Sania Malik had already blocked Veena Malik by then
Okay so this Happened. First, she tweeted then deleted that tweet right away and blocked me. I mentioned my concerns in a very civilised, calm & composed manner. It could have been a healthy debate. pic.twitter.com/aw6C36xI3o

— VEENA MALIK (@iVeenaKhan) June 17, 2019
Veena Malik then posted the screenshot of Sania's deleted tweet and called her out on not having enough 'guts:'
Have some guts & don't delete ur tweets.Fortunately the technology has progressed so much that people can't deny their acts.Oh the magazine's cover u mentioned had morphed images.Also I can bringup all the controversies U have ever had bt I would rather not divert the discusion. pic.twitter.com/8qednFvEBz

— VEENA MALIK (@iVeenaKhan) June 17, 2019
She then continued to tweet, thanking Sania for showing her true colors:
Also your tweet shows that me being worried for my country and cricket team has triggered you so much. Thank you for opening up to the world and showing your true colors!
Much Love Veena Malik 💞✨

— VEENA MALIK (@iVeenaKhan) June 17, 2019
People were lauding Veena for her tweet:
Luv you @iVeenaKhan for fighting for Pakistan.
I believed your magazine cover were real fake that didn't match with your actual color and/or physique. May your son be one fighter for Pakistan 🇵🇰 and one who preaches the word of Allah to the world InShaAllah Aamin. 😍😘

— 𝔄𝔩𝔦𝔶𝔞 𝔄𝔰𝔥𝔣𝔞𝔮 #TeamIk 🇵🇰🇵🇰 (@PakistaniMN) June 17, 2019
No more excuses:
Well said @iVeenaKhan it's all excuses now time to get straight to business for Pakistan team

— وسیم اقبال (@81Waza) June 17, 2019
People also had theories 😂
Like our Major Adnan Sami she is also Colonel @MirzaSania who is on a secret mission in Pakistan & just accomplished her first covert operation successfully 😉. She made sure the team is resetless & under influence of sheesha enough to do what they did 🤨.https://t.co/sI0oNaI63W

— Dr Ali Syed ℹ (@SatiricalSyed) June 17, 2019
Even Shoaib Malik jumped in to defend his family:
On behalf of all athletes I would like to request media and people to maintain respect levels in regards to our families, who should not be dragged into petty discussions at will. It's not a nice thing to do

— Shoaib Malik 🇵🇰 (@realshoaibmalik) June 17, 2019
Retweeting a reply, Veena then left a piece of advice for the beloved bhabhi, telling her that personal attacks will not take her anywhere:
Dearest Bhabhi,
Attacking someone personally and reaching new heights of being low will not take you anywhere.
Love,
Veena Malik. https://t.co/eaB1ua1ZPR

— VEENA MALIK (@iVeenaKhan) June 17, 2019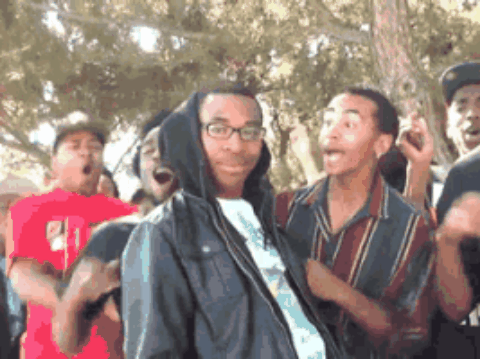 And at the end of it all, Sania tweeted it was time for a break, GOOD CALL!
Twitter cracks me up 😂 and some ppl for sure .. you guys really need other mediums of taking your frustrations out ..
peace out guys ✌🏽 it's break time 😉

— Sania Mirza (@MirzaSania) June 17, 2019
However, this one tweet won our heart!
I think both @iVeenaKhan and @MirzaSania are respected figures, initially as the ladies and then as public figures, both should take all the measures before saying or writing anything, because both have so many followers.
Always think before speaking. Thanks 🙏

— Anjum H Farooqui (@AnjumFarooqui03) June 17, 2019
Veena put things to rest by clarifying how the images on the magazine cover were morphed and how people should stop bringing up her past just because she is an easy target:
I've told 1000 times the cover of that magazine was morphed image.They think I'm an easy pick or character assassination is easy or they can bringup my past to shut me up & pull me down.Let me tell u that's nt happening I'll always bounce back.Our society needs to have acceptance

— VEENA MALIK (@iVeenaKhan) June 18, 2019
Okay, after reading all this, all we can say is enough internet for today! What do you think about this little twitter tiff between the two? Let us know in the comments below