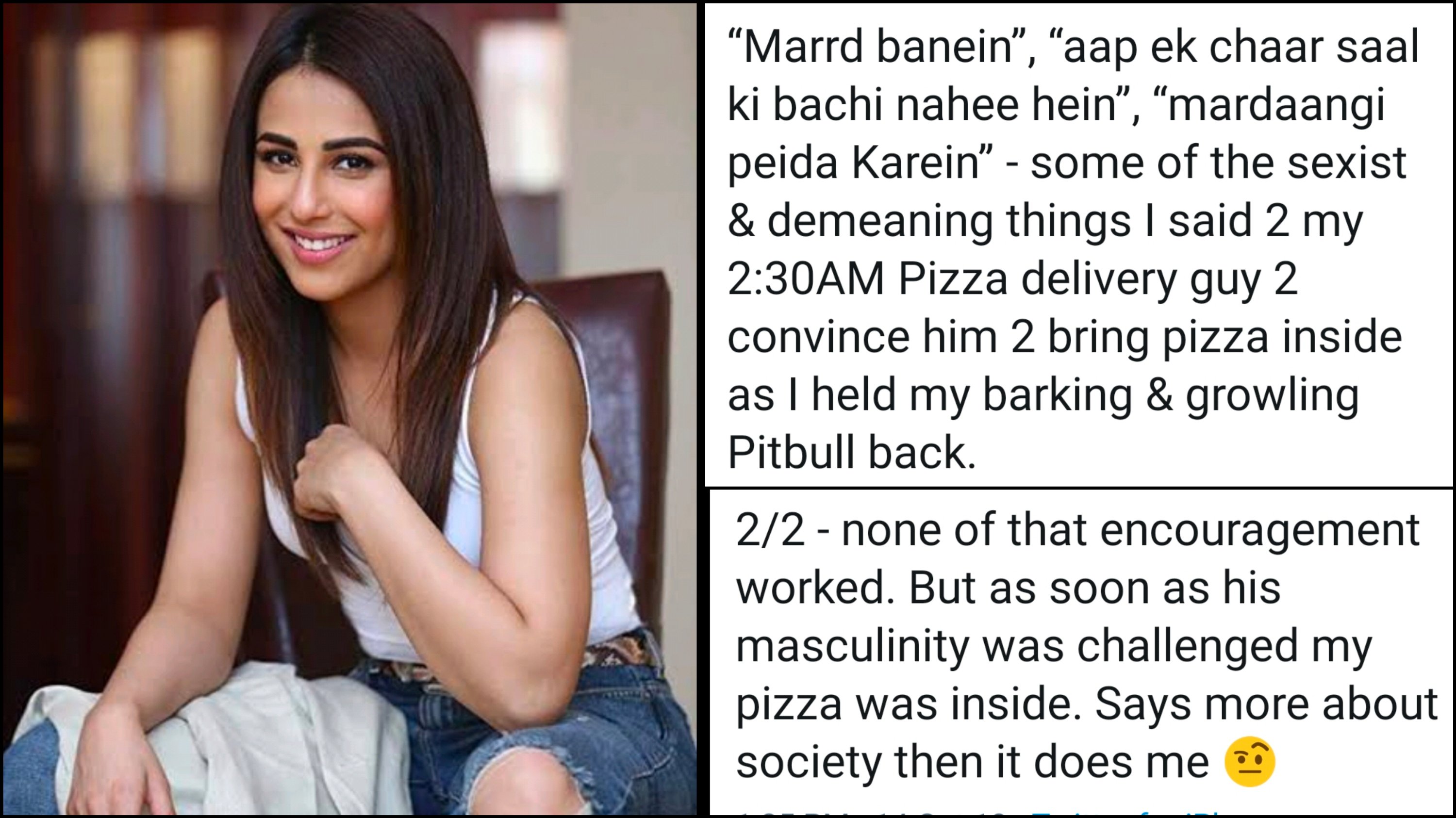 Ushna Shah is not your typical celebrity. She's blunt, upfront and likes to speak her mind, whether you like it or not. However, one of her tweet got her schooled by the internet on being privileged and demeaning a delivery guy:
"Marrd banein", "aap ek chaar saal ki bachi nahee hein", "mardaangi peida Karein" – some of the sexist & demeaning things I said 2 my 2:30AM Pizza delivery guy 2 convince him 2 bring pizza inside as I held my barking & growling Pitbull back.

— Ushna Shah (@ushnashah) October 13, 2019
…(cont) little did he know if he had somply come in calmly and had I let her go she would have just sniffed him and given him kisses 🤦🏻‍♀️. #smh #notaguarddog #narcothepitbill

— Ushna Shah (@ushnashah) October 13, 2019
Her tweets sparked quite the controversy and people were coming for her:
are you alright? you demeaned a person in the food service industry when they are already overworked and underpaid, shame on you.

— Atiya Abbas (@AtiyaAbbas_) October 14, 2019
People were shaming her for her attitude:
Insan banain, bandar ki bacchi nahi hain aap, insaniyat paida karain.

— Haider (@RizviSaahib) October 14, 2019
Shots were fired:
I don't know who you are, but you manifest the ugliness of the Pakistani elite.

— Arif Rafiq (@ArifCRafiq) October 14, 2019
People were hoping that she'd find the delivery guy and apologize:
2nd part of this story should be you going to find him at his workplace, apologize like you mean it preferably with a token of your regret, and never do anything like that ever again. And don't subject anyone to your growling pitbull, imagine being on the other end of that.

— Issam Ahmed (@IssamAhmed) October 14, 2019
And that too in a country where the rabies vaccine is barely available:
I think that is a bit too much. It's natural to be scared of a dog. Mard banke kutte se katwa ne ka shauq kisi mard ko nahi hota. Phir 14 injection bhi .

— Rehan Tariq (@RehanTR) October 13, 2019
After facing a ton of backlash, Ushna decided to elaborate on the situation, and honestly it only made things worse for her:
To everybody crying about my rant to the pizza guy. I was holding the dog. He refused to come in. The first ten minutes of "mera waada hei kuch nahi Hota", "meina pakra hua hei issey please guzar jayein" "bahadur baneyin Shahbash" didn't work. 1/2

— Ushna Shah (@ushnashah) October 14, 2019
2/2 – none of that encouragement worked. But as soon as his masculinity was challenged my pizza was inside. Says more about society then it does me 🤨

— Ushna Shah (@ushnashah) October 14, 2019
People were even more furious now!
You even trying to defend this is flippin hilarious and shows how effed up we are as a nation. Bahan ji, his duty was to deliver it to you, not to get inside your house and put it on the table or whatever for you.

— Waqas Bhatti (@waqasbhatti) October 14, 2019
We're just as confused as you all are:
Why didn't you just go and get the pizza? I'm confused.

— anon (@anonentity99) October 14, 2019
Many called it bullying:
no, this says a lot about you as a person. this was bullying. not everyone is comfortable around pets. kuch tou aqal istimal ki hoti.

— Idk (@thestressedsoul) October 14, 2019
Says just as much about you as it does about society, actually.

— not ح (@a_kela_banana) October 14, 2019
People thought it was elitist:
Honestly, not the delivery guy's job to have to deal with pets. Inconsiderate and, frankly, elitist. You should have put the dog away before the guy showed up and had to be humiliated. Hope you tipped handsomely on account of this.

— asad (@sadizid) October 14, 2019
Like we said, it only made it worse for her:
That literally doesn't make your story any better.

— Humeira Ajaz Kazmi (@humeirakazmi) October 14, 2019
It really did:
Ushna Shah is getting ratioed real bad. What did she think? Twitter will appreciate that dumbassery? Or was she so starved for attention that she thought lets create a controversy and get myself cancelled? Proper 🤡

— Waqas (@waqas_x) October 14, 2019
But instead of apologizing, Ushna came up with a 5 note long justification, like literally a 5 note long justification, we're not even exaggerating!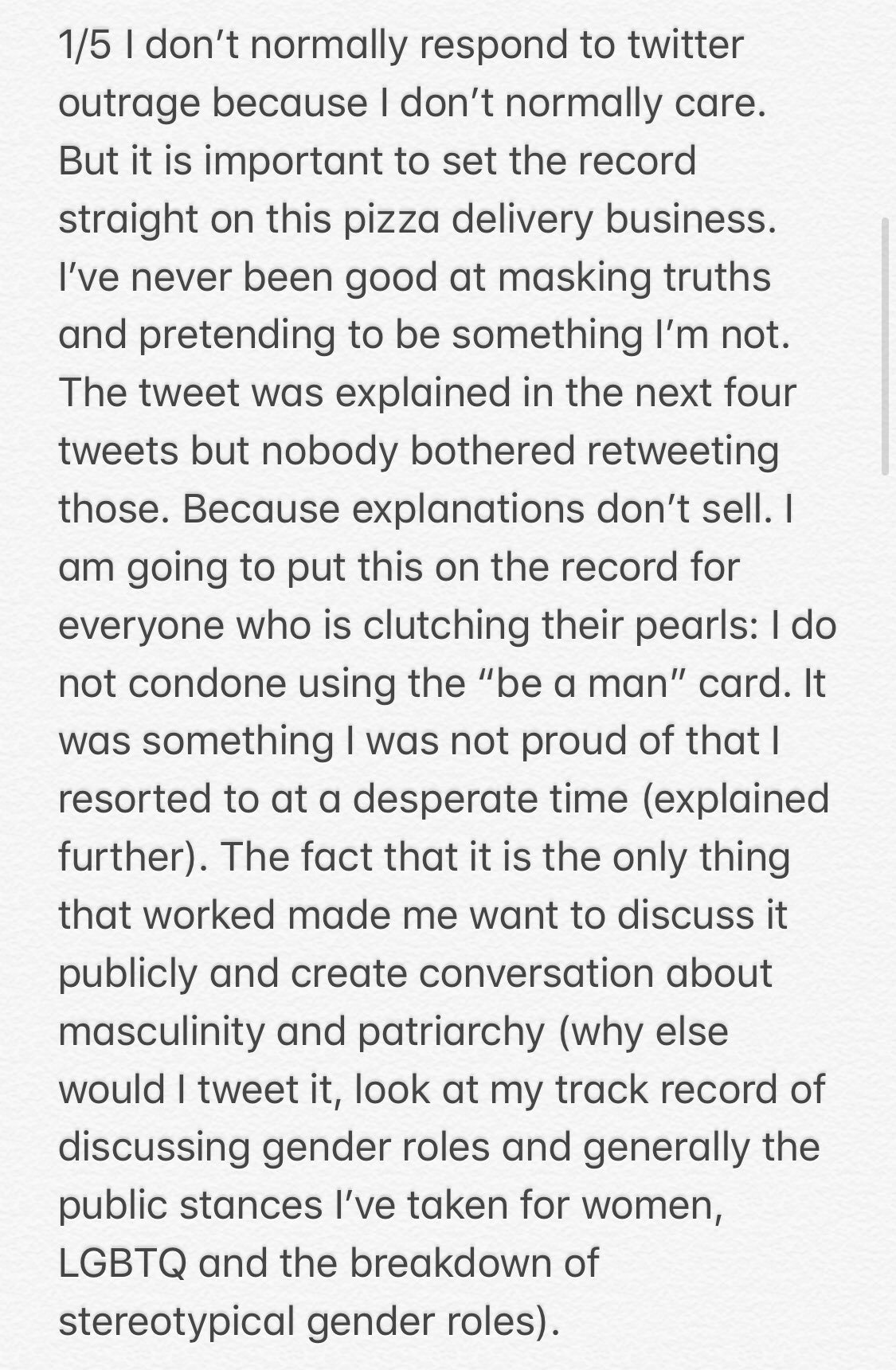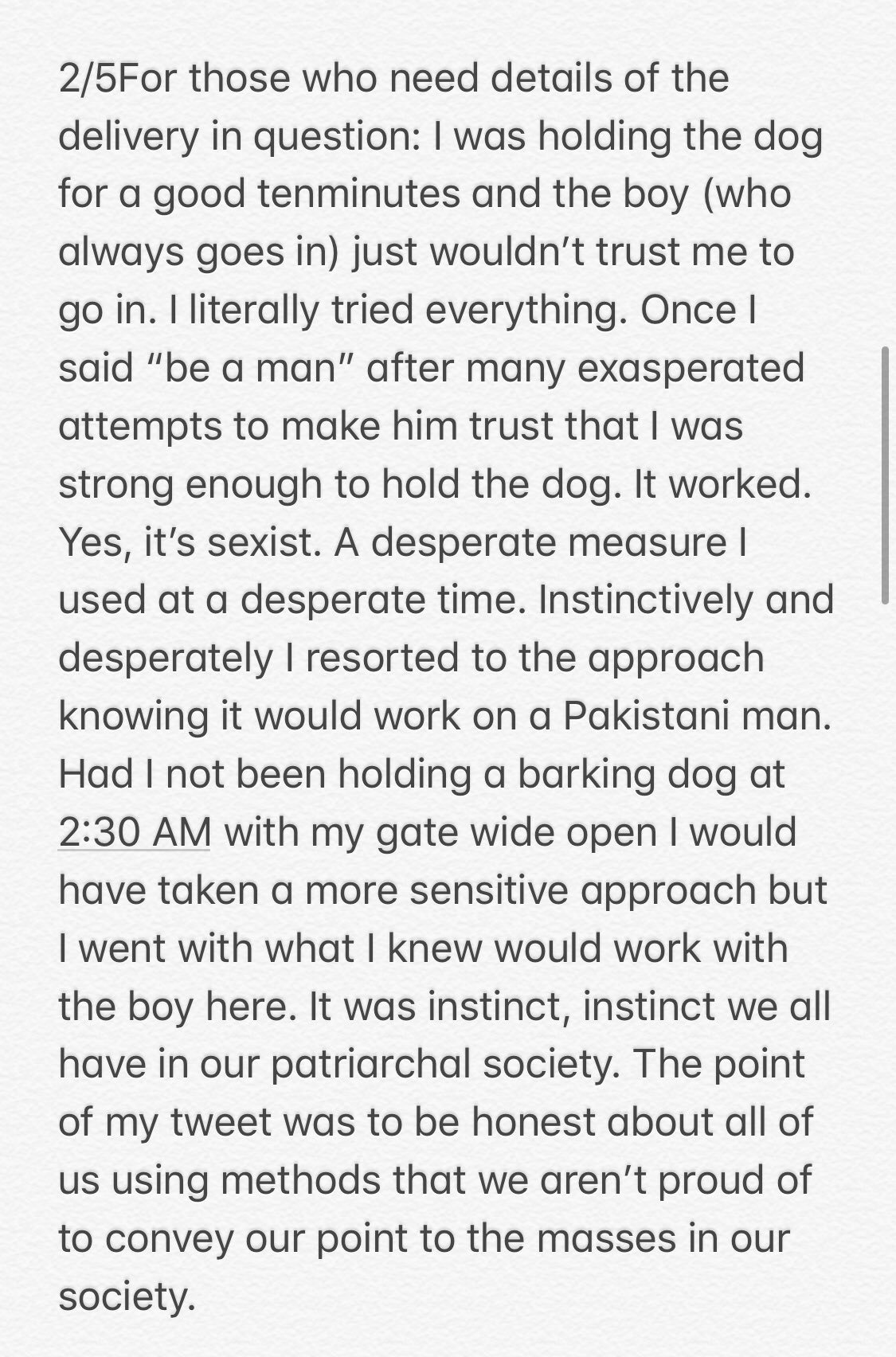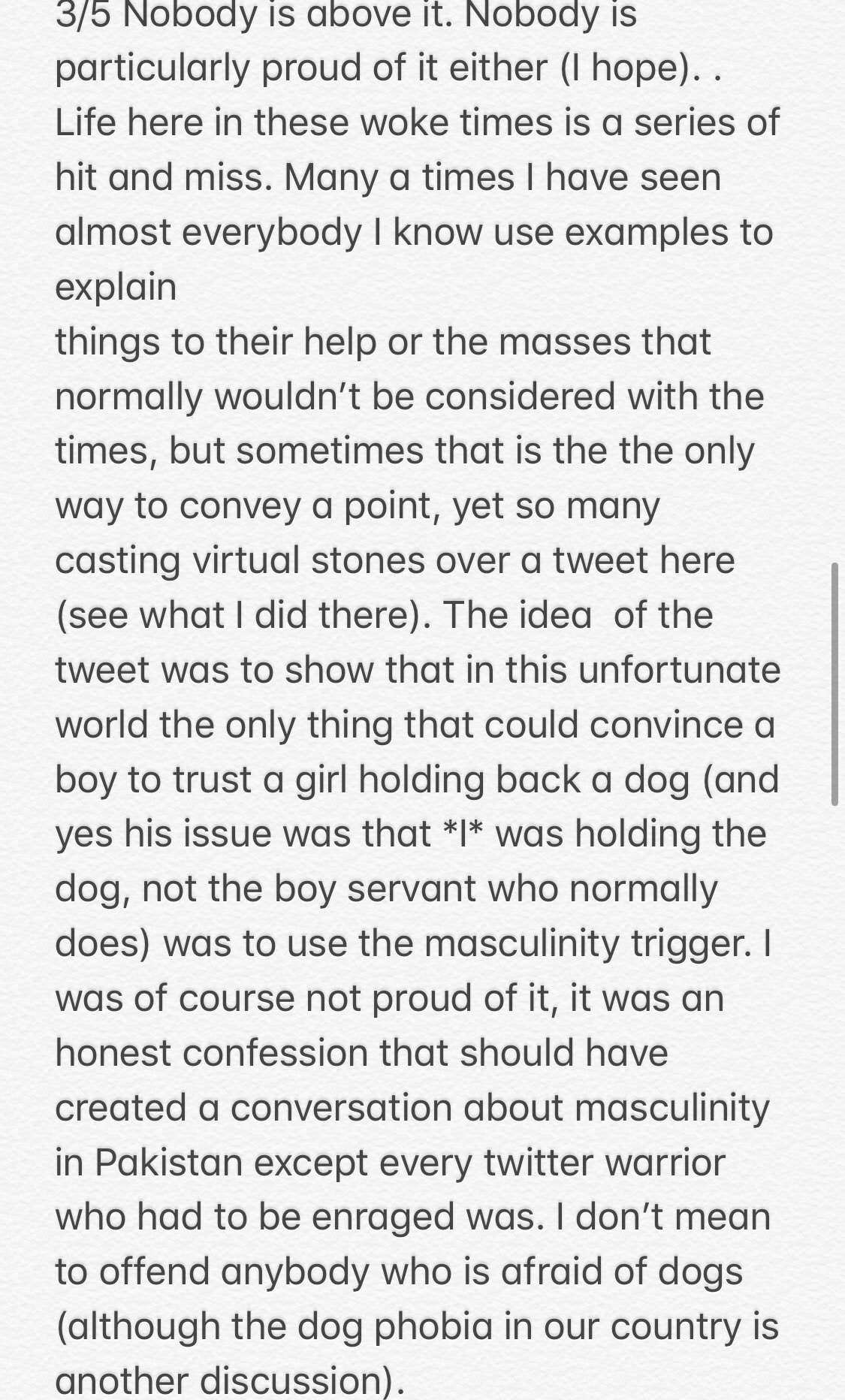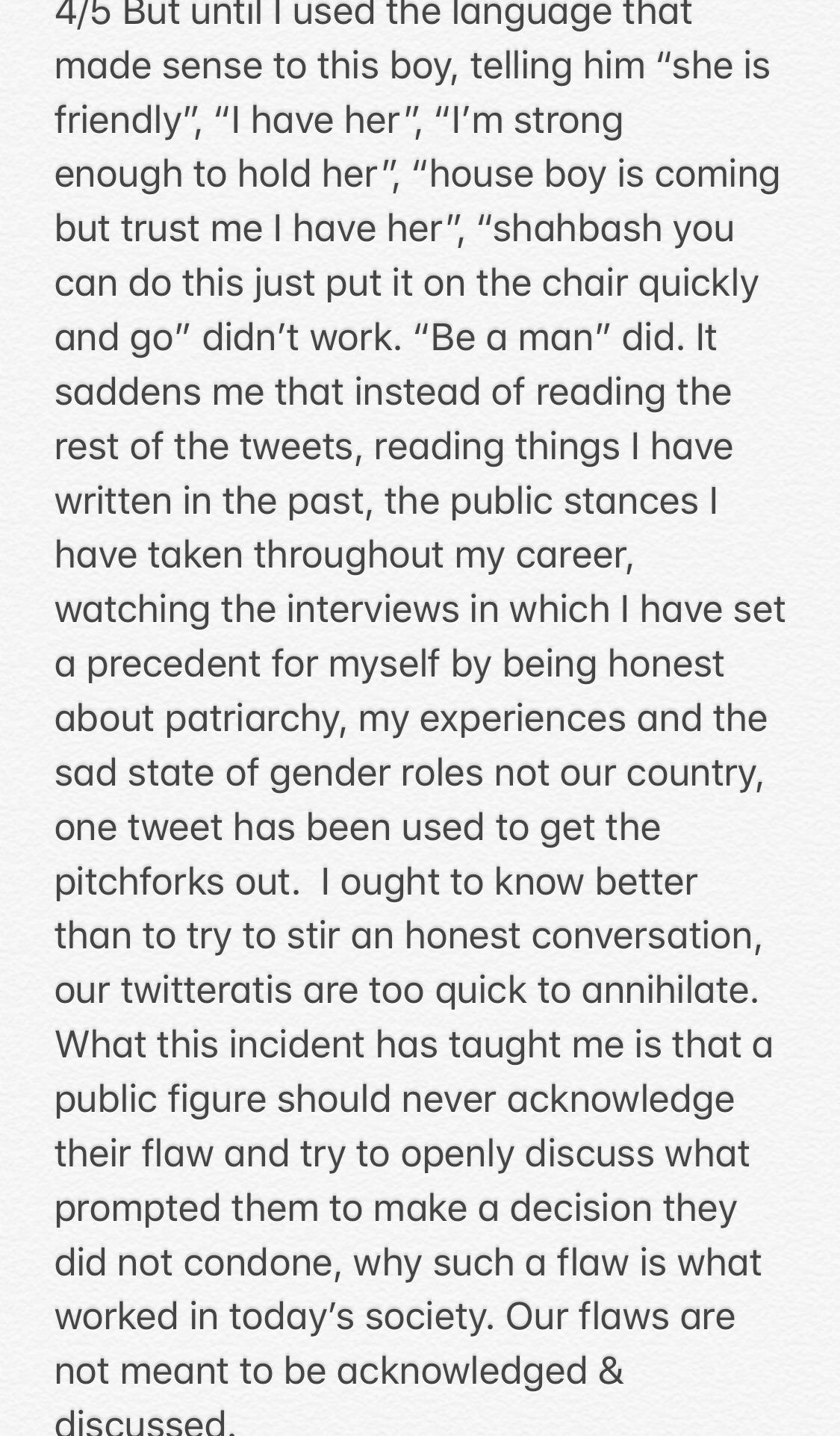 And people were literally done with her at this point:
Ushna Shah just delivered a 900 word diatribe when she could have gone with just 15 words saying "I am sorry. I will be more cognizant of my privilege in the future"
And she didn't have to mean it, would have been a bullshit apology but it'd have shut most of us up.

— anon (@anonentity99) October 14, 2019
Itni lambi karnay ki zaroorat nahi thi, all you had to say was "i am sorry for my pathetic behaviour & i ll try to work on it."

— Osama. (@ashaqeens) October 14, 2019
Some pointed out what the real problem was:
https://twitter.com/nidkirm/status
/1183744279761563648?s=19
You scared an underpaid hard worker at 2:30 in the morning by your by a dog(that probably lives on more than delivery boy's complete family) and you think it's about sexism.?

— S! (@sanivaince) October 14, 2019
Oh, sod off!
Please don't try to act woke when you're the problem in this particular case. How are you bringing gender issues and patriarchy into this when the problem is your entitlement?

— Hania (@han3yy) October 14, 2019
Okurrrrr!
Insaan ki angrezi Achi ho to sab gunah maaf aur self entitlement mazeed strong ho jati hai 😀 Haath main kutta, zuban par sexism aur sar main self entitlement..and discussing patriarchy. Wow..Amazing. Just Amazing.

— SARK (@sark_10) October 14, 2019
Agreed!
Other than the fact that Ushna Shah operates from a dimension where her tweets make sense and we just happen to not live there, please understand that people do not love your pets as much as you do. If they are scared of your dog or your cat do not force them to confront it.

— No (@Bluemagicboxes) October 14, 2019
One word, woman!
5 paragraphs instead of one word #BigEgos

— Zammad Ahmad (@Zammad) October 14, 2019
Too damn high, there's no beating her:
Ushna Shah wins the award for the Dumbest Tweet of The Year. The bar has been set too high. Woah.

— Girl, Interrupted (@McPr0zac) October 14, 2019
The more you speak…
4 pages and none of it makes sense still 💀

— amna (@dearmy_april) October 14, 2019
Add a pinch of empathy too maybe?
shabash delete kar kein dubara koshish karein, shayad hojaye

— anastipu (@teepusahab) October 14, 2019
I think ek dafa aur try kar lein

— Umair Javed (@umairjav) October 14, 2019
Ours too!
My best part of this diatribe was 'desperate times call for desperate measures'. Apparently in the woke world, not having your pizza physically brought into the house at 2:30 am is considered an emergency. Oh and not everyone like dogs, trust me it's not a Pakistani problem.

— sameer junaid (@only1sameer) October 14, 2019
People were tweeting out her next move:
Coming up next: I stole something to start a conversation about security. 👏
The more you speak, the more we realize how dumb and entitled you are.

— Waqas (@waqas_x) October 14, 2019
Savage!
Four lots of further codswallop to cover up the first one. Salvage your celebrity status now as best you can. There's not much left of it.

— Saffina Ellahi (@SaffinaEllahi1) October 14, 2019
Many came right back at her:
you haven't acknowledged jackshit, you're simply doubling down on your pathetic behaviour towards a service worker & blaming *society* for being rude & obnoxious.

— Ahmed (@azkhawaja1) October 14, 2019
Aur kya!
All she's trying to explain is that it's OK to be sexist, rude and condescending towards people beacuse that is how our society is sometimes and there's also nothing classist about it at all.

Itni si baat samjh nahi arahi kisi ko!!

— Basit Khan (@basit_arbi) October 14, 2019
And by now, you'd probably expect Ushna to say sorry, but nope, it never happened:
Extra toppings pic.twitter.com/b4c5C151E6

— Ushna Shah (@ushnashah) October 14, 2019
And people had only one thing to say:
Girl don't embarrass yourself.

— بدریی جمالہ (@paathani) October 14, 2019
What do you think about this scenario? Let us know in the comments below!