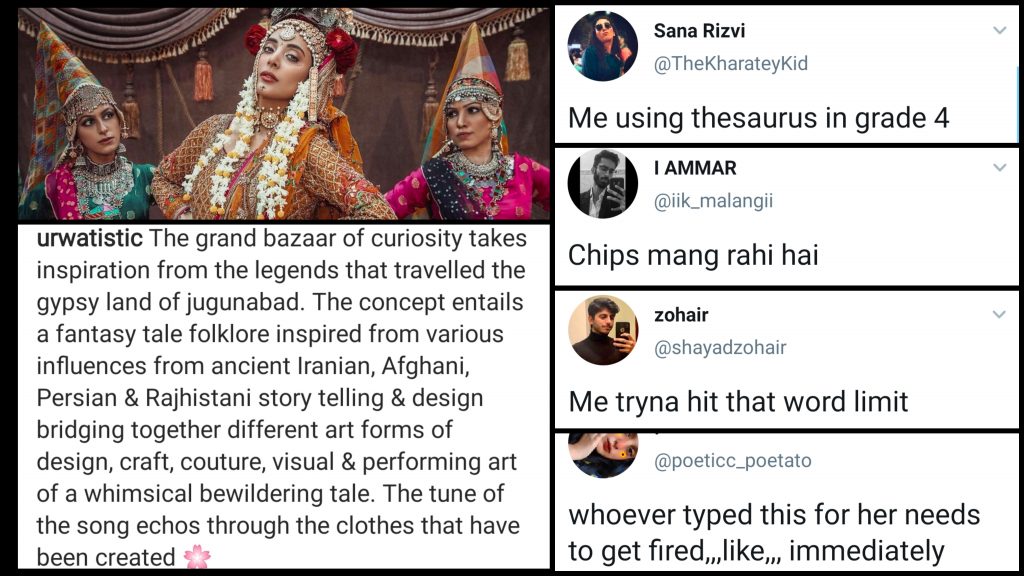 We've all tried to insert the deepest of philosophies into our Instagram captions at some point and honestly they tend to work a lot of times. But it's a completely different story when you're famous, like Urwa Hocane!
Urwa took to Instagram to share with fans her photos from Fahad Hussayn's collection and it was all good until people tried making sense of the caption:
The screenshots of the caption made it to twitter:
ye kya horaha hai?????????????? pic.twitter.com/YHoVa9wx7d

— . (@sluttysavitriii) December 21, 2020
And the tweeple have way too many questions and interpretations!
Chips mang rahi hai https://t.co/Yl0IIMF0YE

— I AMMAR (@iik_malangii) December 21, 2020
We feel attacked!
Me using thesaurus in grade 4 https://t.co/inAM8EgJHj

— Sana Rizvi (@TheKharateyKid) December 21, 2020
Been there 😭
When you don't know the right answer to the exam question so you try fitting in the whole syllabus of all the subjects on one page https://t.co/BgDrJirXww

— inbisaat (@Gham_0_Inbisaat) December 21, 2020
We're trying, okay?
What does any of this mean?!

— Hija Kamran (@hijakamran) December 21, 2020
We're the grand bazaar of curiosity:
tag yourselvses i'm a whimsical bewildering tale https://t.co/v7Y4kQcIa3

— Faizan. (@thoraoffbeat) December 21, 2020
People thought whoever wrote the caption should be fired!
whoever typed this for her needs to get fired,,,like,,, immediately https://t.co/iGnL1FQj8w

— . (@poeticc_poetato) December 21, 2020
I swear 😂
Me tryna hit that word limit https://t.co/dCU72dVhQW

— zohair (@shayadzohair) December 21, 2020
Hahaha:
Me trying to impress the colonizers with words that don't even go together so they'd give me a scholarship https://t.co/wFLRbuMutc

— 🍇 Khan (@hifzakhann) December 21, 2020
You're not alone!
Angrezi meri kharab hai yaqeenan, because https://t.co/C24VSDCtGA pic.twitter.com/sKqNlpk7wB

— Lilith (@01101100A) December 21, 2020
Yes please 😭
Someone please translate. https://t.co/mSNvBoAFuU

— Rubab (@TeslaOnDiet) December 21, 2020
Guys, take notes!
Peak Pakistani fashion copywriting. Take all the big words! Cram them in there!

Also, standing ovation to the person who does not know "ancient Iranian" is the same damn thing as "Persian". And that Afghani and "Rajhistani" will always clash, because that's just history lol. https://t.co/7UUr6AFXu5

— Nuzhat S. Siddiqi (@guldaar) December 22, 2020
Two sides to every story:
LMAO either she's having a ~creative~ moment or there's a copywriter out there congratulating themselves on their "storytelling" 😭

— irritablepatricia (@wajeeham) December 21, 2020
You sure about that?
damn would sis like to do my mfa instead of me now THATS some poetry if ever i saw it

— PreLovedFeminist (@sadsexysmol) December 21, 2020
"Lena hai toh lelein, badh mei nahi milega:"
Kapray ki dukaan walas do it better with, 'Baji, akhri piece bacha hai'. https://t.co/PgTjEdJ8nF

— Chori Shuda (@ChoriShuda) December 21, 2020
Omg, yes!
Lmao, why does this come across as an academic journal on @JSTOR 🤔 https://t.co/V7uhLBDqEw

— . (@0bserver_) December 21, 2020
We can see that:
A lot is going on here https://t.co/iGuWHF4HNB

— Not ozghar (@warsamawa) December 21, 2020
What do you think the caption means? Let us know in the comments below!