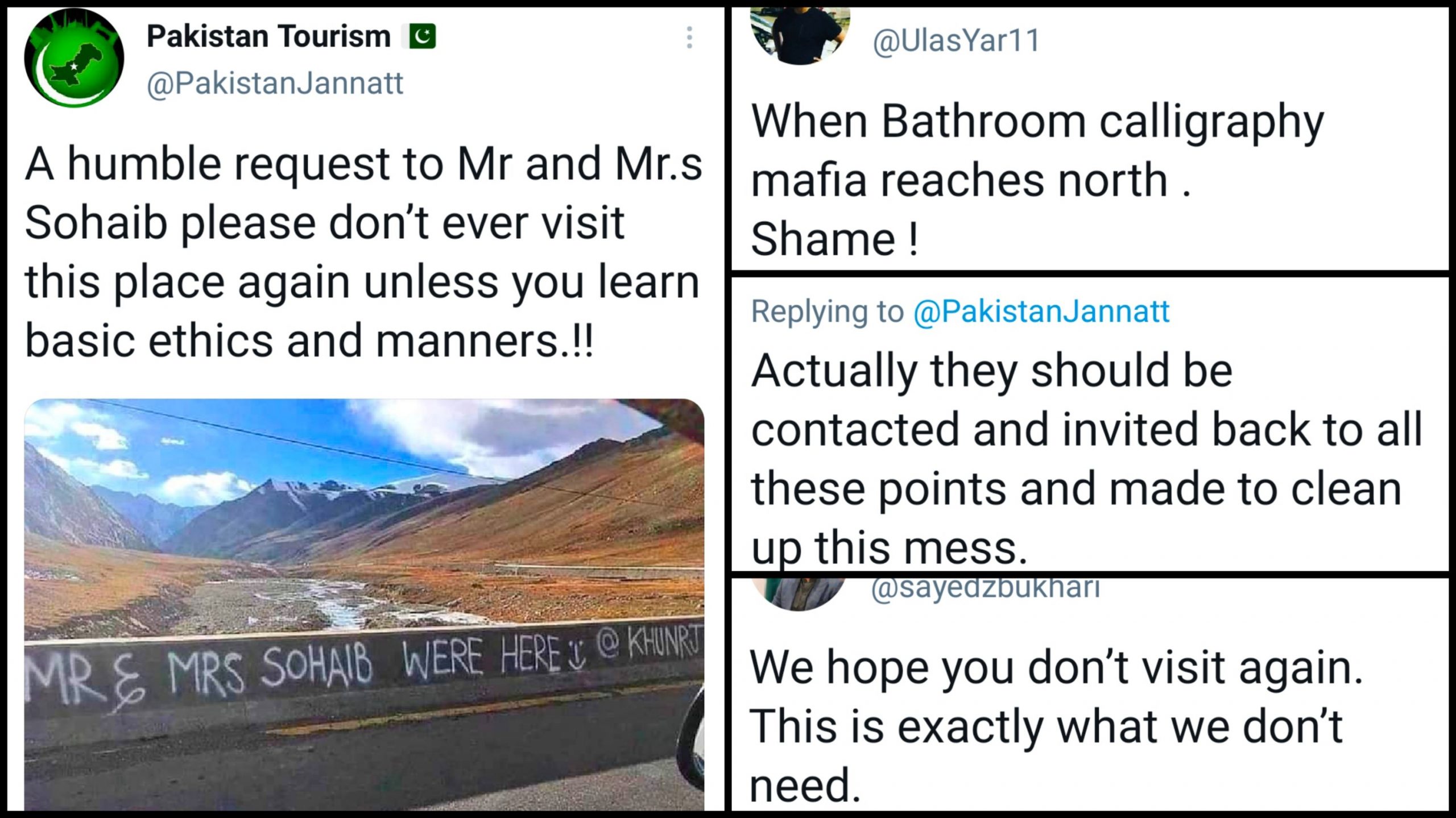 Pakistan has been blessed with beautiful places to visit and as the government expands tourism in various areas, it comes with a downside: wall chalking!
Be it an ad for aamil baba, kamzor jism ko mota banana or I love you *XYZ,* we've seen them everywhere. Travelling together, a couple tried leaving their mark too:
A humble request to Mr and Mr.s Sohaib please don't ever visit this place again unless you learn basic ethics and manners.!! pic.twitter.com/WzFiAyUDXd

— Pakistan Tourism 🇵🇰 (@PakistanJannatt) August 8, 2021
And the netizens have a lot to say!
یہ وہی جوڑا ہے جو درختوں پہ چاقو سے بھی نام لکھتے رہے ہیں

— Mona Khan (@mona_qau) August 8, 2021
What's this country's obsession with leaving their names behind?
I recently visited wadi jinn in madinah. There You find Pakistani flag on the mountains and names of our great explorers. Looks so embarrassing.

— YM (@maximoym2020) August 8, 2021
People were also sharing that the picture is from 2017 but resurfaces every year:
This is from October 2017. Its negligence of the local government for not cleaning it in all those years. pic.twitter.com/PQDeCPYmgs

— Ahmed Farhaj احمد فرحاج (@ahmedfarhaj) August 8, 2021
This is 2017 post, hope they learned. https://t.co/sWRd19CSFN

— Ray (@iKarachiwala) August 9, 2021
People didn't want visitors like them:
Please DO NOT visit again ! https://t.co/Ab18qMPrkB

— Dr Wardah (@DrWardahShah) August 9, 2021
Makes sense:
Next time Mr and Mrs Sohaib wanna do sth like this, I would suggest getting a tattoo https://t.co/sDc6Bs9G9A

— Haider Qasmi (@hmqasmi) August 9, 2021
Yes please!
Mr & Mrs Sohaib please follow for more recipes 😂😂😂😂😂

Next time ik notebook carry kr len please! https://t.co/CA2CBU9COz pic.twitter.com/bcXtFa2KYu

— Sabeen Malik (@Khpaltweets) August 8, 2021
🤦‍♀️
When Bathroom calligraphy mafia reaches north .
Shame ! https://t.co/GPLKdB6gUg

— Ulas Yar (@UlasYar11) August 9, 2021
Yar:
Somewhere near babusar top we saw: "I love you hafsa"….couldn't process what hafsa would feel after knowing that 😂😂 https://t.co/STyVi9VRHD

— Hector Salamanca (@Theusamagrewal) August 8, 2021
It's just as simple as that:
Not just this place, they shouldn't be allowed at any tourist place. If they can't respect the natural beauty, & the infrastructure, then they don't deserve to visit such places. https://t.co/odkR2tacdr

— Mad Doctor (@mad___doctor) August 9, 2021
True!
Govt needs to fine Mr and Mrs Sohaib so heavily that they never get another such bright idea again https://t.co/CgW3PzrVxZ

— Dr Shireen Rafeeq (@Shireen_Rafeeq) August 8, 2021
Neither can we:
Our nation is habitual of doing such things…you can find on historical buildings also….
I donot know what's wrong with us. https://t.co/yMG6CHgBgC

— Dr Abida Raza (@drabidarao) August 9, 2021
Need more people like them:
Me & my son after cleaning garbage from this beautiful waterfall today 7am
Request all to please don't spoil beauty of our lovely country pic.twitter.com/FWZpZ4P0aH

— Paracha (@Mohib_Ullah30) August 9, 2021
People wanted them to be fined:
Fools, they must be fined. https://t.co/wa0BhSf74X

— Arif Hussain (@ArifHus20507817) August 9, 2021
Yep!
Disgusting!
Should be tracked & invited back to clean up this mess & fined heavily so that others will avoid committing the same action. https://t.co/NBXTNa8zSN

— Umair Nawaz (@Engr_UmairNawaz) August 8, 2021
Emphasis on 'saying:'
Not only this place but all the places till they learn basic ethics n manners.

This couple needs to go over there, white wash the place and hold a sign saying, "sorry." https://t.co/2cbO49wDtu

— كيكاؤس كيانى (@KaikausKiani) August 8, 2021
Hahaha 😂
Pakistani right now, searching Mr and Mrs Sohaib. pic.twitter.com/vIbWo0yPVs

— Haider Askari🕋 (@HaiderAskari88) August 9, 2021
Lol:
Good job Mr and Mrs Sohaib! Next time please write down your phone numbers or CNICs. pic.twitter.com/HwZcZh3Bnv

— Arhum Tariq Butt (@Arhumtb) August 9, 2021
Quite possible 😂
Imagine Mr. and Mrs. Sohaib live in a joint family setup. There they must be marking their sections inside the refrigerator as well.

"Imported cheese belonging to Mr. and Mrs. Sohaib. Don't touch." https://t.co/LS3QZHBr4q

— Maria Sartaj (@MariaSartaj) August 8, 2021
Even if the picture is old, it's good enough to raise awareness and caution other visitors to avoid chalking the walls with their personal maslay. Let us know what you think in the comments below!