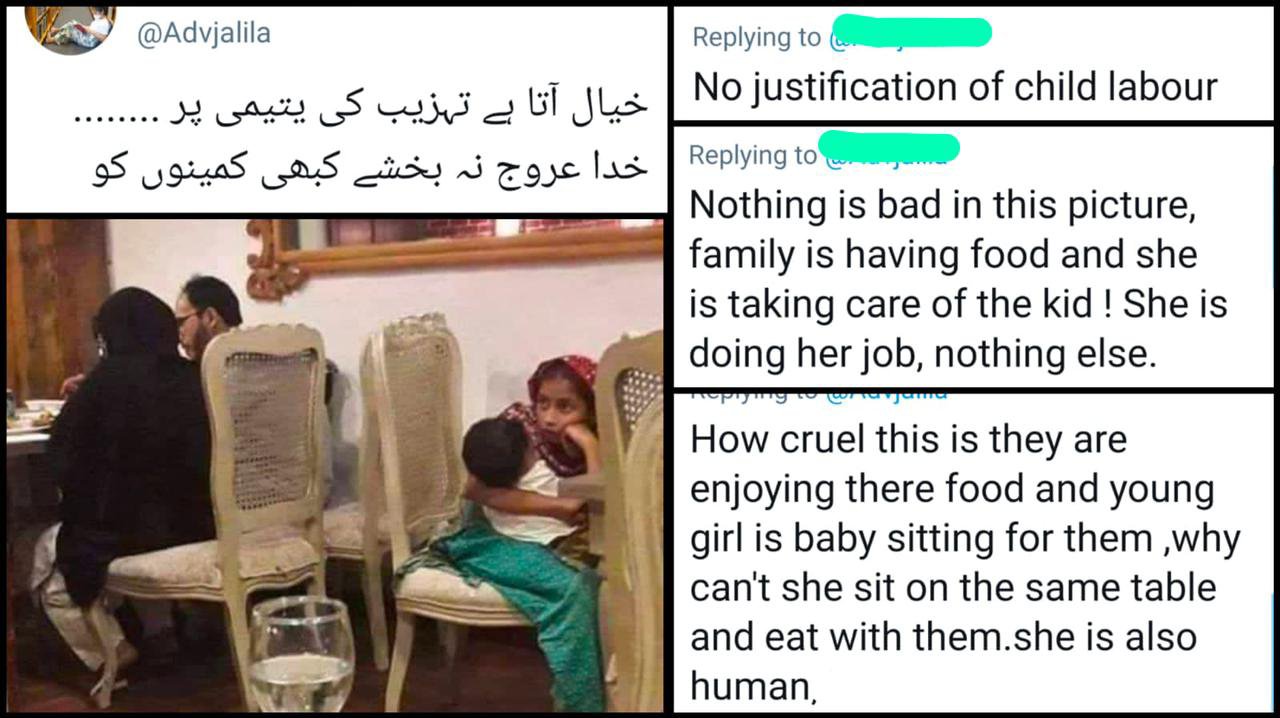 Social media has its advantages and disadvantages, especially in this day and age, it only takes a picture to get people debating. And today, tweeple are up in arms talking about this specific picture:
خیال آتا ہے تہزیب کی یتیمی پر ……..
خدا عروج نہ بخشے کبھی کمینوں کو pic.twitter.com/9RRVdS9UXb

— Jalila Haider جرقہ در ظلمت، انفجار در سکوت (@Advjalila) August 8, 2021
And here's why people are divided:
Nothing is bad in this picture, family is having food and she is taking care of the kid ! She is doing her job, nothing else.

— Zam (@zaeem3210) August 9, 2021
People wanted the family to treat her right:
If you can't treat them like humans, why do you take them out to the restaurant? Irony is that these MFs will be lecturing others on equal rights, poverty, child labour. We have a completely fuked up society! https://t.co/79OxFEi7h2

— Dr Lawangeen (@No_Xtra0rdinary) August 8, 2021
People had questions:
کس قسم کا دل رکھتے ہیں لوگ 😓 https://t.co/lB2OTjPzNt

— Aiman Chaudhary (@Aimanchleo) August 9, 2021
یار میں حیران رہ جاتا ہوں ، کیا ایسے واقعات واقعی ہوتے ہیں ؟
کیا واقعی ایسے لوگ وجود بھی رکھتے ہیں ؟ https://t.co/WLU86GIEeL

— Marghuzar | مرغزار (@HKParas) August 9, 2021
True!
یہ عروج نہیں زوال ہے۔ https://t.co/avpyUyICnG

— Nadeem alam (@nadeema49598483) August 9, 2021
People were also sharing how the parents should take care of the child themselves:
Jab pal nahy sakty tu Paida ba nahy kerna Chiyeh taa. https://t.co/rg30iz73Rg

— ABU DAWOOD (@Hussain11Dawood) August 9, 2021
People wanted to know why she wasn't sitting on the same table as them:
How cruel this is they are enjoying there food and young girl is baby sitting for them ,why can't she sit on the same table and eat with them.she is also human, but she is poor but tucked away,i wonder what's going through her mind, these type of couples will be punished byAllah

— Maqsood Chaudhry (@Maqs_ahmed) August 9, 2021
People were sharing similar incidents they'd seen in other countries:
It doesn't happen only in Pakistan. Once I saw the same situation in a restaurant in Abu-Dubai with an Arab family.

— Muhammad Ali (@maliumarzai) August 9, 2021
People were making all sorts of guesses:
May be they ordered separately for this girl, which may be serve when she free.
I am also not like this attitude, but please have complete picture, before to judge

— Tahir Naseem (@TahirNaseem197) August 9, 2021
People found it shameful:
Shameful,heartless & disgraceful. People should not bring less advantaged persons with them to restaurants/eating places,if the do it is their Islamic,humanitarian,moral,civic & ethical duty to feed them with the same dishes they are eating. Restaurants should insist they're fed.

— Senator T Mashhadi (@SenatorMashhadi) August 9, 2021
Some wondered why we have become such a judgemental society:
You know nothing behind it but still blame others, why are we so judgemental

— AhmeD (@CleannGreenPak) August 9, 2021
People were not happy with the picture taken and shared without consent:
Mujhey tasveerian baghair ijazat khmechny per. App ney kiya kia muhatarrum

— Dr Atif Aziz Rajput (@Atifazizrajput) August 9, 2021
People had solutions:
Jo tasveer bana raha hai woh apney table per bitha ley.

— بوٹا Nemesis مسیح🌈 (@_HouseofNemesis) August 9, 2021
People were furious!
Nothing annoys me more than seeing pictures like these. How ungrateful these ppl are. I am so disturbed for days that I wished I could find these ppl and tell them, it will take God one second to turn the tables on you. What will you do?

— Shazad Ali Khan (@DrOnDuty101) August 9, 2021
People were disappointed at the replies!
Reading the comments tells us how uncivilised is this society! And we're expecting justice from them. Not in the next 100 years.

— Omar Baloch (@omarchakarzai) August 9, 2021
What do you think about this? Let us know in the comments below!