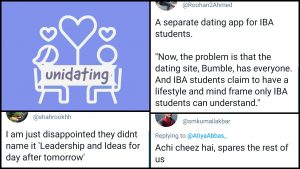 Students at IBA have launched an exclusive dating app for the students, which went viral over social media and according to the details, it's tinder for IBA students!
Insert picture of the app
And people have a lot to say!
But…why… pic.twitter.com/NnucGp4ElX

— Atiya Abbas (@AtiyaAbbas_) March 2, 2021
Same!
I am just disappointed they didnt name it 'Leadership and Ideas for day after tomorrow' https://t.co/qDmJNxTsbX

— Shahrukh (@shahrookhh) March 2, 2021
People had questions:
why are iba students like this 😂😂 https://t.co/lUyX4qmwUC

— H. (@harmainshh) March 2, 2021
👀
Broooo 😂😂
IBA a whole different planet ngl https://t.co/kkIHAKUkjf

— Khan (@KakarWithOneK) March 2, 2021
Some thought IBA didn't need one:
IBA didn't need one though. 👀 https://t.co/Sdh9CP5VQm

— Brashna Kasi (@Brashnaa) March 2, 2021
It is, it is!
tell me this is not true https://t.co/zEtc1iGNVo

— Alina (@AlinaManiar) March 2, 2021
Nope!
Oh God please tell me it's satire. 🤦‍♀️ https://t.co/BR353hgeWH

— Zainab. (@znb91) March 2, 2021
Shots were fired!
good for them, nobody wants to date them outside IBA anyway 🤧 https://t.co/7l0eNlPWvY

— anastipu (@teepusahab) March 2, 2021
Hahaha:
Achi cheez hai, spares the rest of us

— Kumail Akbar (@smkumailakbar) March 2, 2021
It is what it is:
To save the cult from ordinary!

— Adeel Jafri 🌐 (@architectjafri) March 2, 2021
Yes please!
I will never understand people making their school/college/university their whole personality. It's too embarrassing especially when after you graduate. Please move the fuck on. https://t.co/WRdkZnVyCr

— 🌻🌻 (@guulaabjaamuun) March 2, 2021
To some it made sense why they needed it:
Makes sense. Being so full of themselves that only a person as equally pathetic can do justice. https://t.co/gWYuodQByW

— ~ (@Chaudharyysaab) March 2, 2021
Kinda agree with the iba students having a certain mindset. Kafi cringe qism ka. Chalo at least kisi level ki awareness tou hai.

— Rafia (@FuzoolBakwas) March 2, 2021
People did not find it cool:
IBA introducing dating app is the most non-cool thing ever happened to any institute

— aphrodite (@strangenwild) March 1, 2021
People were waiting for other universities to catch up:
Iba kids are starting a tinder-like dating app … Waiting for iba iqra society to come up with a sharia compliant version

— pikachu (@itsslantytime) February 27, 2021
LUMS gotta up their game!
LUMS Rishta Group has some serious competition now https://t.co/jgn1YlQHYZ

— Mirza Moiz Baig (@MoizBaig26) March 2, 2021
What do you think about this initiative? Let us know in the comments below!