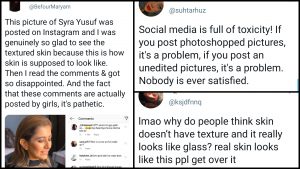 In a world where filters are just a touch away, it seems like people have forgotten what real skin looks like amid smoothed out and retouched pictures that we see everywhere.
After the release of Atif Aslam's single Raat which featured Saira Yousuf, her sister Palwasha took to Instagram to share some BTS of her look from the song and she looks absolutely regal! But people couldn't digest real and unfiltered skin which was noticed by a Twitter user:
This picture of Syra Yusuf was posted on Instagram and I was genuinely so glad to see the textured skin because this is how skin is supposed to look like. Then I read the comments & got so disappointed. And the fact that these comments are actually posted by girls, it's pathetic. pic.twitter.com/gZSOglXKsb

— Maryam (@BefourMaryam) March 1, 2021
She took this as an opportunity to educate people on what real skin is and how what we see on Instagram is lots of retouching:
98 percent celebrities and influencers have normal skin, it's just photoshop or good lighting. Even when they post a picture showing their real skin, they get called ugly. You can have bumps, scars, pores, pigmentation on face and still be beautiful.

— Maryam (@BefourMaryam) March 1, 2021
The trolling reminded her of Hania Aamir who shut Yasir Hussain's body shaming comments and opened up about her struggles with acne:
This literally reminded me of when @realhaniahehe opened up about her acne struggles and yasir Hussain had the audacity to joke about it. It's never funny to poke at someone's insecurities, it's also disgusting to make people insecure by pointing out things that are very normal. pic.twitter.com/90JWsGMmpt

— Maryam (@BefourMaryam) March 1, 2021
She also proceeded to share how men too are a target to body shaming:
This isn't just about women either. I have seen so many men who felt insecure because of their skin, because of the random comments. A friend of mine got acne and even scars, he literally hated leaving home because of it.

— Maryam (@BefourMaryam) March 1, 2021
She ended the thread telling people to keep their totkay and advice to themselves:
Men and women can have bumps, scars, pigmentation, pores, acne on their skin. It's very normal. Let people be. Stop commenting, stop staring, stop making them feel insecure. Stop fucking asking them to drink more water.

— Maryam (@BefourMaryam) March 1, 2021
The thread had people realizing how prevalent body shaming is in our society:
lmao why do people think skin doesn't have texture and it really looks like glass? real skin looks like this ppl get over it https://t.co/azMpkiliVp

— 🦦 (@ksjdfnnq) March 1, 2021
Some realized how majority of the shamers were women themselves:
It's more of women who put down women than men. Sad.

— Smackeya (@ChapparrKanaati) March 1, 2021
80% of Pakistani girls are toxic. You cant convice me otherwise https://t.co/Nf1o2PjoVE

— Muhammed Ibrahim (@ThisIsIbrahimm) March 1, 2021
women proving once again, that they're the biggest haters of their gender. 🙄 https://t.co/zjP5fF4uiC

— Jay 🐝 (@JaayyWrites) March 1, 2021
Exactly:
What makes me more mad is that half of those commenting don't even show their faces! Like ssshhh 🤫

— That One Paindu Girl (@bigbrownenergy) March 1, 2021
Seriously though:
All these lifeless idiots got no work 😍 but to make comments on someone's appearance. 🥰🥰 https://t.co/9EXChrRe41

— Fiza (@fizaabrar05) March 1, 2021
Jo baat hai!
make up is supposed to look like make up. It can't look like your second skin :/ https://t.co/13A4IoK3zg

— mashaim (@mashaiim) March 1, 2021
True:
Social media is full of toxicity! If you post photoshopped pictures, it's a problem, if you post an unedited pictures, it's a problem. Nobody is ever satisfied. https://t.co/WxxmPEKw4q

— A̶l̶i̶ (@suhtarhuz) March 1, 2021
Yaas girl!
THIS IS SO IMPORTANT. https://t.co/spZwoGelAj pic.twitter.com/Wby0vfnnIZ

— ❦ (@ChaoticBeer) March 1, 2021
🤷‍♀️
And the fact that the same women complain that in actors or influencers ki perfect pictures se inko insecurity hoti hai or inferiority complex wagera https://t.co/6iy7P1DvJ0

— Istg meri bs hai (@desipuppicino) March 1, 2021
To some, it hit close to home:
Ironic.. it's year 2021 n we r still bullying people for having acne, scars, pores, pigmentations, skin colour.
I have been bullied all my life for having acne n had such a low self-esteem. Ffs stop this negativity. P.s Women can be nastier bullies than men. https://t.co/3mNYG4S0mv

— Baloch (@warshuu) March 1, 2021
People felt hopeless:
Jis mentality pe logo ki saalon ki upbringing hui hoti hai NAI BADAL SKTI JITNA MARZI TRY KR LO 💔 https://t.co/dWqy5Wnp2i

— m a h n o o r (@nosorryout) March 1, 2021
Haina! 😍
Another episode of people making fun of someone's skin color and condition. I mean look at her. Dead gorgeous. ❤ https://t.co/MygVQdNFAo

— Essa (@ItsSalahMate) March 1, 2021
No one's perfect!
This is exactly how skin is without filter and photoshop. That's why I'm against surgeries and fillers and filters. Yes, its their body,their face but that's what it leads to… People start thinking celebs are superhumans. https://t.co/1sLRHSyTuI

— Zainab. (@znb91) March 1, 2021
Some thought the comments were justified:
Don't mind but fault is on their part only, they always show the perfect side of their self, heavy makeups to look perfect & then some not educated ones start assuming they're perfect. We used to see them perfect that a slight change is felt or hated. Herd mentality but reality

— WOW I (@NJ80012047) March 1, 2021
What do you think about these comments? Let us know in the comments below!