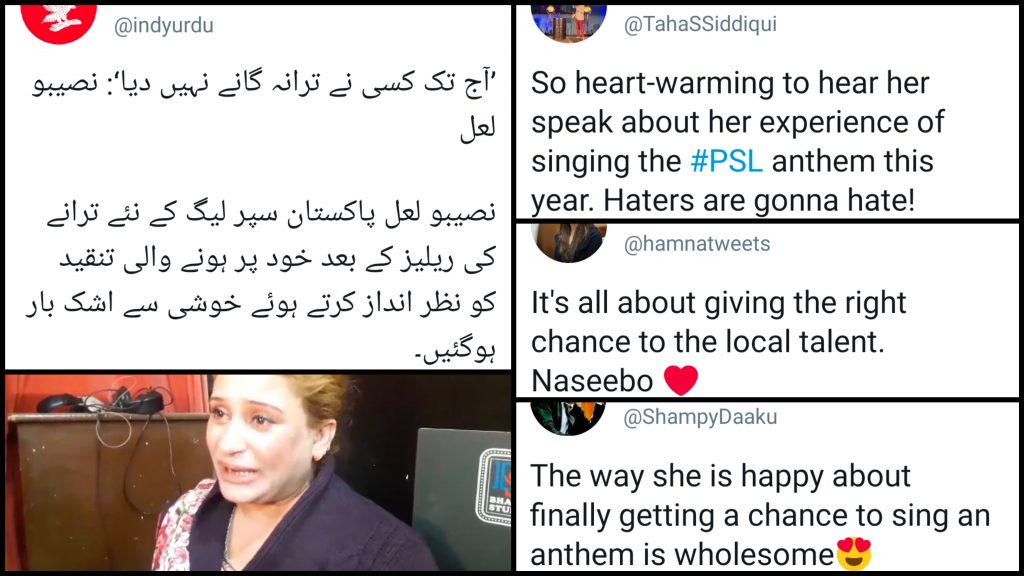 One of the biggest controversies we've seen so far in 2021 is the reaction that the new PSL anthem has gathered. Even days after it's release, the netizens are still talking about it, some trolling it and some defending it.
Talking to Independent Urdu, Naseebo Lal shared how she feels over the moon to have sung the PSL anthem, she further added how the makers of the anthem gave her the toughest of high notes and she's glad she nailed them:
'آج تک کسی نے ترانہ گانے نہیں دیا': نصیبو لعل

نصیبو لعل پاکستان سپر لیگ کے نئے ترانے کی ریلیز کے بعد خود پر ہونے والی تنقید کو نظر انداز کرتے ہوئے خوشی سے اشک بار ہوگئیں۔ pic.twitter.com/BGUPKjnLae

— Independent Urdu (@indyurdu) February 10, 2021
And people were moved by her positivity:
So heart-warming to hear her speak about her experience of singing the #PSL anthem this year. Haters are gonna hate! https://t.co/exqIssiz0m

— Taha Siddiqui (@TahaSSiddiqui) February 11, 2021
People found it wholesome:
So wholesome! Look at how happy and respected she feels. 🌸🌸 Men like Shoaib Akhtar just can't see women thriving. https://t.co/XzpTOywL8l

— Rubab (@TeslaOnDiet) February 11, 2021
People were really happy for her:
I remember Naseebo turned towards bigo tv during the pandemic because work was hard to come by for most artists during the pandemic. This video of her is lovely. Very happy for her! https://t.co/gB4TfQ68SE

— Tooba Syed ☭ 🍞🌹#AuratAzadiMarch2021 (@Tooba_Sd) February 10, 2021
We know right? Such a cutie ❤
The way she is happy about finally getting a chance to sing an anthem is wholesome😍 https://t.co/S8zjmn9DnE

— Shampy Daku (@ShampyDaaku) February 10, 2021
YES, WE WILL FIND YOU AND FIGHT YOU!
she's so happy aaa too cute 🥺🥺🥺. i love the song whoever said anything against it then- 😡😡😡😠😠😠😠🔪🔪🔪 https://t.co/2LzJsVrO4r

— baby cake // 🌻 , musvi stan acc (@wakeupbubbles) February 10, 2021
I will cut anyone who comes after Naseebo Lal. I WILL CUT YOU! 🥺🥺❤️ https://t.co/kjFrl5dX7L

— Noor Imran (@NoorImran_) February 11, 2021
Happiness and tears of happiness are contagious:
bruh why am i literally crying https://t.co/dGr9Jf9fPG

— slenderman (@bigbrainsarz) February 10, 2021
Help yourself, haters!
I m so happy for her… jisy takleef hy kanoun mn roi thons ly https://t.co/7ymYMyJLEa

— Naazo 🦋 (@nanneyhawaida) February 11, 2021
Agreed!
Enthusiasm goals. Powerhouse. Forget genres/differences or a good bad art debate. Yay is generation say gila kar rahi. In the corporate race to music shows and social media, they have lost their space. https://t.co/f3ecRlc1AY

— Naseer Afridi (@naseerandshahab) February 10, 2021
She clearly won the internet ❤
She's awesome and all the haters can suck her groove (and choke on it).
Naseebo 1
Sore losers 0 https://t.co/Cm1bfBQD25

— Sadaf Alvi (@TheGrumpyDoctor) February 10, 2021
🥺🥺
nah man this is cute as heck 🥺 https://t.co/mXL0rTJ3yV

— Fama⁷🐝 (@curly_fry88) February 10, 2021
Man be spilling facts:
her voice is soothing , she has proved her mattle in PSL song – the high notes work for her . @zulfiqarjkhan is a genius https://t.co/ONGymvLPjY

— Ovais (@Sabbandkardo) February 10, 2021
Jo baat hai:
It's all about giving the right chance to the local talent. Naseebo ❤ https://t.co/rq7QsBFfZw

— Hamna Malik (@hamnatweets) February 10, 2021
10 marks for whoever can answer this:
I don't understand why our people are so pathetic and judgemental. There is a way to criticise someone. We go way beyond ! Emotions matter https://t.co/YcUZULXvzj

— malik (@kheltamasha_) February 11, 2021
People's respect for her multiplied by ten folds:
I have so much respect for her, this made me so happy cutu🥺 https://t.co/YDat69SPoc

— عینا (@aina_razaqi) February 10, 2021
People shared how they specifically loved her part:
I liked her part.. only.. will society accept me? https://t.co/3XZxWPOX8e

— Waleed Saeed (@thespeedysteth) February 10, 2021
Ma'am, I was so proud of this anthem because my friends in foreign also loved it. Tho they didn't understand the lyrics.

Your voice brought cultural touch to PSL6 anthem!! https://t.co/9fZKRXobvh

— Yusuf Khan Afridi (@MyHandleMyViews) February 10, 2021
Let's take a moment and appreciate her part of the song. She has done a very good job. ❣️Real problem is composing of the song not the singers.
#NaseeboLal https://t.co/j2nEiId0OT

— Awab Ahmad (@desi_dwight) February 10, 2021
People were sharing how the society takes pride in ridiculing artists:
We, as a society, take pride in ridiculing our artist just because of their background. If Naseebo was an English speaking bimbo singing rap music in the PSL anthem, no one would bat an eye. https://t.co/VPxBH27EDe

— Asbar Javed (@asbarjavaid) February 10, 2021
Yes!
ain't she like the cutest humble woman i have ever seen? https://t.co/NY5ePyxYo3

— kaju (@cashxaf) February 10, 2021
What do you think of this interview? Let us know in the comments below!