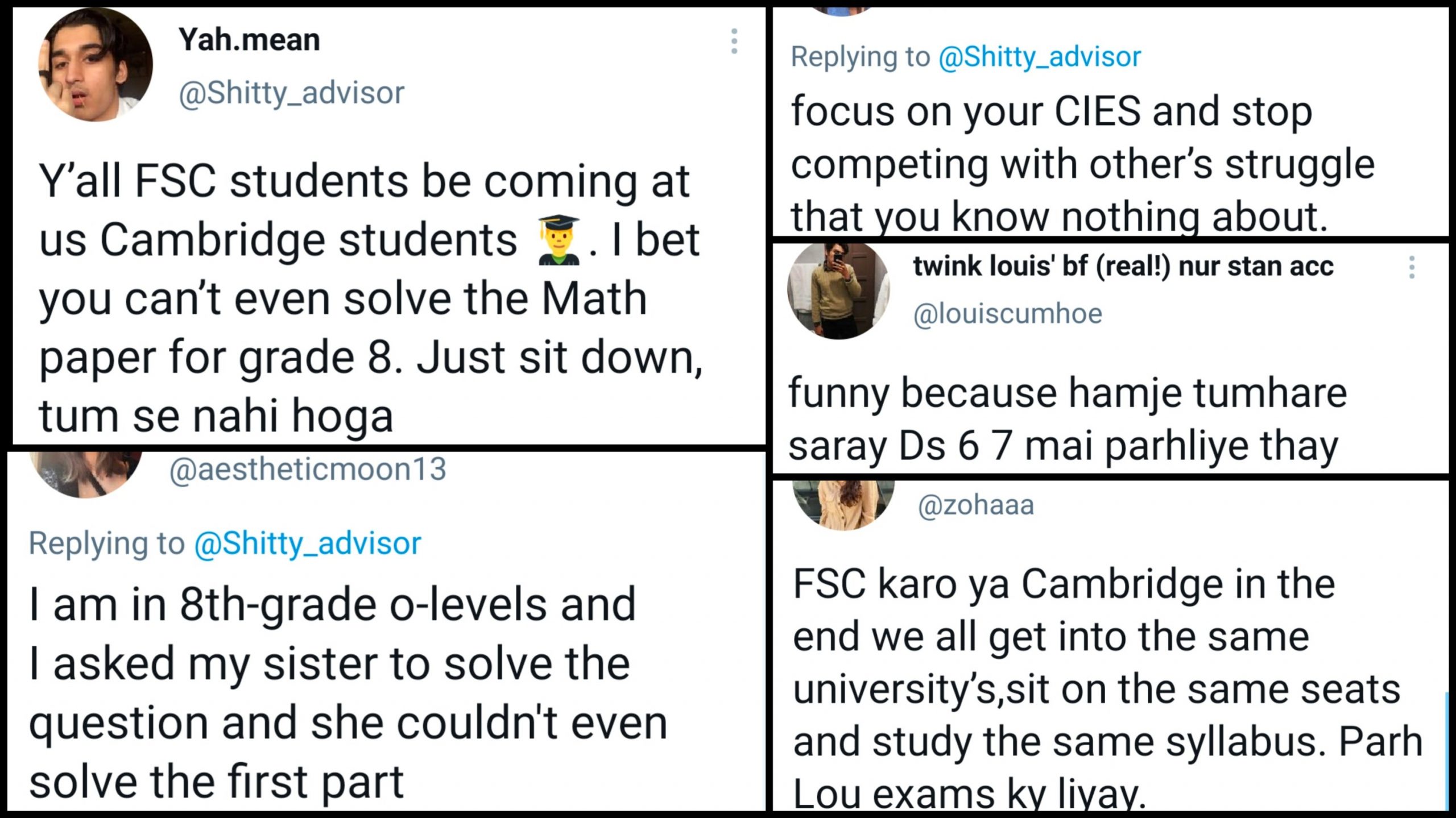 Students on Twitter are back at comparing the Cambridge students and their capabilities to FSc students. A Twitter user claimed that FSc students wouldn't even be able to solve the mathematics paper for grade 8:
Y'all FSC students be coming at us Cambridge students 👨‍🎓. I bet you can't even solve the Math paper for grade 8. Just sit down, tum se nahi hoga

— Yah.mean (@Shitty_advisor) March 25, 2021
And things got heated up real quick!
focus on your CIES and stop competing with other's struggle that you know nothing about.

— maida (@problematicoomf) March 26, 2021
👏👏👏
grade 8 oxford mathematics paper 99/100 almost eight years ago. what else buRgEr? https://t.co/uaTRU2WEZZ

— rona dhona sona (@balighgoth) March 26, 2021
I've taught your grade 8 students maths WHILE doing my FSC. Next. https://t.co/HOn0yZLeZ1

— moonface (@smolbaun) March 26, 2021
People were sharing how matric/FSc maths was way harder:
matric and fsc is wayyy harder and i did o/a levels and i used to think it would be harder but it's comparatively easier matric maths is harder than a levels maths. i'll say our curriculum is better but i can easily say matric/fsc is way harder. https://t.co/qCmJYNjCho

— zeen (@zs1402) March 26, 2021
Some shared how the tweet stands true:
I am in 8th-grade o-levels and I asked my sister to solve the question and she couldn't even solve the first part

— Noor Fatima (@aestheticmoon13) March 26, 2021
People were sharing how they studied the same books and scored pretty well:
I'm a fsc student but I studied D1,D2 and scored 98% so sit yo ass down clown

— vitaminahil (@minahil__khalid) March 26, 2021
Others were calling it a superiority complex:
matlab you didn't even try to tone down that superiority complex?

— ✨ رحمة ✨ (@rahma_aftab) March 25, 2021
People were explaining how the syllabi were different:
FSC students have more subjects to do.
I've seen both syllabi and if we just take maths for example, we actually have more in-depth explanations of shit that A levels cucks have to memorize.
So simmer down, son.
"Aap se nahi ho pae ga."

— Abdul (@abdul0100T) March 26, 2021
People were disappointed!
I am a Cambridge student but totally disappointed by your tweet hadd hogyi mtlb.

— Marriam || nofil& maraam stannnxxx (@Marriamxxxx) March 25, 2021
True!
All of this comparison is so dumb every one is struggling so what's the whole point

— Adeen Ahmed Khan (@adeenyekya) March 25, 2021
Its so useless to compare Cambridge students to fsc students, at the end we are all suffering 🙂

— ayeshahah (@ayeshakissme) March 26, 2021
One of the students claimed to solve the Cambridge past papers with no problems at all:
Hey you! This cambridge student " @Ammartweetsss " thought the same a d gave me cambridge past papers to solve. He thought i wont be able to understand them not to speak of solving. But guess what, i could even solve them.
So apna yeah guroor apnah pas rakhain. Shukriya

— Ayesha Siddiqua (@burndowntherose) March 26, 2021
Some shared how the boy didn't mean it:
Relax bois, wo sirf Cambridge ka flex kr rha tha, he didn't mean it https://t.co/89rXdjW9iW

— middlechildofabrownfamily (@tomaloneeeeee) March 26, 2021
People came right back at him and wanted him to solve their Urdu paper:
now do urdu- wait you can't https://t.co/g3YVPlcr3t

— 😊 (@springjasmines) March 26, 2021
People had questions:
How can you say something so controversial so confidently? https://t.co/4a4orHxvvQ

— Eliza Masud (@elizamasud) March 26, 2021
Jo baat hai:
FSC karo ya Cambridge in the end we all get into the same university's,sit on the same seats and study the same syllabus. Parh Lou exams ky liyay. https://t.co/kANiC2gWgW

— Zoha. (@zohaaa) March 26, 2021
It's not the same:
we literally have to pray "pls examiner ka mood acha ho" instead of "paper asaan aajai" bruh😭😭😭😭 https://t.co/8SkYBazR2Q

— ayela☁️ (@disaunor) March 26, 2021
Shots were fired:
Abhe tum sy urdu me ginti poch lou tou bology 30 say zada nahi ati https://t.co/sFcDx6sSkh

— Toheed Khan (@itstoheedy) March 26, 2021
Oooh!
funny because hamje tumhare saray Ds 6 7 mai parhliye thay https://t.co/R7T4NV1h4u

— twink louis' bf (real!) nur stan acc (@louiscumhoe) March 26, 2021
People couldn't stop throwing shade:
Pathetic. Is this how you use your privilege? The only thing differentiating you from "board" students is your PARENTS money. What have you done in life yourself? Looks like your "superior" education hasn't taught you any manners or respect 🙂 https://t.co/kGI9Y86MJM

— Haider Omar (@haideromarmusic) March 25, 2021
I mean, okay, you didn't have to hit us with facts like this:
Fsc ho ya Cambridge passport humsab ka Pakistani he hai which is the 3rd worst in the world https://t.co/zTZdOgdO6X

— z☕️ki (@NoSugarInChai) March 26, 2021
What are your thoughts on this matter? Let us know in the comments below!