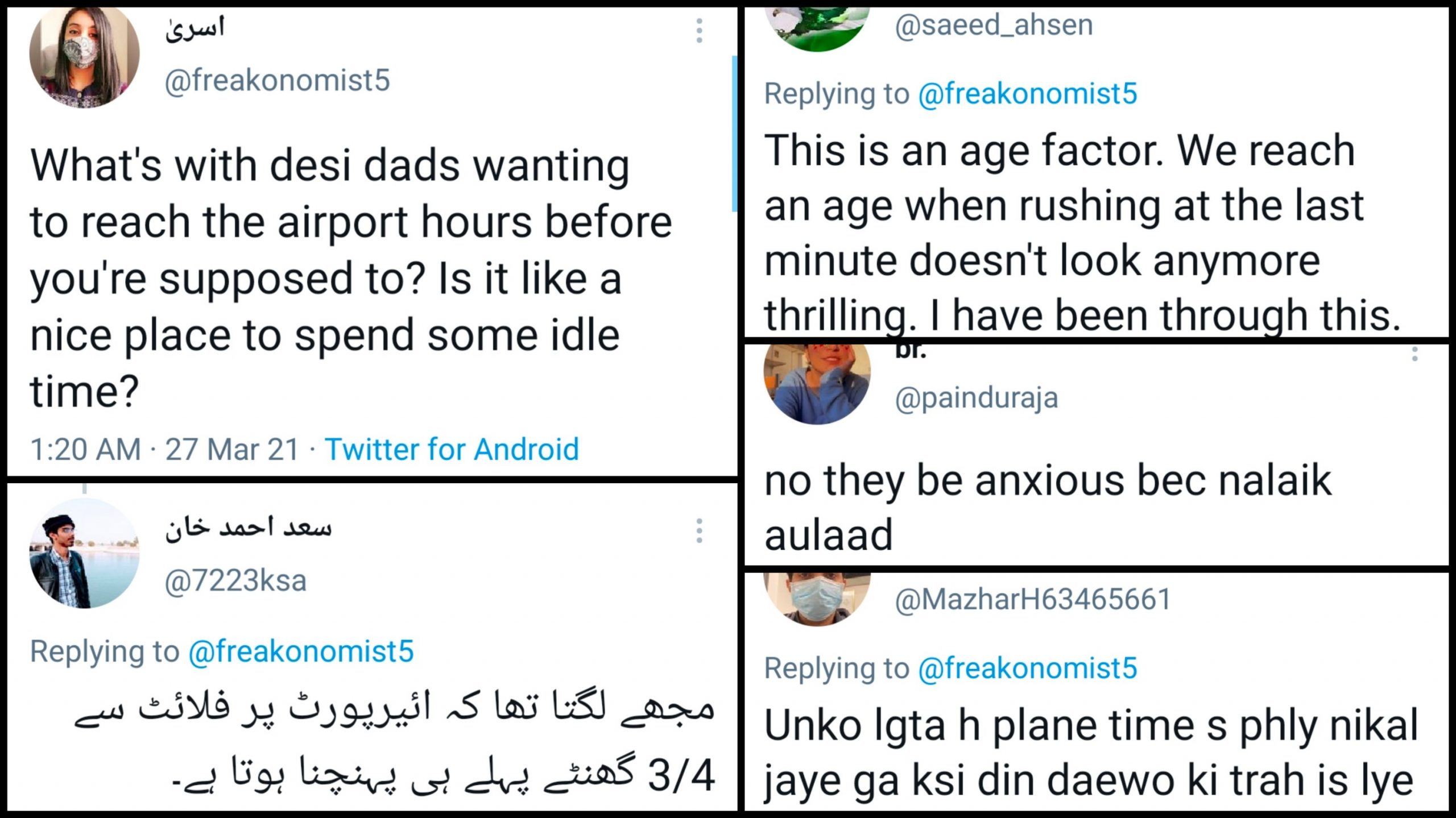 Are you even a true Pakistani if your dad doesn't force you to reach the airport 3 hours before the boarding time? If the flight's at 10, you have to be there at 7, no questions asked!
What's with desi dads wanting to reach the airport hours before you're supposed to? Is it like a nice place to spend some idle time?

— اسریٰ (@freakonomist5) March 26, 2021
A Twitter user wanted to know why and fellow tweeple have come forward to answer!
no they be anxious bec nalaik aulaad https://t.co/nrPiEdjxIp

— br. (@painduraja) March 27, 2021
Makes sense!
This is an age factor. We reach an age when rushing at the last minute doesn't look anymore thrilling. I have been through this.

— Aamadmi (@saeed_ahsen) March 27, 2021
Bilkul riks nai lene ka!
Always prefer reaching Airport well before time. Say 3-4 hours before the flight.

Why take risk 🤷🤷

— Nazir Geelani (@nazir_geelani_) March 26, 2021
Same!
No i think its something different bcz its not specific to airport. Same story for Railway station, bus stop, market, hospital, shadi hall, even they wait for Careem outside house.

— MAK (@A_h_s_a_n__) March 26, 2021
People were sharing their personal experiences:
It's bcs of so many unforeseen issue possible at an airport. Better to be early. Personal examples:

1. Immigration got delayed by 1.5 hrs because server was down n barely reached the gate in time.

2. Too many passengers due to hajj, took me 2 hrs just to enter the terminal.

— Wear a MASK! (@WajeehSamdani) March 26, 2021
Okay!
Depends upon the airport. I like to personally spend some chill time at the departure lounge and watch people board to different destinations m.

— Saad Z. (@xsaadx) March 26, 2021
😮
My dad ( retired army officer) would send me 2 hr !!! Yes 2 hr before the actual landing time of the plane. ( khi to Islamabad flight ID usually 1 hr 45 min max!!!!

— shaheryar usman (@shaheryar_usman) March 27, 2021
Hahaha!
Been travelling for ages now but I can see the wisdom init now aswell. In the past you had to(1) confirm your ticket then (2)reconfirm it 😂 after all that still you had to reach 3hours before flight otherwise some ahole on boarding will give it to someone else😂I kid you not

— Osama (@OKjanjua) March 26, 2021
True!
When dad pays the ticket and it is low fare so not possible to change it, he will worry about getting to airport well ahead of time

— End World Hunger (@No_Hunger_Ever) March 26, 2021
Happens to the best of us!
My parents were going to Turkey and I called Abu in the night to ask why haven't I reached the airport yet 😅

— Rogue Aviator 🇵🇰 (@GuardianZ_10) March 26, 2021
Omg, mujhay bhi!
مجھے لگتا تھا کہ ائیرپورٹ پر فلائٹ سے 3/4 گھنٹے پہلے ہی پہنچنا ہوتا ہے۔

— سعد احمد خان (@7223ksa) March 26, 2021
Yar 😂
Unko lgta h plane time s phly nikal jaye ga ksi din daewo ki trah is lye

— mazhar (@MazharH63465661) March 27, 2021
I mean…
Desi dads have severe anxiety which has always been left untreated.

— AJ (@duckthis_shit) March 26, 2021
But three hours is a stretch, ngl!
I have seen it written on the tickets.
"Reach airport 1 or 2 hours before flight".

— Ali Mujahid (@Ali_majin) March 27, 2021
We're all desi dads, don't worry!
Oh God i am a desi dad wtfffffffffff https://t.co/zrVPKSqPCK

— Samurai Jack (@ComaMierda_Puta) March 26, 2021
What do you think is the reasons dads want us to be at the airport 3 hours before the boarding time? Let us know in the comments below!