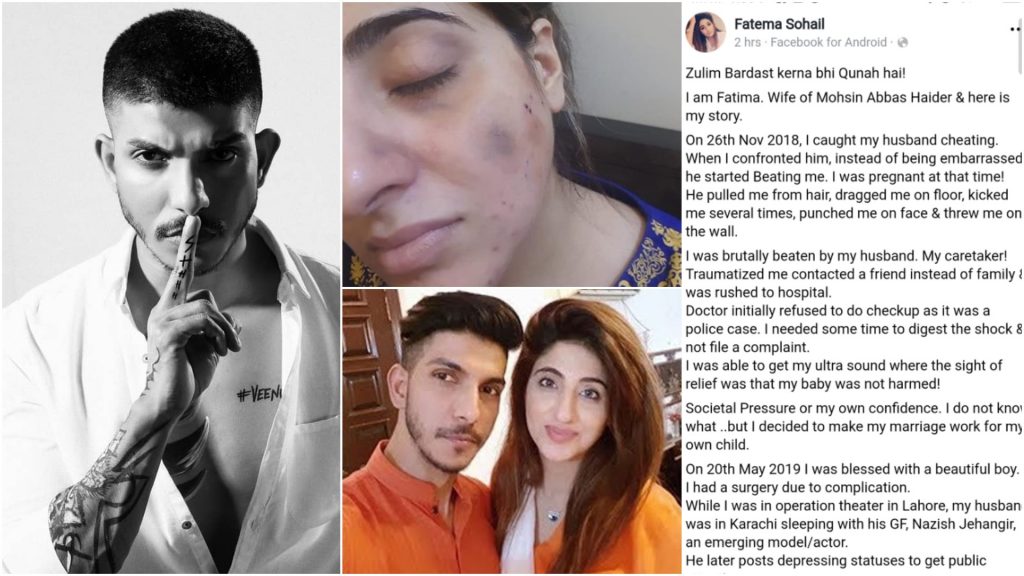 Looks like time for Mohsin Abbas Haider really is up. His wife Fatema Sohail shared her shocking story last night alleging that Mohsin was cheating on her and when she found out about it, he beat her.
In a status on Facebook, Fatima shared 'zulm bardasht karna gunaah hai,' and shared her story.
https://www.facebook.com/100004434932756/posts/1300791383412014?s=528621740&sfns=mo
She continues to say that when she confronted him on his affair, Mohsin allegedly, 'pulled me from hair, dragged me on floor, kicked me several times, punched me on face & threw me on the wall.' She also shared how she was pregnant with their son when this happened.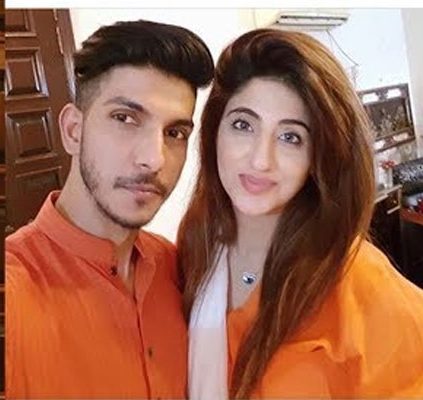 She then continued saying that a few months later she welcomed the baby alone, while Mohsin was allegedly sleeping with an emerging model and actress named Nazish Jehangir.
Fatima then revealed how Mohsin came to see her and the baby 2 days after the delivery, only to take pictures for social media.
Fatema shares how she then went to Mohsin after almost a month asking him to take responsibility of their son but he beat her, again, and blatantly refused to do anything.
She ended her status saying that she's had enough of Mohsin's crap and will now see him in court next.
People have been lauding Fatema for speaking up against the domestic abuse she was facing at the hands of Mohsin:
So Mohsin Abbas Haider is the new asshole finally exposed… Glad his wife finally getting rid of him… pic.twitter.com/SQclhMBrzh

— Ayesha Khalid (@ayeshakhalid7) July 20, 2019
People want Mohsin Abbas to be cancelled!
Mohsin abbas haider is also cancelled. All men are cancelled.

— ﻡ, (@naheinyaar) July 20, 2019
Can we fully cancel mohsin abbas haider and put him out of the industry? Can we use our twitter power now? Lets do it?

— Huzaifa. (@HuzaifaQureshii) July 20, 2019
People want his wife to drag him to jail and not let go off this case:
I hope Mohsin Abbas Haider's wife drag his ass to jail. May he get beaten like the way he beat her, or even worse.

— wonderbano (@kalashankauf101) July 20, 2019
Some shared how they never got good vibes from him:
Mohsin Abbas Haider definitely had that shitbag vibe.

— Ahmed (@azkhawaja1) July 20, 2019
People were disappointed:
So disappointed to hear about Mohsin Abbas Haider. The guy went into depression after losing his daughter but didn't think twice that his wife was also someone's daughter while abusing her mercilessly. Absolute trash.

— Fatima 🕊 (@moonlitcemetery) July 20, 2019
People also commented how in cases like these, women are told to settle:
Cases like Mohsin Abbas Haider torture story are rapidly increasing in Pakistan and sad part is that society pressurize women to keep it secret and bear torture… :/#MohsinAbbasHaider #NoToDomesticViolance

— Nouman Younas (@Noumaan22) July 20, 2019
He lost tons of his fans, and rightfully so:
MOHSIN ABBAS HAIDER IS THE BIGGEST CUNT EVER AND IM HONESTLY NEVER FANGIRLING OVER ANY MALE CELEBRITY AGAIN

— ✨ (@bxxrrhhh) July 20, 2019
People talked about how people like Mohsin were sheer hypocrites:
Mohsin abbas haider is an example on how you can act like a saint, throw around your fake depression but can be an complete utter asshole, who 1) cannot support is own child 2) move towards domestic abuse 3) abuse his wife while she's bearing a child. You're a fucking loser.

— Huma Abrar Khan (@smollgroot) July 20, 2019
It led many to actually believe that men are trash:
On today's episode of men R trash we expose Mohsin Abbas Haider
charges against him are:
*found cheating on his wife
*involved in hanky panky with na-mehrams
*domestic violence
*excuse of a father(almost killed his own baby)
*pathetic human

Typical trash/men 💅 pic.twitter.com/pd9F44udIs

— men are trash 🌈 (@menR_trash) July 20, 2019
What do you think about this situation? Should Mohsin be cancelled? Let us know in the comments below!