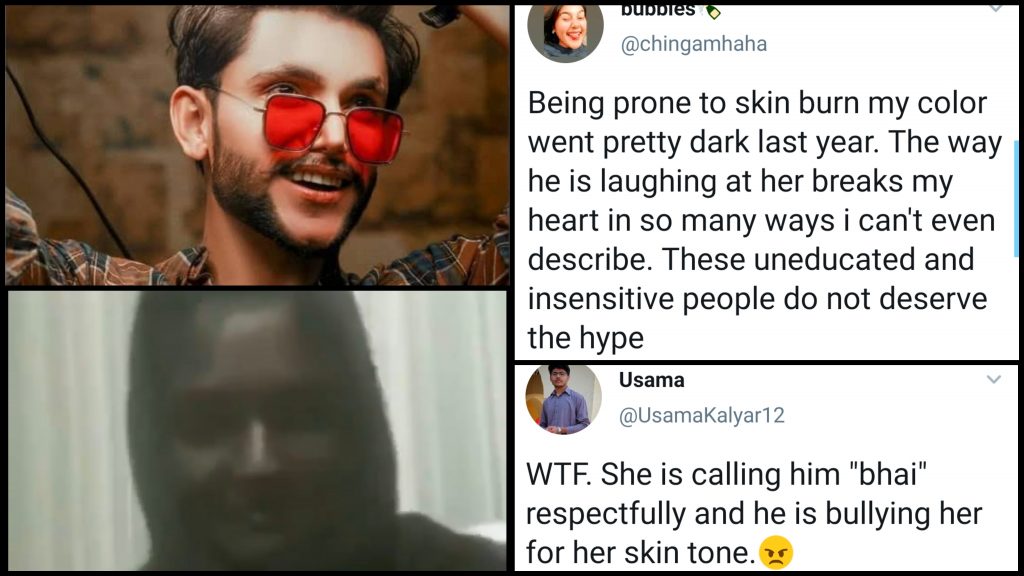 Ever since Tiktok got banned in Pakistan, tiktok stars have resorted to other social media platforms to connect with their fans including Instagram and Facebook.
A tiktoker from Hyderabad named Ali Khan, held an Instagram live to connect with his fans but his comments on one of the fans who joined the live have the internet shook!
What a pathetic waste of sperm. A Tiktoker Ali Khan Hydrabadi invited a random fan on Instagram live and started making fun of her skin colour by calling her kali etc. Ajeeb kanjar. pic.twitter.com/JrEMG6RZ6E

— Saad Ur Rehman (@duckybhai) October 14, 2020
YouTuber Saad Ur Rehman, a.k.a Ducky Bhai, shared a little clip from the live session to twitter and people have a lot to say!
This is pathetic and disgusting. This is the reason why you shouldn't make ppl like this famous at the first place. Jaahil pic.twitter.com/fqfDYwHEoA

— hashir (@hashirkhanx) October 15, 2020
People were calling Tiktok cancerous:
Thank You. ❤ Tiktok as a whole is a cancer platform. No one is not cringy. Everyone is cancer on tiktok. And cringe makes you famous. Either you are a top class comedian or make great cinematics but only cringy mfks will make it to for you page.

— Ye to Hogaa (@laddan_jafry69) October 15, 2020
People were appalled:
what the actual fuck is wrong with these so called tiktok celebrities???? pic.twitter.com/EcuuvM7rkE

— 💫 (@kharroos) October 14, 2020
Many kind of agreed with the ban culture:
Thank god tik tok is banned in Pakistan that app is so cringe and annoying https://t.co/RPFKnHPVRc

— Maybe Ali (@ali_khannm) October 14, 2020
This is what we teach to our coming generation ,I'm sorry if u don't accept the banning culture in PK they did it for a reason.Stop influencing from shit 😡#BanTiktok https://t.co/7CGazIEEsI

— Atroba (@Atroba4) October 16, 2020
People were disgusted:
Absolutely pathetic. https://t.co/tOAErVQoU2

— Anesh Gordhan (@Aneshlohana) October 14, 2020
This is absolutely disgusting! 🤬 https://t.co/qY1qkLsx4M

— Huzaifa Khan (@_HuzaifaKhan) October 15, 2020
absolutely disgutsting https://t.co/CeVs2uXIIf

— Haseeb Ahmad (@__haseeb2412) October 15, 2020
Many criticized the parents on their upbringing:
how pathetic! this guy in red is just a kid…. idk mann these parents really need to work on their kid's upbringing 🤦‍♂️ https://t.co/3AvULTW4YF

— ₰ (@SaadKhn101) October 14, 2020
True!
you guys make the most uneducated and disrespectful people famous on social media platforms and then complain about them being problematic 🤦🏻‍♂️ a shame https://t.co/1zx8UM0NyV

— jayden (@jydnlhr) October 15, 2020
People were heart broken:
Being prone to skin burn my color went pretty dark last year. The way he is laughing at her breaks my heart in so many ways i can't even describe. These uneducated and insensitive people do not deserve the hype https://t.co/Oym7reUAkd

— bubbles🍾 (@chingamhaha) October 15, 2020
Many believed that the fan did it on purpose, but even if it was on purpose, it's not okay to call someone out on their skin colour:
Dude she might've done it on purpose. Look at the difference of color between the face and hand. pic.twitter.com/tVHkN9HQVF

— Abdul Moiz (@amoiz20) October 14, 2020
Waisy ye orat bhi ajib attention seeker hai, mtlb aisy moun kala kr k kon ata hai?? Had hai khudi disrespect kr rae , hathu bhi nzr ary hain ….sbka dmaghi twazun khrab hai pic.twitter.com/35Iw7d3qId

— Aksha (@AqsaChaudhry786) October 15, 2020
It might be intentionally
Look at the hand and face
Dont spread hate without knowing it @duckybhai https://t.co/aW7vnaZ88u pic.twitter.com/Brfb4WBkDV

— Syed Arham Jillani (@JillaniArham) October 15, 2020

Ducky also took this tweet to throw shade on Irfan Junejo:
I am just wondering where is Irfan Junejo in situations like this? Meri bari tu pehli fursat me aageya tha tweet karne. 🙂 https://t.co/EVBGtgyQ8h

— Saad Ur Rehman (@duckybhai) October 15, 2020
People were fuming!
Pathetic little shit, how was this seeming funny anyway? dirty fucking tramp https://t.co/9Kg7JFMB3p

— Khaan (@kkhaaaannn) October 15, 2020
such an asshole https://t.co/tKBBfzF4Gb

— Tekeshi (@tekashi51578557) October 14, 2020
True:
NOT EVEN SURPRISED, ITS WHAT OUR FUCKING SOCIETY NORMALIZES.
"Making fun of someone's color" https://t.co/P6Dgezibap

— A-BEER (@KabootarHunMain) October 15, 2020
People wanted the kid to be punished:
Make fun of Allah's creation and hurting someone by their skin colour!
These stupid kids don't even have little manners and ethics.
This guy should be punished for that because these people need to stop this! #racism #punish https://t.co/tvKSAHtMMC

— Hamiz🇵🇰 حامز (@HAMIZ2003) October 15, 2020
People were feeling for the fan:
The way she just laughs it off when most likely he just made her feel incredibly insecure impacting her confidence for god knows how long. She and her skin colour is beautiful. prick! https://t.co/YgU4Kjl7Wx

— ن 2.0 (@pakidillastanii) October 14, 2020
Yeee bht galt haaaa 💔💔💔💔💔💔💔💔💔 i can feel her https://t.co/dNcGxdLc9u

— Minus One⚪ (@hassansadiq989) October 14, 2020
I guess, never?
Racism kot kot kr bhara ha is country me. Seriously when are yall gon educate yourself. THE RIGHT WAY https://t.co/VaZjh8IaWB

— 𝑨mara⁷ (@lunajoon_) October 15, 2020
People were upset!
This is just really upsetting and infuriating. https://t.co/IQz3Ms24mo

— Anas Khan (@anask_34) October 14, 2020
Agreed!
Desi people don't even realize how racist they are. Thats fucked up https://t.co/9kQEEKSCc5

— Muaz (@wyamuaz) October 14, 2020
People couldn't believe their ears:
What the hellllll??? https://t.co/56kywH1sNs

— Kit kat (@hafsamaryam2005) October 15, 2020
What the actual heck bruh https://t.co/pP4rtRASwL

— itz._.shaheer (@ShaheerItz) October 15, 2020
😔
WTF. She is calling him "bhai" respectfully and he is bullying her for her skin tone.😠 https://t.co/raTqdjIRKm

— Usama (@UsamaKalyar12) October 15, 2020
What do you think about the vile comments? Let us know in the comments below!