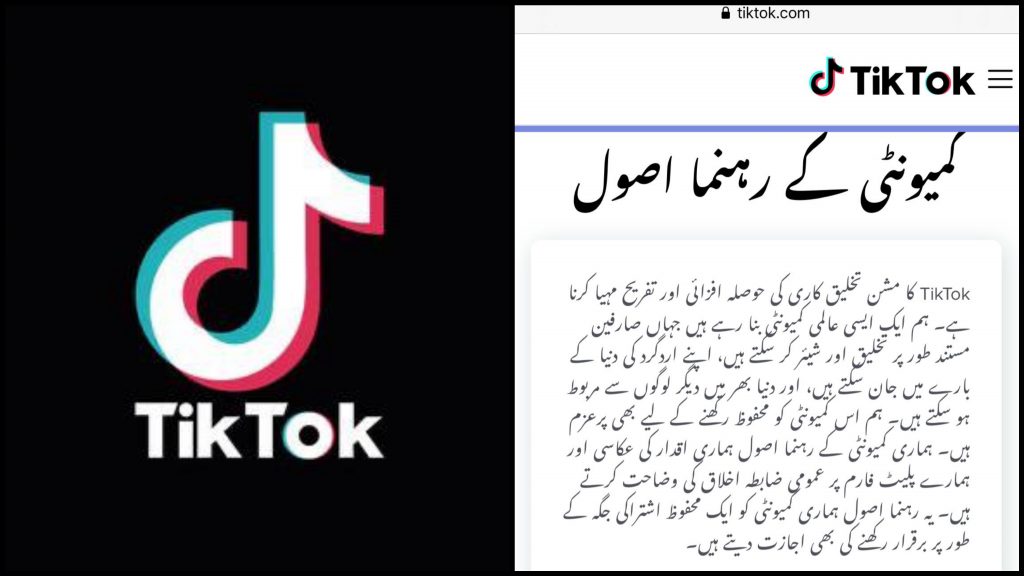 If there's one app that people are torn about, it's Tiktok. The video platform has released an updated publication of the Community Guidelines in Urdu that will help and maintain a supportive and welcoming environment on TikTok for users in Pakistan.
And here's everything you need to know about the app and how it moderates it's content:
TikTok's teams remove content that violates the Community Guidelines and suspends or bans accounts involved in severe or repeated violations.
How is problematic content identified?
Content moderation is performed by deploying a combination of policies, technologies, and moderation strategies to detect and review problematic content, accounts, and implement appropriate penalties.
What you can't post to Tiktok?
1. Names, symbols, logos, flags, slogans, uniforms, gestures, portraits, or other objects meant to represent dangerous individuals and/or organizations
2. Content that praises, glorifies, or supports dangerous individuals and/or organizations
3. Content that promotes acts of physical harm, such as assaulting or kidnapping
4. Content that risks the safety of others, including pranks like swatting
5. Content that encourages or promotes criminal activities
6. Content that promotes human or wildlife traficking
7. Content that displays firearms, firearm accessories, ammunition, or explosive weapons
8. Content that displays drugs, drug consumption, or encourages others to make, use, or trade drugs or other controlled substances
9. Content that promotes phishing, fixed betting, get-rich-quick schemes, or any other types of scams
10. Content that gratuitously shocking, sadistic, or excessively graphic details
11. Content that promotes suicide and self harm
12. Content that includes hate speech of any kind or slurs
13. Content that sexually harasses a user by disparaging their sexual activities or attempting to make unwanted sexual contact
14. Content that reveals or threatens to reveal personally identifiable information, including but not limited to residential address, private email address, private phone number, bank statement, social security number, or passport number
15. Content that depicts, commits, or incites non-consensual sexual acts
16. Content that commits, promotes, or glorifies sexual solicitation or sexual objectification
17. Content that depicts sexual activities, human genitalia, sexual arousal and fetishes
18. Content that depicts physical, psychological or sexual abuse on minors
In the recent release of its Transparency Report, TikTok shared the global volume of videos removed for violating its Community Guidelines or Terms of Service, which showed that Pakistan is one of the five markets with the largest volume of removed videos. This demonstrates TikTok's commitment to remove any potentially harmful or inappropriate content reported in Pakistan.
Have anything to add to the story? Let us know in the comments below!