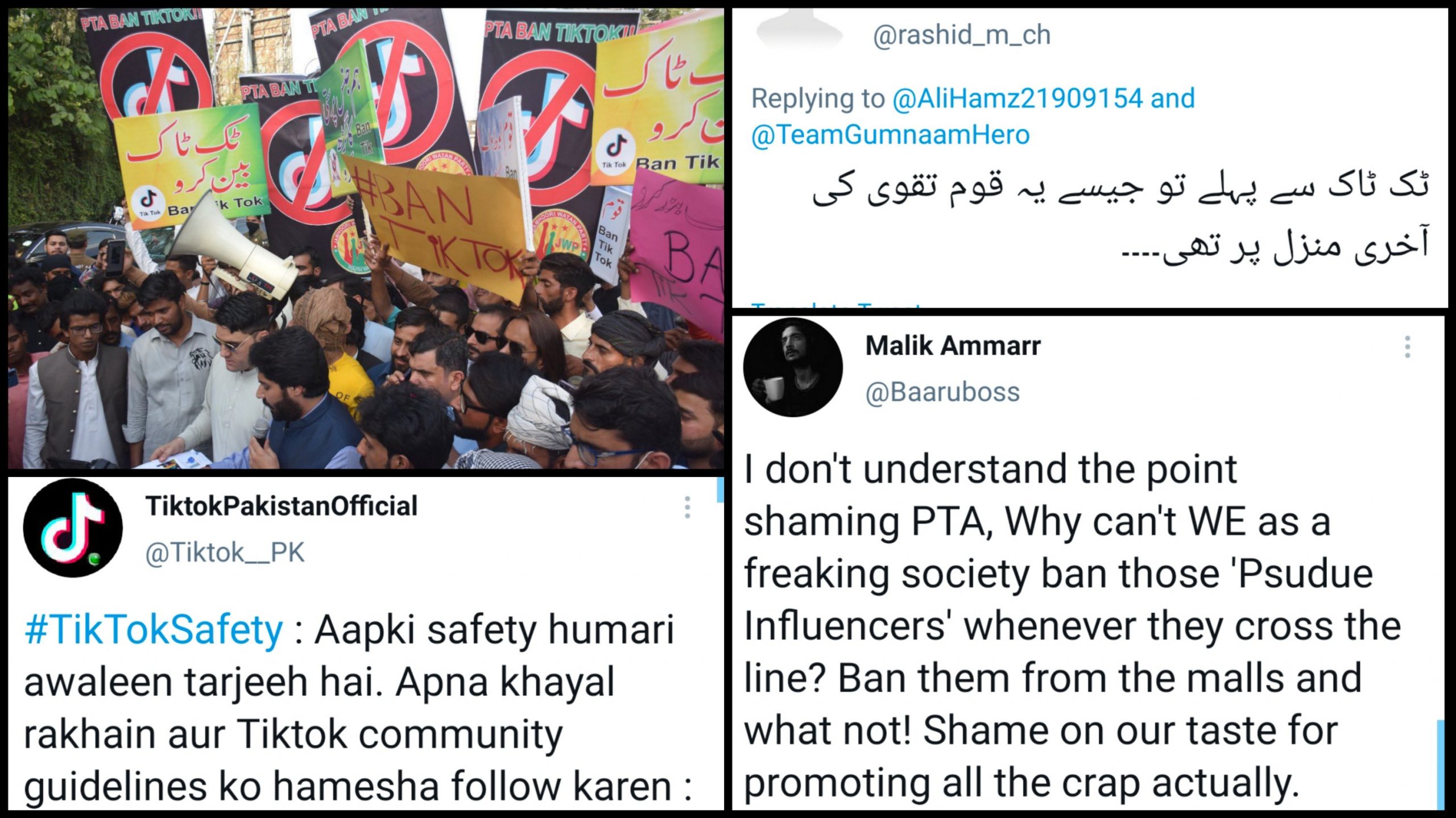 According to the numbers shared by the Peshawar High Court, around 9.8M objectionable videos were removed from Tiktok and about 720,000 accounts were blocked for spreading vulgar content in the country.
In an attempt to reinforce the safety guidelines, Tiktok Pakistan has been raising awareness time and time again, asking the users to create and surf the app safely:
#TikTokSafety : Aapki safety humari awaleen tarjeeh hai. Apna khayal rakhain aur Tiktok community guidelines ko hamesha follow karen : https://t.co/UNklUy3NXL#AapSafeTohAppSafe pic.twitter.com/VRb3B2OTch

— TiktokPakistanOfficial (@Tiktok__PK) June 22, 2021
Soon after the numbers were revealed, netizens took to twitter to share what they think of the matter, some supporting a full ban on the app and others wanting to educate the influencers on creating better content, here's what they've got to say!
Apps like tiktok should be banned in order to save our generation's Future.#ShameOnPTA@TeamGumnaamHero pic.twitter.com/m9uqh1TaiV

— Ali Hamza (@AliHamz21909154) June 22, 2021
People added other apps that they wanted to be banned:
Also ban snack videos , likee , bigo , imo , mxtakatak, 4 fun ,

— Asim Adeel (@AsimAdeelAwan) June 22, 2021
Some had questions!
ٹک ٹاک سے پہلے تو جیسے یہ قوم تقوی کی آخری منزل پر تھی۔۔۔۔

— راشد محمد چوہدری (@rashid_m_ch) June 22, 2021
Some were calling Tiktok an app that promotes pornography:
Why aren't pornographic apps being shut down? PTA is sleeping.#ShameOnPTA pic.twitter.com/ZHTKCVr6It

— KaShMiRi RaJpOot (@KHR_Aati) June 22, 2021
Cricketer Shahid Hameed shared how it was time to wake up:
My name is Shahid Hameed And I agreed that tiktok should be Ban now because it spreads Vulgarity.

Please Wake Up PTA#ShameOnPTA

— Shahid Hameed (@iShahidHameed) June 22, 2021
People were also sharing how there should be a certain set of laws:
There should be a Law for these kind of activities to ban and should not be allowed in Pakistan #PleaseawakePTA #ShameOnPTA pic.twitter.com/ragU3aBHhL

— muhammad Bilal (@muhamma78018469) June 22, 2021
People were calling it cancer:
Tiktok is a cancer😤
Tiktok should be banned🚫
It spreads Vulgarity
Destroying our Young generation#ShameOnPTA #TikTok

— WAجI RAجPUT🖤 (@WajiSmoker) June 22, 2021
Some had bad parenting to blame for the immoral content:
Banning TikTok is not the answer, and the state cannot be a substitute for bad parenting and bad education. Only take action against the content-creators uploading objectionable content (after legally defining what constitutions objectionable content).

— 口 裂 け 女 (@WaqAhmed84) June 22, 2021
1 dafa phr se ban ka rona start. Apne tiddon ko galat kaam se nai rok skty to ban hone ka rona dal dete hen. Aj kr lo 1 app ban to baato or kitni ban krwao gy. To mtlb problem app me nai,ap k tiddon me hai#ShameOnPTA #TikTok

— Hamza Waheed (@HamzaWaheed67) June 22, 2021
People were sharing how Tiktok has an adverse effect on mental health:
"Tiktok" has worst impact on mental health of users..#ShameOnPTA pic.twitter.com/1AD9B0c6FI

— Faisal Khan (@SFaisalKhan) June 22, 2021
People were throwing shade:
According to Tiktok, promoting vulgar content is talent…#ShameOnPTA@TeamGumnaamHero pic.twitter.com/ws6J3NfTV8

— Khuram (@Khuram16007997) June 22, 2021
People also took it as an opportunity to throw shade at Hania Aamir:
On either ways behayein is spreading , why PTA is not banning them, why only tiktok 😆😆😆 #ShameOnPTA pic.twitter.com/gYv1CABqqE

— Laiba (@Laiba31267051) June 22, 2021
Some were of the opinion that people should be guided better to avoid misuse:
#ShameOnPTA i suggest, people should be guided properly to use technology rather than misusing it https://t.co/wsEyAt5YRP

— Abdulmoiz Butt (@abdulmoiz_butt) June 22, 2021
And while others were all for Tiktok and similar apps to be banned, some believed that banning the app was not a long term solution:
While everyone is criticizing PTA and PTI .Real culprits ain't those who watch and promote vulgar stuff on tiktok all these fame thirsty tiktokers are playing with the youth if we Ban Tiktok they will simply makes another app only solution is to #Radicaliszethem #ShameOnPTA

— Talha Jillani (@talhajillani) June 22, 2021
People were also sharing how the influencers should be held accountable:
I don't understand the point shaming PTA, Why can't WE as a freaking society ban those 'Psudue Influencers' whenever they cross the line? Ban them from the malls and what not! Shame on our taste for promoting all the crap actually.#ShameOnPTA ??

— Malik Ammarr (@Baaruboss) June 22, 2021
Some also believed that the recent fight at the assembly was worse than the content on the app:
Tiktok see phele assembly kay live session par pabandi lgne chahiye Jo galain aur gand ye seekha rahay hain uske nazdaik tu tiktok dor tak nahi. #ShameOnPTA

— Sehar (@Sehar68573393) June 22, 2021
What are your thoughts on this matter? Should Tiktok be banned? Let us know in the comments below!