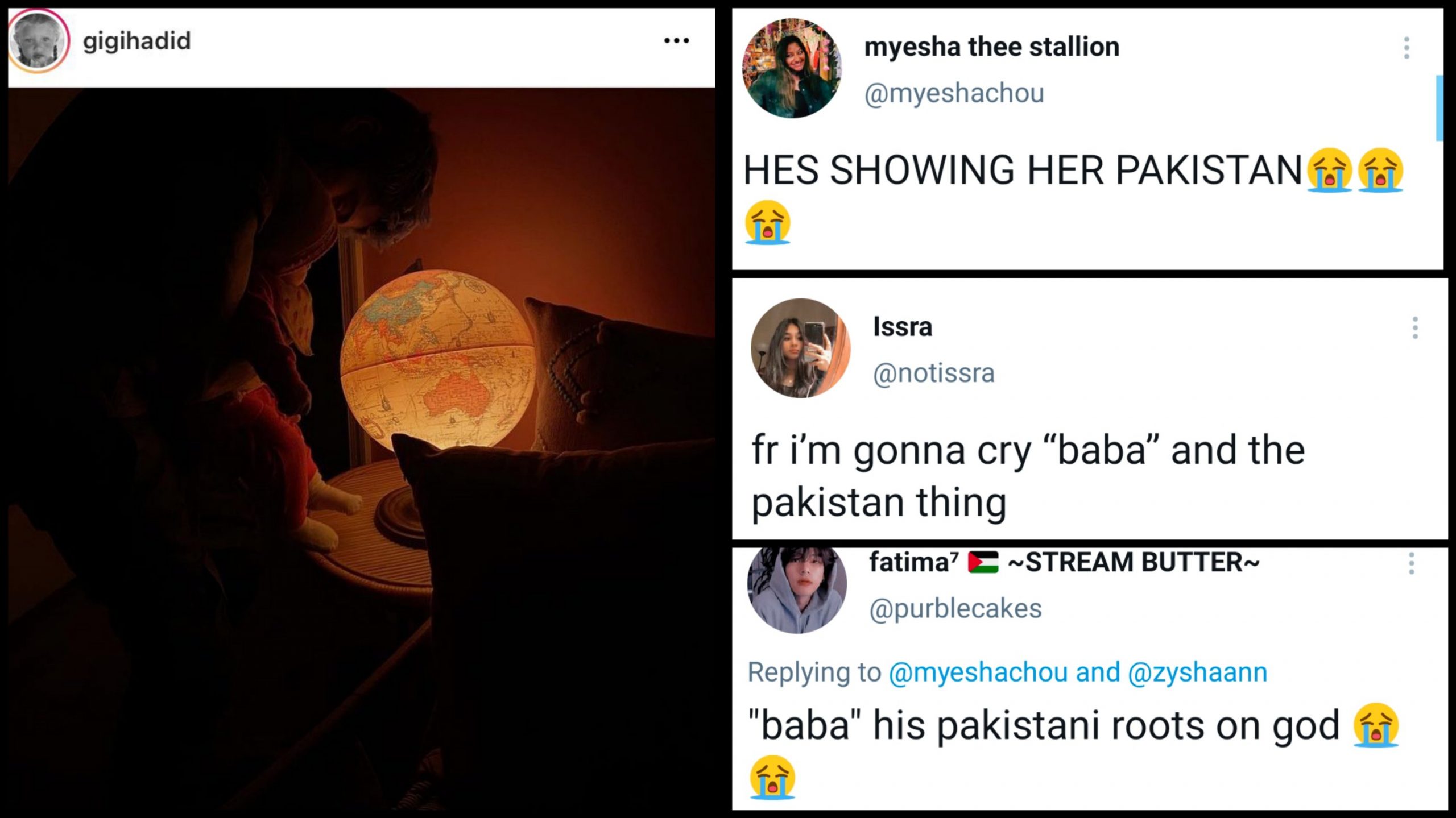 Celebrating his first father's day as a father himself, British Pakistani singer Zayn Malik and his daughter Khai Hadid Malik were caught in a special moment captures by Gigi Hadid. Taking to Instagram, the American supermodel shared how Khai is lucky to have a baba like him!
The heartwarming picture and caption has Pakistanis gushing over the three and here's what they have to say:
OMG SHE CALLS HIM BABA 🥺🥺🥺🥺 https://t.co/zOwseqF5YY

— Lux (@NariyaOhDella) June 21, 2021
Someone said he was showing her Pakistan 🤣
HES SHOWING HER PAKISTAN😭😭😭 pic.twitter.com/FWUuPoex4g

— myesha thee stallion (@myeshachou) June 20, 2021
Confirmed https://t.co/487DJDEQ9J pic.twitter.com/YuN2XHJC9O

— Tsar (@CEOofPakistan) June 21, 2021
😭😭😭😭
it's the "baba" that got me 😭😭😭 https://t.co/KB016432cQ

— plain ol' me (@youngandretro) June 21, 2021
"baba" his pakistani roots on god 😭😭

— fatima⁷ 🇵🇸 ~STREAM BUTTER~ (@purblecakes) June 21, 2021
True:
Already telling her about the kashmir issue too. Woke em early

— nomnoum (@nomnoum1) June 21, 2021
I swear!
I think it's the cutest that we collectively lose it when zayn does paki things https://t.co/28ECKfuGHs

— eman (@spiritsarehigh) June 21, 2021
We do too!
"I love the little bits of her that is you" 😫😫😫 https://t.co/3kDspqk8UM

— Blueberry (@infernographer) June 21, 2021
Better start savin' up!
so gigi knows about pakistan which means taylor knows about pakistan which means pak tour is coming soon https://t.co/negCb8DmRF pic.twitter.com/ZgxkFz0gbC

— jerry is waiting for red tv (@jerry____7) June 21, 2021
Pssst, HYBE, you listening?
"Baby see that's also a part of world which means bts Should include this land in next "world tour" " https://t.co/xbqUPcBYGO

— Blackglore⁷ (@LeJINdery__) June 21, 2021
Some really missed Khai in the picture…
I THOUGHT THAT WAS A CAT UNTIL SOMEONE IN THE REPLIES POINTED IT OUT WTF https://t.co/aSQzz4mpXB

— ❆ you nice keep going ⁷ (@inlove_jmn) June 21, 2021
What do you think of the adorable trio? Let us know in the comments below!