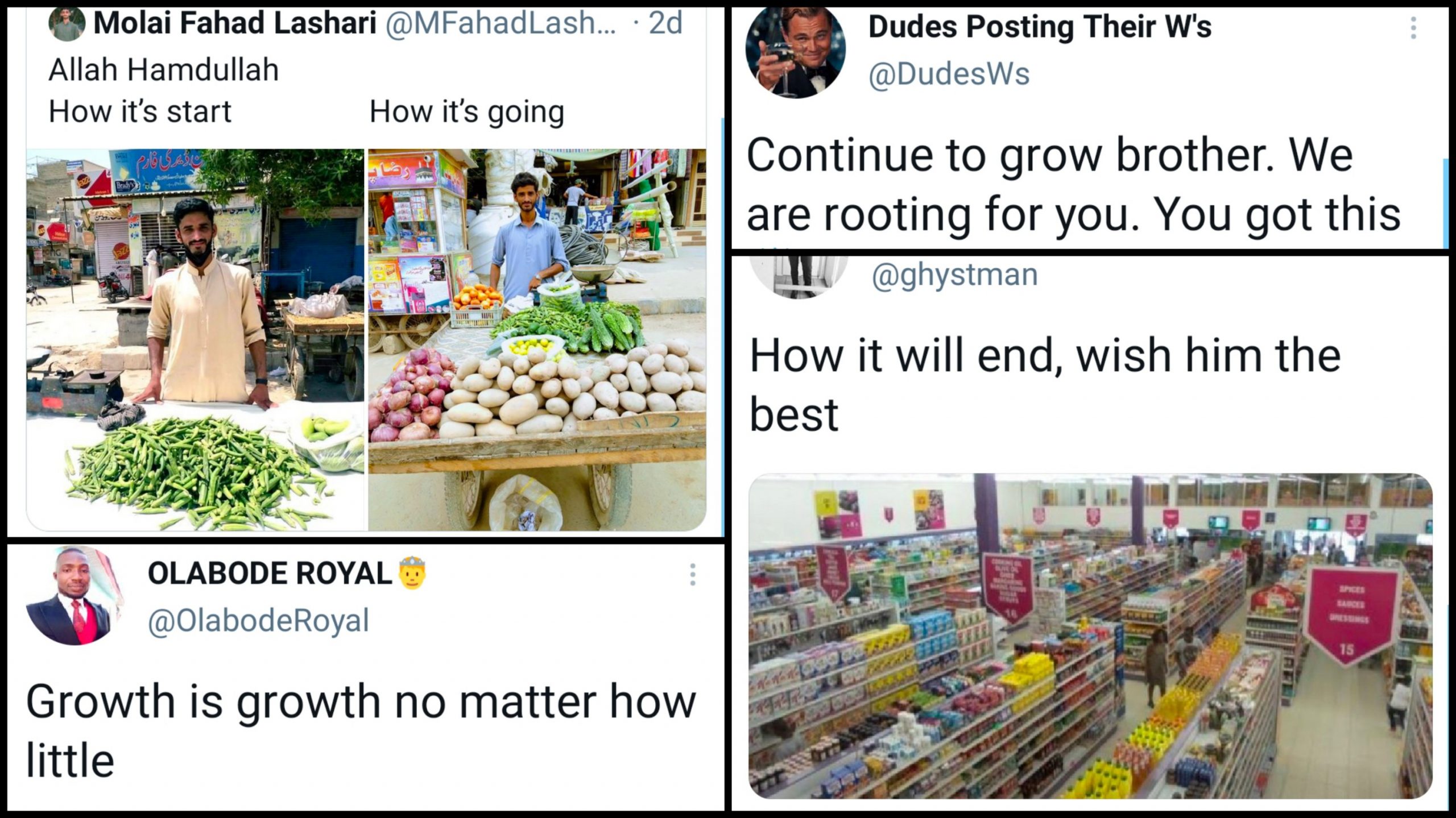 Talking about his growth and journey on twitter, a street hawker who started off by selling lady fingers has won the internet after he shared his current picture where he sells more than 4-5 varieties of vegetables:
Allah Hamdullah
How it's start How it's going pic.twitter.com/XyMdsuO1WQ

— Molai Fahad Lashari (@MFahadLashari) July 10, 2021
And the internet is rooting for him!
Continue to grow brother. We are rooting for you. You got this 🙌 https://t.co/up4BFoVTZA

— Dudes Posting Their W's (@DudesWs) July 11, 2021
Inshallah!
May it soon turn into this 👇 In ShaAllah… pic.twitter.com/r6rpc268m5

— 𝔸𝕝𝕓𝕖𝕣𝕥 𝕁𝕒𝕞𝕖𝕤🗽 (@RealBertJames) July 11, 2021
People were sending him lots of prayers!
Proud of you brother. One day soon you will be the owner of multi departmental stores.

— CFM (@Carefreeemunda) July 11, 2021
You will be a big businessman one day, believe me and remember my words.

— Aftab Ahmad Goraya (@GorayaAftab) July 10, 2021
May Allah increase your wealth and bless you brother

— geelel (@fuutaanke19) July 11, 2021
Keep hardworking and remember honestly is the best policy. Stick with these two policies and you will be no doubt a CEO of largest vegetables supply store in the Pakistan

— Saqib (@saqibmanzoorda1) July 11, 2021
Yaaaas!
when the onion guy also started selling potatoes and tomatoes, and in effect cutting down the time i spent running grocery errands for my mom as a child >>>> 😭😭 https://t.co/QRi9JjKsOH

— Abhijeet, The Doll (@bon_abhijeet) July 11, 2021
Us too!
I'm so happy for him https://t.co/QLgUJN02sC

— thecharlieheatversion (@surecasm1O1) July 12, 2021
True!
Growth is growth no matter how little https://t.co/dJFy8n1Cx9

— OLABODE ROYAL🤴 (@OlabodeRoyal) July 11, 2021
People were proud of him!
Proud of the hard work!! https://t.co/31DOlxqOzx

— Komal Salman (@komallsalman) July 11, 2021
Jo baat hai!
It is not just the money – It is the difference he is making
Well done Lad! https://t.co/0khRGExuhs

— M i r (@MYUwrites) July 11, 2021
👍
Relatable growth 👏🏾👏🏾👏🏾 what the world needs to see https://t.co/IWlZvH9kol

— Beautybyella (@Mamsy96) July 11, 2021
Same!
This is what I currently preach.
Start something ,endure the pain ,it will definitely progress .
I can forsee this guy owning a massive fruit store already. https://t.co/ejMJCbRHsp

— 🎙️jαmαlVO (@Jamaldeenvoice) July 11, 2021
Well said!
As my WhatsApp status provides, two steps or twenty, the only way is forward 🌺 https://t.co/IioRRWvJyw

— NAM⚘🇹🇿 (@nickiaishi) July 11, 2021
🥺
In todays episode of wholesome tweets https://t.co/ppv2wdkEMo

— zeerak (@zeerakminecraft) July 10, 2021
People found themselves short of words:
Sometimes I run short of words when I see unusual things. https://t.co/MtVt0AS6md

— Humbler (@lHajrulaswadl) July 11, 2021
Exactly!
That's how progress is in real life https://t.co/aWpP0blNvf

— Piña colada (@Siedokingston) July 12, 2021
💕
When God is blessing your hustle. https://t.co/bbXVahfe79

— Prosper vuga (@vugapella) July 11, 2021
Isn't this the most wholesome thing you've seen today? Let us know in the comments below!